The Ritz-Carlton is synonymous with luxury. A low-rise with just 138 rooms and situated on a stretch of white sandy beach overlooking the Arabian Gulf and Palm Islands, the Ritz-Carlton Dubai has the feel of a boutique hotel. With all the rooms facing seaside, you'd hardly know the property is tucked in amongst the highrises at the bustling Jumeriah Beach Residences. It's quiet, yet conveniently located close to many of Dubai's attractions.
We absolutely loved our stay at the Ritz-Carlton Dubai and here are 10 reasons why:
1. Spacious rooms. We don't spend a whole lot of time in our hotel room; after all, we want to see and experience the destination! But when we are in our room relaxing, and sometimes even working, we don't like to be cramped. Our deluxe room was a spacious 538 square feet with a lovely sitting area, workspace, and private balcony overlooking the pool. I also loved the spacious bathroom with a relaxing rain shower, separate soaking tub with head pillow, and double vanity.
2. The Ritz-Carlton down feather bed. I've tossed and turned through restless nights in countless beds around the world. The hotel bed is just never quite as comfortable as your own bed at home. Not at the Ritz! Their trademark Pacific Coast ® Baffle Channel Euro Rest ® Feather Bed is supposed to support and cradle you, allowing your muscles to relax and circulation to improve, enabling a deeper sleep. I certainly felt relaxed and slept great (I'm not even sure I actually moved) both of our nights at the Ritz.
3. Electrical outlets in the bathroom. Here's a secret. My biggest pet peeve when traveling is the lack of electrical outlets in bathrooms. One of the very first things I do when checking out our temporary home is to head to the bathroom and investigate the plug situation. I can't tell you how many times I've sat huddled with my hair dryer and flat iron in front of my compact mirror at the desk because there was not an outlet in the bathroom. So, thank you Ritz Carlton for designing the bathroom with a woman's needs in mind!
4. Speaking of electrical outlets…The UAE operates at 220 to 240 V and outlets are one of three types depending on the location: he "Type C" European CEE 7/16 Europlug, the "Type G" British BS-1363 or the "Type D" Indian 5 amp BS-546. We brought our "Type G" British BS-1363 adapter, but we only have one and we had two iPhones, four cameras, and our MacBook Pro to charge up each night.  The Ritz kindly provides multiple adapters in the room to accommodate a variety of plug types.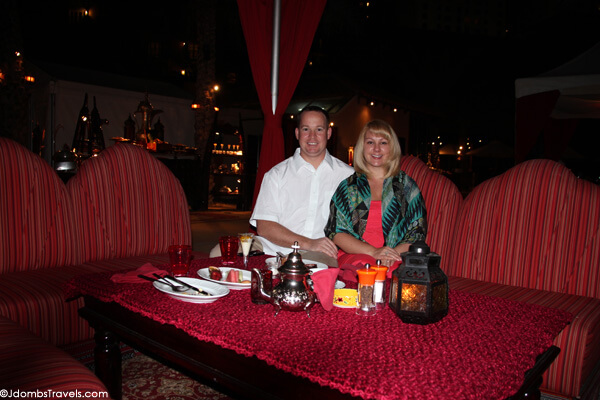 5. The Ritz-Carlton Bedouin village, Amaseena. We already wrote an entire post on the best meal we had in Dubai, but Amaseena certainly couldn't be left off our list of 10 reasons to love the Ritz-Carlton Dubai. Chef Hussam cooks up a delicious nightly buffet of traditional Middle Eastern dishes with his own unique touch of spices. And we loved the quiet ambiance of the beach-side village under the Arabian stars so much, we spent a second late night relaxing in one of the private tents with a delicious pot of Moroccan tea and smoking an apple shisha.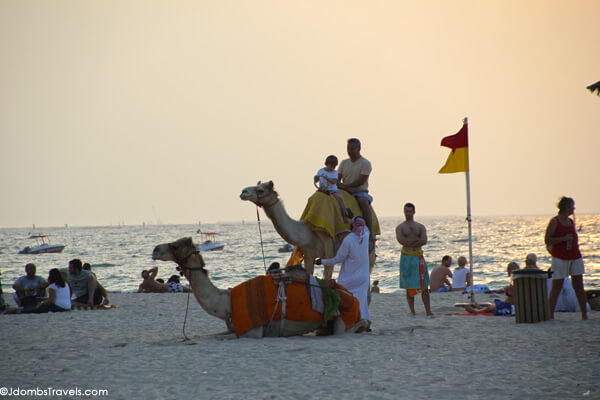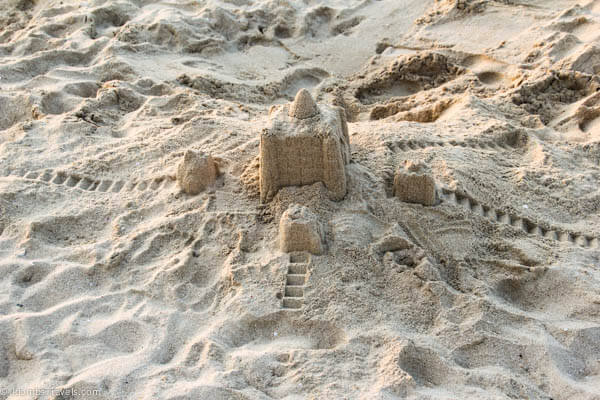 6. Private beach. 350 meters of private white sand beach to be exact! During the day, Bedouins wander the beach enchanting guests with their camels and the views stretch out over the Arabian Gulf and the Palm Islands. Sadly, we had such busy days kissing penguins, bartering at the Deira Gold Souk, and dune bashing that we didn't get to enjoy a lounge on the beach or dip in the sea. But we did enjoy moonlit strolls along the beach searching for shells washed up by the tide.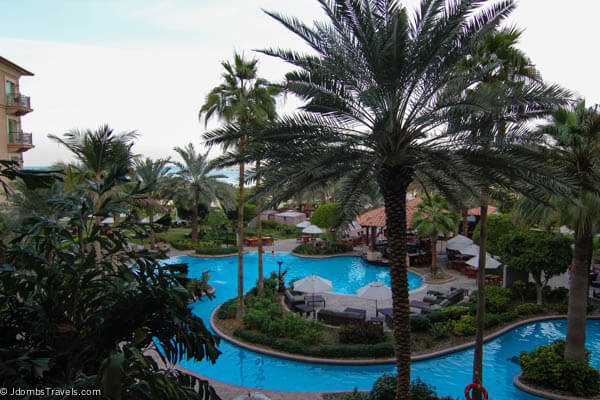 7. Swim-up bar. Need an umbrella drink? You don't even have to leave the pool to get one! The extensive adult-only swimming pool features a swim-up bar. Had we had just one more day in Dubai, you would have found me alternating between the private beach and the adult-only pool, umbrella drink in hand!
There is also a children's swimming pool complete with a water slide.
8. Fitness activities. The Ritz-Carlton not only has an on-site fitness center that offers personal training as well as group classes, but also four lit tennis courts and two squash courts.
The Dubai Marina is also conveniently nearby and has over eight kilometers of running path with inspirational Reebok mile markers cheering you on.
9. Service. The service was nothing short of exceptional at the Ritz-Carlton Dubai. I'm always impressed when the employees take the time to remember and greet us by name. Not only that, Chef Hussam welcomed his guests to Amaseena, taking the time to explain dishes and personally deliver fresh bread and hot mezzeh to the tents. We'd arrive back to our room in the evening to find dates and a bottle of water set out on each of our bedside tables. We didn't encounter a Ritz employee that didn't have a smile. It all truly made us feel like we were guests in their home.
10. Ritz Kids Club. We don't have kids, but if we did, we'd love this program! The Ritz Kids Club offers daily children's activities from 10:30am to 4pm in a secure play room. Parents can enjoy a relaxing adults-only day while their kids, 4 to 8 years of age, enjoy fun activities like mask making, ship building and racing, and even cooking classes.
Thank you to the Ritz-Carlton Dubai for hosting us and for your hospitality! All opinions are entirely our own.