New York City. We've practically all visited one of the world's greatest metropolises through the magic of Hollywood. From the moment Harry met Sally atop the Empire State Building to the Friends apartment on the corner of Bedford and Grove Streets, NYC is a city we all feel like we already know and love. But have you actually been to New York City? If not, you're seriously missing out on a mega hub of culture, art, fashion and, yes, even adventure – because let's be honest, navigating a mega city like NYC is definitely an adventure at times.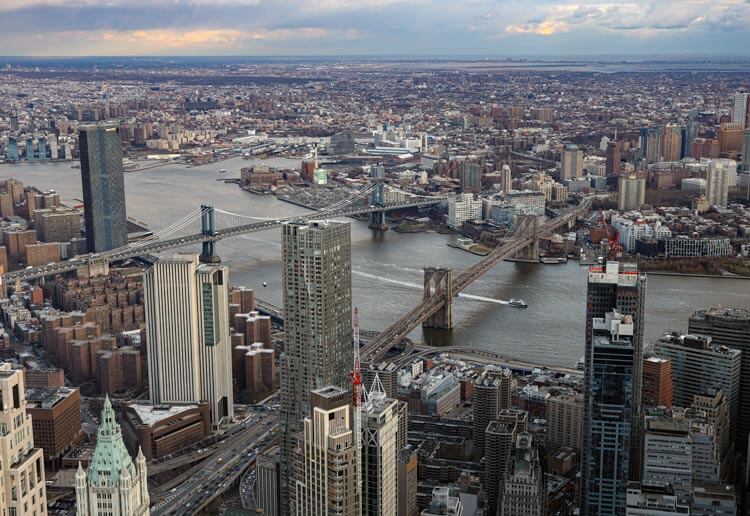 New York is a buzzing, vibrant, crazy, inimitable city. It's overwhelming in the most wonderful way that you want to devour it all. We think 3 days in New York is the perfect amount to get your first taste, because you'll no doubt want to return again and again. We've visited the city somewhere around a dozen times now, and put together this 3-days in NYC itinerary for first timers.
Know that in no way can you possibly see and do it all. When it comes to how many days to spend in New York, a three day trip can really be the perfect amount to enjoy the fast-paced Big Apple. To get a good feel for the best that NYC has to offer, follow our recommendations for what to do in New York in 3 days for first-time visitors.
Day 1: Get Acquainted with Iconic NYC
NYC is filled with globally recognized and iconic landmarks, landscapes and foods. The best way to begin a 3 day trip to New York is seeing and eating at some of the spots in the city that you already know and love from your favorite tv and movie shows.
Nobody knows New York City better than your favorite tv and movie characters. And while places like Central Perk can only be found on a sound stage, others like Magnolia Bakery with their famous as Manolos cupcakes and the romantic Loeb Boathouse where seemingly every romantic movie set in NYC ends up at some point are very real places.
The Marvelous Mrs. Maisel, Sex and the City Hot Spots or Other Themed Tour
You could run all over New York City trying to track down your favorite filming locations, or you could join one of On Location Tours tv and movie themed tours of the city. We've done several of these tours, and have a list of others like the Sopranos tour still on our must-do list for our next New York weekend trip. These themed tours are a great way to spend a fun few hours getting acquainted with New York City.
Midge's fabulous Upper West Side life and secret talent as a stand-up comedian that take her through the West Village in The Marvelous Mrs. Maisel is just the latest in On Location Tours library of NYC experiences. Mrs. Maisel's Marvelous tour of New York is primarily a bus tour, but you do get to get off and visit several locations from the show.
What's great about the Marvelous Mrs. Maisel tour is you get some insider knowledge on how the show transforms present-day Manhattan to look like the 1950s Manhattan we see in the show. You'll even stop to enjoy a drink at one of the oldest bars in Manhattan, which is of course a filming location in the tv show.
If Mrs. Maisel isn't quite your cup of tea, I particularly also loved the Sex and the City Hot Spots tour. As a super fan of the show I loved visited locations like the real life Scout, the bar that was owned by Steve and Aiden for a cosmo. There's free time some some shopping along Bleeker street, where several of the shops Carrie and the girls shop at in the show.
Since I did the Sex and the City tour on a previous girls' trip to NYC with my mom, I sure did blush when we visited the Pleasure Chest where Charlotte buys the "rabbit". But I forgot all about it by the time we enjoyed a cupcake from Magnolia Bakery, which appeared in Sex and the City and the Devil Wears Prada.
Another good one that any '80s child can appreciate just as much as us is the When Harry Met Seinfeld Tour. The tv shows and movies of the late '80s and '90s were my own first trips to New York through my favorite characters. This tour takes you in all their footsteps with Monk's Diner from Seinfeld, Café Luxembourg from When Harry Met Sally and even the Sheffield's townhouse from The Nanny (remember that one?!). There's more recent locations included too, like the Met steps where Blair reigned over her minions in Gossip Girl.
No matter which you choose, these themed tours are a great way to see a lot of filming locations around NYC and get a feel for the city in about 2-3 hours.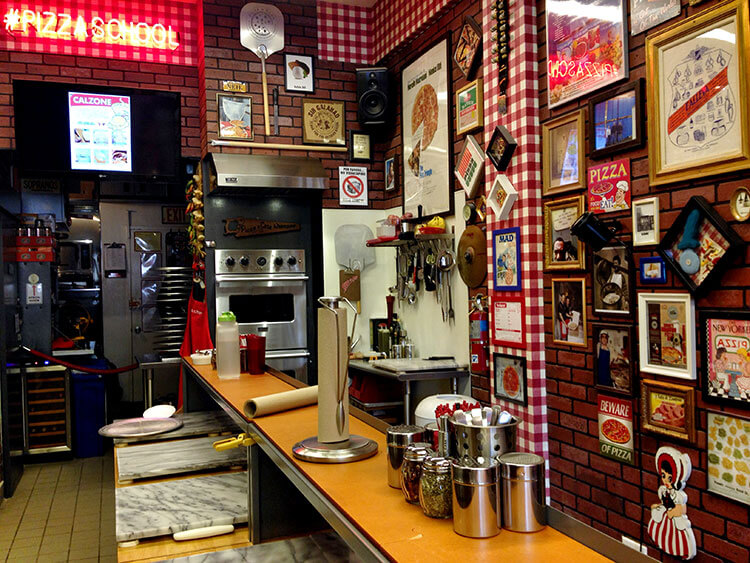 Learn to Make New York-style Pizza
We're foodies and along with all the New York City sightseeing to do, there's a list of iconic NYC foods to tackle too. From the black and white cookie to pastrami, there's no one food that shaped New York City's dining scene. But it's indisputable that New York-style pizza is one food you have to try in the Big Apple.
Not too surprisingly, the pizza we know and love today was derived from the Neapolitan style pizza of Naples, Italy. Lombardi's is credited with the invention of New York-style pizza. It was Gennaro Lombardi, an Italian immigrant who arrived in the US in 1897, that opened the very first pizzeria in the US in Little Italy in 1905.
There's a few more ingredients in New York-style pizza than Neapolitan pizza, like some sugar and olive oil are added along with the flour, yeast and water that makes the dough. Some even say that the minerals in NYC tap water give the unique flavor and characteristics of New York-style pizza.
The size is bigger, too. New York-style pizza is typically 18 – 24 inches in diameter, and cut in to eight slices. It's sold either by the slice or as the whole pizza. In comparison, Neapolitan pizzas are typically 10 – 12 inches in diameter and eaten as a personal pizza. Both styles of pizza are thin crust.
When it comes to toppings, the original was as simple as a good tomato sauce and cheese. These days you can add just about any topping, but less it more.
As pizza lovers, we didn't want to just eat New York-style pizza. One of our favorite souvenirs to bring home from any trip is the know-how to recreate some of our favorite local meals back home. We love taking cooking classes, and Pizza School NYC is a fun experience.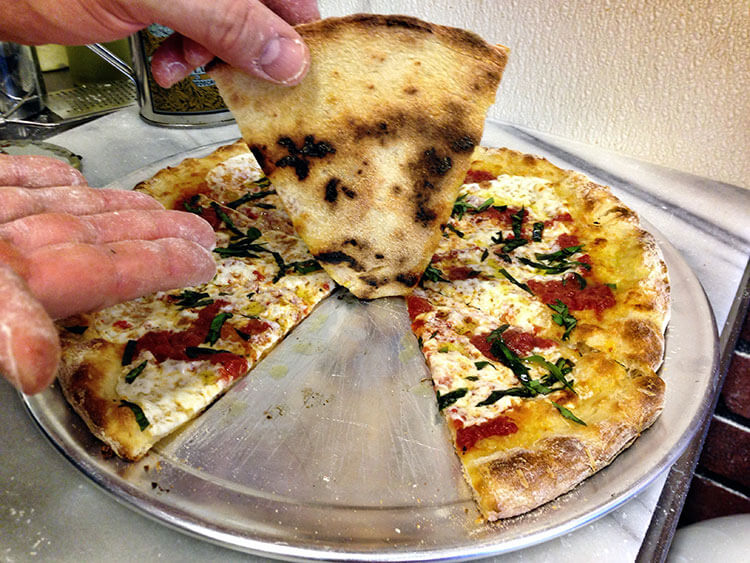 Owners Mark and Jenny Bello have been teaching pizza lovers their New York-style pizza dough and sauce recipe since they opened their pizza making school in 2010. With a hands-on experience, you learn to make your own homemade dough and sauce. They have a variety of toppings and you can make up to four different pizzas before enjoying your freshly cooked up pies for dinner with some wine.
They even give out boxes to take the leftovers back to your hotel for a midnight snack later. And you get a booklet of their recipes to recreate New York-style pizza at home. It's an awesome way to spend your first dinner, and it's the perfect cooking class for couples in NYC.
Pizza School NYC, 371 Grand Street. Classes available Fridays, Saturdays and Sundays. Advance booking required.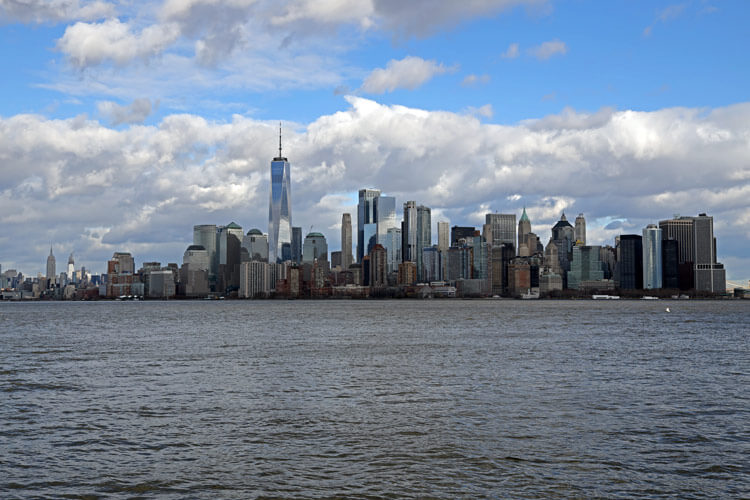 Day 2: Statue of Liberty, Ellis Island and Lower Manhattan
Though most first-time visitors to NYC only scratch the surface by staying in Midtown and visiting attractions like Times Square and the Empire State Building, Lower Manhattan is really the cradle of New York City. New York City itself, which is today comprised of five boroughs spanning a much larger area than Manhattan alone, sprung from the southern tip when the Dutch settled there in 1624.
That Dutch settlement is present day Wall Street, so named from the wall that they erected there to mark the northern boundary of their settlement. Quite literally the location of the United States's financial power and workings, Lower Manhattan today is much more than a financial and business district.
It's well worth visiting and there are enough historical sights and attractions to occupy a 3 day NYC itinerary itself. But if you only have a few days to spend in New York City, devote one day to visiting the Statue of Liberty, Ellis Island and the World Trade Center.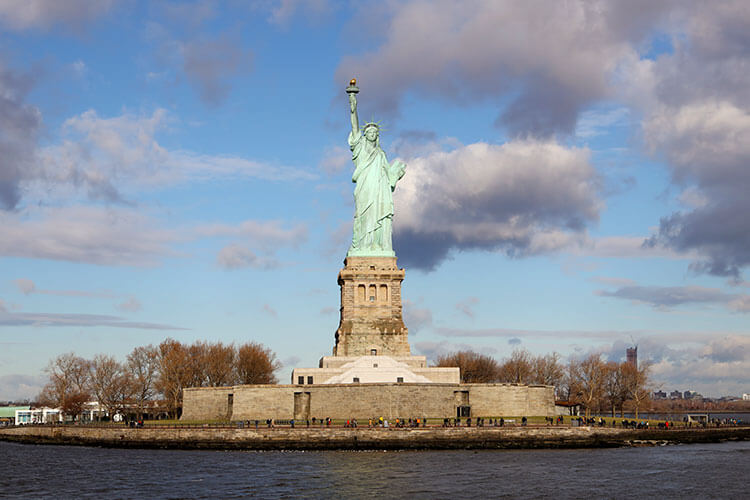 Visit the Statue of Liberty and Ellis Island
Believe me when I say that a visit to the Statue of Liberty and Ellis Island must be on any first time in NYC itinerary. It took around a dozen visits for me to finally go, partly because visiting the Statue of Liberty was impossible and then infinitely more complicated following 9/11. But having now been to see the Statue of Liberty in person, I can't imagine why I didn't make the effort sooner.
We highly recommend going with a guide, which really made our experience. Our favorite small group tour company, Walks, offers an early access Statue of Liberty and Ellis Island tour. Our guide made a somewhat confusing and arduous process of going through security and boarding the ferry seamless, was full of tips like exactly which side of the ferry to be on for the best photo opportunities, and was incredibly knowledgeable about immigration history, the Statue of Liberty itself and Ellis Island.
The Statue of Liberty does get incredibly busy as more than 4 million tourists visit each year. So it's best to start the day by being among the first group on to Liberty Island. Which makes the Walks tour the perfect way to start a day exploring Lower Manhattan.
Built as a gift from the French as a symbol of enduring Franco-American friendship, the Statue of Liberty has welcomed visitors to New York Harbor since she was erected and dedicated in 1886. Immigration to the United States came in waves, with a major wave between the 1880s and 1930s. More than 12 million immigrants became US citizens at Ellis Island between 1892 – 1954, and every single one was welcomed to America with Lady Liberty as their first sight.
Even landing at Newark Airport today, Lady Liberty is one of the very first notable landmarks you'll be able to spot (if you're sitting on the left side of the plane). A symbol of the United States itself, there is definitely something special about getting an up close look at the Statue of Liberty.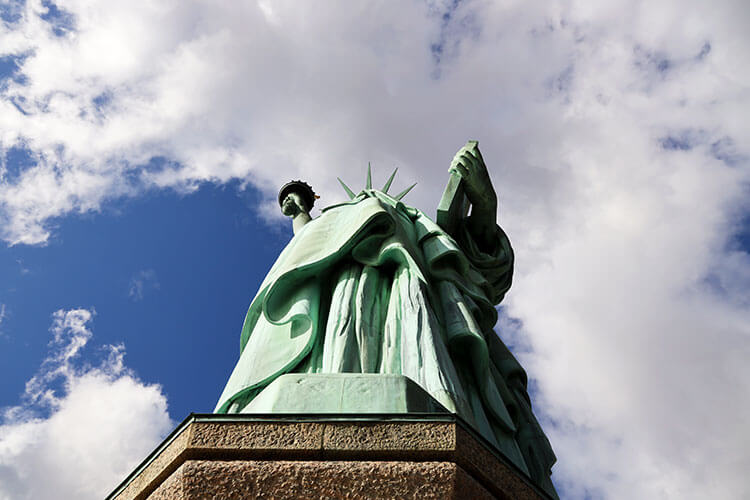 There are different kinds of tickets for accessing the Statue of Liberty, and it's good to know that if you want to go "inside" the Statue of Liberty that you need either Pedestal Access or Crown Access tickets. We recommend Pedestal Access, which is included with the Walks tour.
Pedestal Access allows you inside the pedestal that Lady Liberty stands upon. The view of Lower Manhattan is stunning and this is as close as you can get to the Statue of Liberty without securing Crown Access tickets, which are limited to a small number daily and book up weeks in advance.
While you don't have to visit both the Statue of Liberty and Ellis Island, the ticket includes both monuments. Ellis Island, where some 12 million immigrants arrived to the United States between 1892 – 1954, is where so many of our own ancestors would have been processed. And even if you don't have ancestors who came through Ellis Island, it's a major piece of our history as America that is moving to set foot in.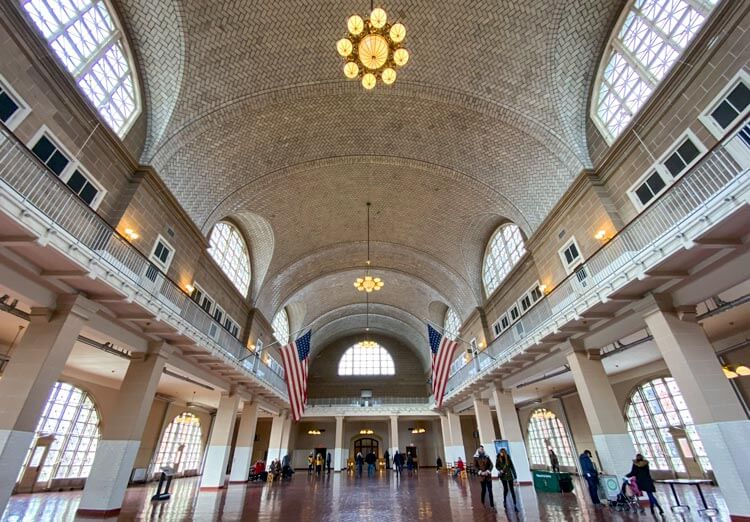 The interactive museum on the ground floor is an interesting walk through both the process that immigrants went through when arriving to Ellis Island, as well as a look at individual stories. Be sure to also head up to the next level to see the Registry Room. And if you're interested in exploring the abandoned hospital for a unique look inside what was once the largest US Public Health Service Institution in the United States, allow extra time for the Ellis Island Hard Hat Tour.
You should plan at least half a day to visit both the Statue of Liberty and Ellis Island. The restaurant on Ellis Island is a good and quick option for lunch offering sandwiches, a soup of the day and a hot special of the day for reasonable prices. Otherwise, you can also head back to Battery Park on the ferry for a quick lunch in Lower Manhattan. And there's practically nothing faster or more New York than a New York slice.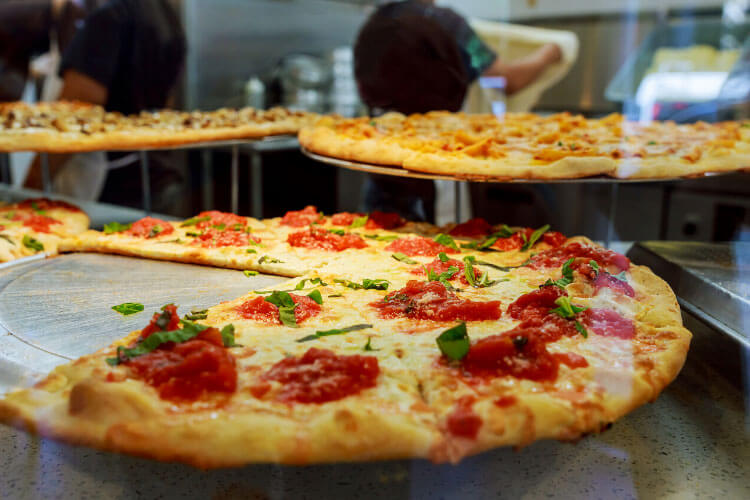 A New York Slice for Lunch
For a New York slice, head to Joe's Pizza at the 124 Fulton Street location just a short walk from the World Trade Center Complex. Joe's was opened by Pino "Joe" Pozzuoli in 1975. As an Italian immigrant from Naples in the 1950s, Joe knew pizza and worked at various pizza shops all around the city before opening his own in Greenwich Village.
Though Joe has many more locations around Manhattan these days, his pizza and concept has stayed the same. Simple no-frills shops selling pizza by the whole pie or by the slice. It's all about the ingredients, and all of Joe's employees have been personally trained by Joe himself to deliver the same quality New York style pizza for over 40 years now.
It's good to know that Joe's Pizza is cash only, though there is an ATM in the pizza shop if you don't already have cash on hand.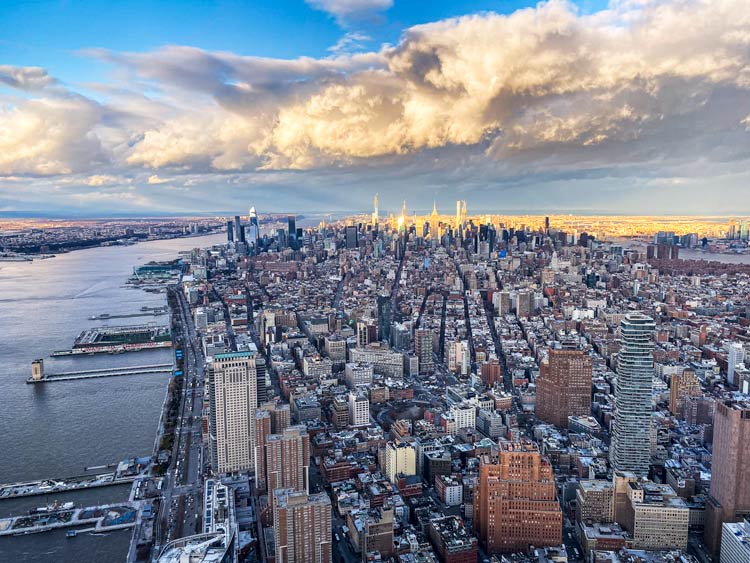 One World Observatory
After lunch it's time to take in more views of Manhattan. Head to One World Observatory, located on the 100th – 102nd floors of the One World Trade Center building, for unique 360-degree views over all of Manhattan. Also known as the Freedom Tower, One World Trade Center was built after the 9/11 attacks and is the tallest building in the United States.
As it's currently NYC's newest observatory (until The Edge at Hudson Yards opens in 2020), One World Observatory still attracts quite a crowd. Timed entry tickets ensure that this popular NYC attraction never feels overcrowded though, and combo priority access tickets let you breeze past the line, have a priority security line and an express elevator.
The SkyPod elevators deliver visitors to the 102nd floor in just 47 seconds, all while showing a short movie about the transformation of New York City from before it was even settled to the metropolis of skyscrapers that it is in present day. Then once arriving at the top of the world – at least in the Western Hemisphere – another short movie touches on the pulse of bustling New York City. As it concludes, the screens raise to give visitors their very first glimpse of NYC and Lower Manhattan.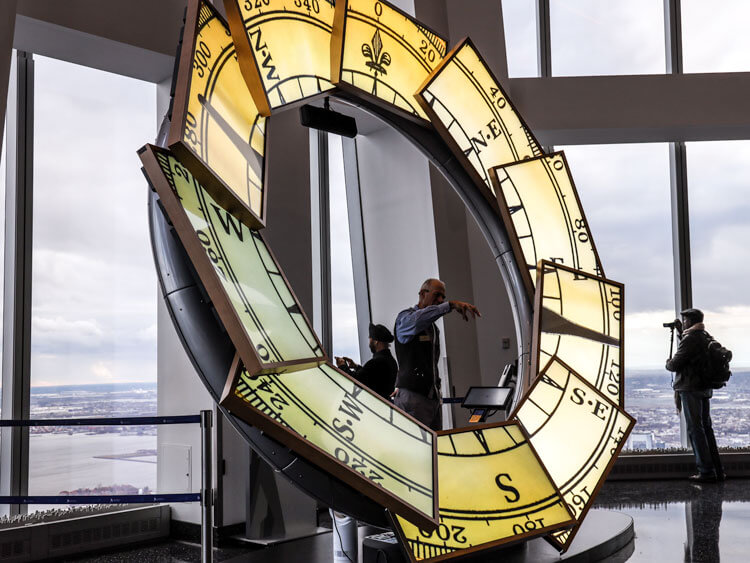 Tour Ambassadors give regular talks highlighting NYC landmarks you won't want to miss looking down at from this spectacular view, while also giving a brief history. It's well worth sitting down to listen before exploring the 360-degree views.
Both the combo priority access and all-inclusive tickets include use of the One World Explorer virtual reality guide. The iPad is really cool with two different channels. One displays landmarks and buildings on the screen so that you know exactly what you're looking at from each window atop One World Observatory, while the other explorers 10 little known restaurants recommended by celebrity chef David Rosengarten of Food Network.
One World Observatory, open daily. Hours change seasonally, so be sure to check the specific hours of operation for your visit. We highly recommend the Combo Priority Ticket.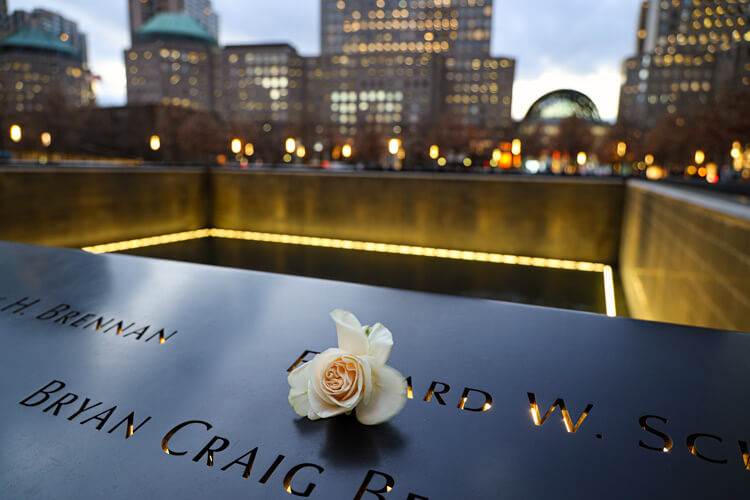 9/11 Memorial
Exiting from One World Observatory, you're delivered in to the new-ish World Trade Center Station also known as The Oculus. Designed by the Spanish architect Santiago Calatrava, the transportation hub opened in 2016. Exit out toward the 9/11 Memorial.
The 9/11 Memorial is free to access and open daily. Even if you don't visit the 9/11 Museum, it's impossible to visit Lower Manhattan and not stop to reflect and pay respects to so many Americans who senselessly lost their lives.
The 9/11 Memorial pools are the footprints of the Twin Towers that stood as part of the complex until that day that changed America forever. It was a day that put a massive hole in NYC's skyline as the Twin Towers came crashing to the ground and a day that forever put a hole in our hearts.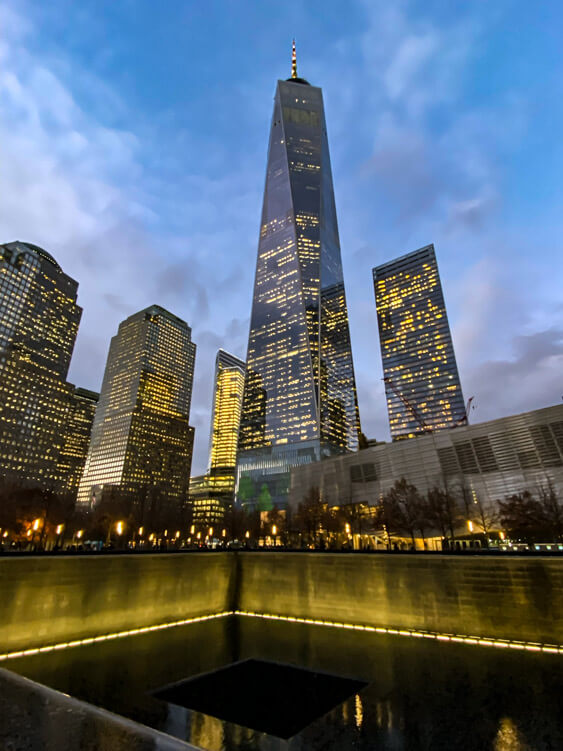 I'd previously visited the 9/11 Memorial and Museum on another visit to NYC. But standing here again it's not any less impactful. The pool are the largest man-made waterfalls in the US, and their sound is meant to mute out the sounds of the bustling city around. The names of the 2,983 victims from both the 2001 attacks and the 1993 World Trade Center bombing are inscribed on the bronze panels around the pools.
I remembered feeling renewed with hope as I marveled at the Survivor Tree back on my visit in 2012 not long after the 9/11 Memorial Plaza had opened the year before. The Survivor Tree is a tree that was discovered among the wreckage at Ground Zero with snapped roots and a blackened trunk.
In 2001 it only stood 8 feet tall. It was nursed back to health and replanted at the 9/11 Memorial Plaza and stood 35 feet tall when I first visited the memorial in 2012. I don't know how tall it is now more than seven years later, but the tree is a sign of our country's resilience.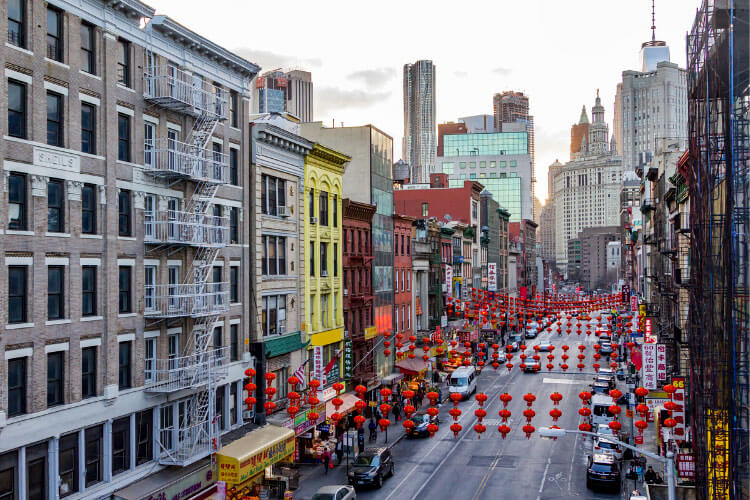 Dinner in Chinatown
Before leaving Lower Manhattan for the evening, take a walk to Chinatown for dinner. As Chinatown started way back in the 1870s – before Ellis Island was even open as an immigration station – it's a fitting way to end a day exploring the roots of America.
While any foodie should definitely take a food tour of Chinatown and Little Italy, there simply isn't time with everything else you're trying to pack in to 3 days in NYC. But you can do the next best thing, and that's heading to one of the city's best spots for soup dumplings in Chinatown.
If you've never had soup dumplings, you're missing out. As soup dumpling lovers, we try them anywhere we can find them. Short of heading to Shanghai where they were invented, NYC's Chinatown is one of the best places to have them in the US.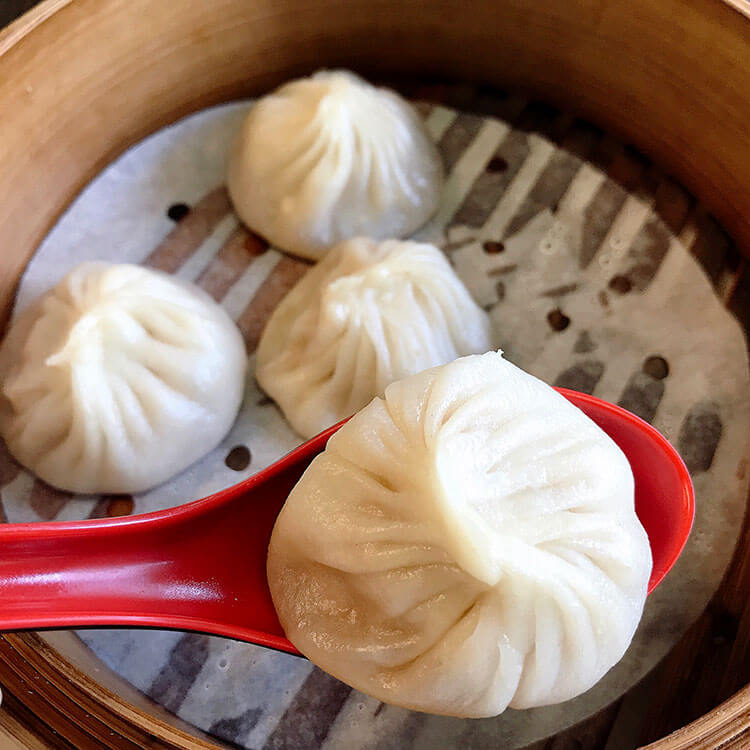 Thought to have been invented in 1870 by Huang Mingxian when the addition of aspic in his pork mince melted into a liquid upon steaming his dumplings, xiaolongbao have only become popular in NYC in the last 20 years. They're incredibly time consuming to make from scratch. Even eating them takes a bit of skill if you don't want the soup to leak out all over the place.
Try xiaolongbao at Shanghai Dumpling (called Shanghai Cafe Deluxe since 2018, but locals still refer to it as Shanghai Dumpling) on Mott Street, one of the original four streets that made up Chinatown back in 1870 when it was established. Go for the original pork soup dumplings, which is #2 on the menu. We also tried the crab and shrimp soup dumplings, but weren't huge fans as the broth inside was a little too on the crab/fishy side. Just be sure to also bring cash, because credit and debit cards aren't accepted.
Shanghai Cafe Deluxe, 100 Mott Street. Cash only.
Day 3: NYC Museums and Central Park
NYC has no shortage of museums. The five boroughs have at least 100 different museums you could potentially visit during your New York City trip. You could easily spend a week alone visiting everything from art museums that hold some of the world's greatest collections to history museums that are practically time capsules of life in New York City through the ages.
If the museum selection alone sounds overwhelming, that's because it definitely is. If you're visiting NYC for the first time, we suggest picking just one or two museums to visit. With only three days in New York, choosing just one or two of the must-see NYC museums and combining that with other activities is really the best way to see New York City.
Start with some of the very best museums NYC has to offer. And when it comes to tips for visiting New York City for the first time, we suggest you visit any museum you choose right at opening time. The crowds only get larger as the day goes on. We find allowing about 3 hours for a museum visit in the larger museums like the Metropolitan Museum of Art is a good amount of time. After that, we start to feel a little brain burnout.
American Museum of Natural History
Our personal favorite and recommendation if you only want to include one museum on your New York itinerary is the American Museum of Natural History. What's not to love about dinosaurs, African animals and the civilizations that made our planet what it is today?
We've visited the AMNH more than once on our various trips to NYC, and it never gets old. There are the permanent exhibitions, but there are changing special exhibitions that can make the museum a re-visit on a future trip to NYC.
There's a lot going on in the American Museum of Natural History itself, and it can even be overwhelming deciding how to spend your time there. Museum staff can help you plan your visit, and we highly recommend going with the General Admission + All combination ticket. This ticket gives you access to all 45 halls that are part of the permanent exhibition, plus all special exhibitions, the giant-screen film, and the Space Show.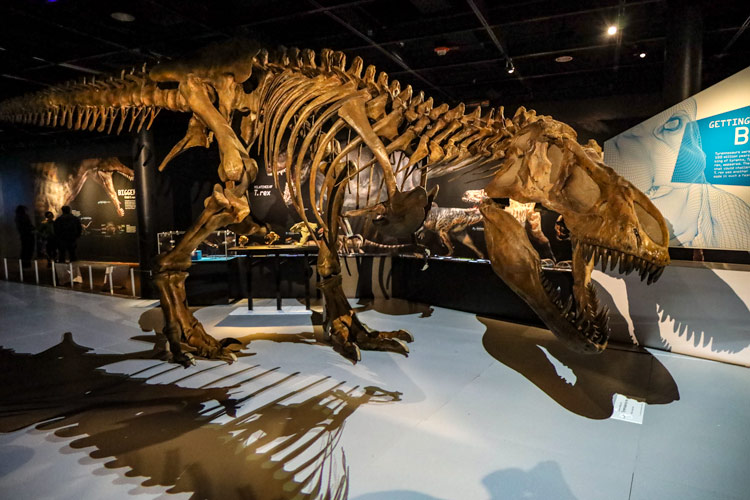 The current T. rex: The Ultimate Predator Exhibition, which is on until August 2020, had us returning to the American Museum of Natural History. The T. rex is the world's most popular dinosaur, thanks to its intimidating size and appearance. But did you know that there are actually more than a dozen different species included in the Tyrannosaurus family?
We didn't either. That is, until we visited the AMNH and the T. rex exhibition. There's, of course, a skeleton of a massive T. rex like we've come to love and know. But the exhibition is much more than bones: there's a massive life-sized model of T. rex, a baby T. rex that was surprisingly bird-like and covered in feathers, animations and a virtual reality game where you build a T. rex and watch it come to life hunting in a field.
The T. rex isn't the only dinosaur you can see, either. The AMNH's permanent collection includes the Hall of Saurischian Dinosaurs with other impressive and popular dinosaurs like the Allosaurus.
We recommend you also check out the giant-screen film while visiting the American Museum of Natural History. The films are either 2D or 3D and we thoroughly enjoyed Oceans: Our Blue Planet in 3D during our most recent visit. You can visit the AMNH's website to see what filming is playing during your long weekend in New York.
And while most of Night at the Museum wasn't actually filmed inside the AMNH, you can live out your very own Night at the Museum during their sleepovers. There's both a kids version for kids 6 – 13 with their parents, or an adult-only sleepover complete with champagne, wine and beer, live music and live animal demonstrations. You get complete access to the entire permanent collection and most special exhibitions without the crowds. You even sleep under the museum's famous blue whale in the Hall of Ocean Life. Natural history museum geeks like us would totally plan a weekend in New York around a special access event like this.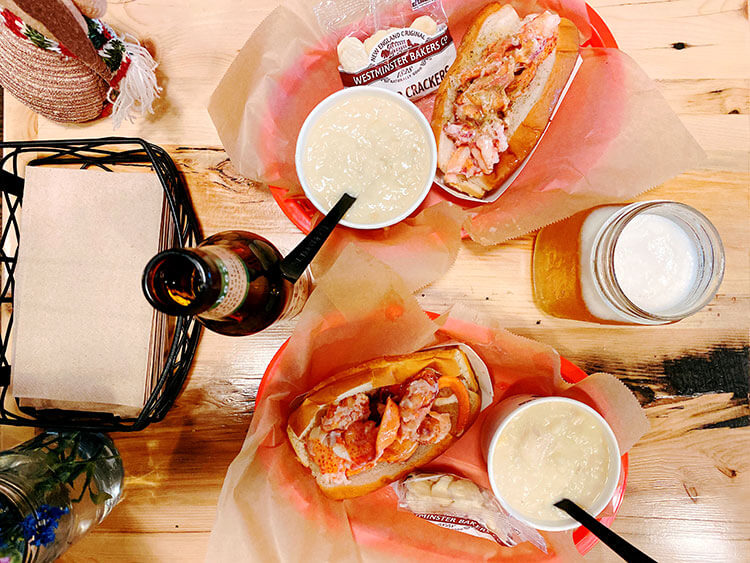 Lunch at Luke's Lobster
When you're on the Upper West Side, a high brow lunch is in order. But there's also still so much New York City left to see. So is there a more high brow sandwich than the lobster roll? We think not!
You'll definitely work up an appetite while spending a few hours exploring the four floors of the American Museum of Natural History. For a fast, but delicious lunch head two blocks over to Luke's Lobster at their Upper West Side location.
They're known for some of the best lobster rolls in NYC and have nine locations. You can't go wrong with their classic lobster roll, but they also have seasonal specials like the white truffle lobster roll or the lobster grilled cheese that appear on their menu in winter.
Luke's Lobster, Amsterdam Ave.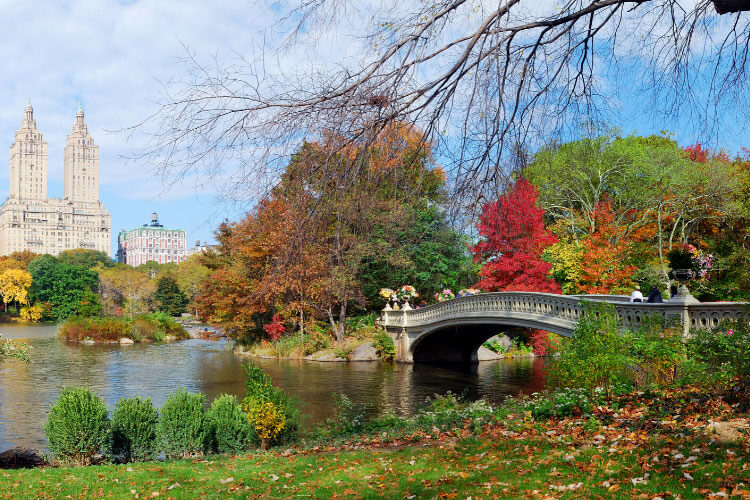 Stroll Through Central Park
You simply can't come to NYC and not visit Central Park, especially as a first timer to NYC. Central Park was America's first major landscaped public park, initially opened in 1857. And it's fitting to end a visit to the Upper West Side and visiting the American Museum of Natural History in Central Park, since the park is like a living natural history museum itself. Those dramatic rocks and boulders you see in Central Park are debris left behind from the glaciers that once covered the park and melted about 12,000 years ago.
Covering an area of 843 acres, Central Park is 2.5 miles long and a half mile wide. It stretches from 59th Street to 110th Street and from Fifth Avenue to Eighth Avenue. If you enter Central Park from near the American Museum of Natural History, you'll be able to cover a lot of famous sights that you're sure to recognize from some of your favorite movies and tv shows.
Starting from entering Central Park at the 79th Street entrance (Mid-Park), you can follow the paths back toward Midtown and pass by many of the must-see sights of Central Park. Located near the 79th Street entrance is the Belvedere Castle. Designed in 1865 by Frederick Law Olmsted and Calvert Vaux, its purpose was really nothing more than to provide a beautiful backdrop. Since 1919 the Belvedere Castle has served as the official Central Park weather station.
Continuing south, just north of the lake you come to what's known as The Ramble. It's a really dense wooded forest area, and you'll hardly believe you're still in NYC and not Upstate. Bird watchers particularly love The Ramble because it attracts migratory birds.
The centerpiece of Central Park is The Lake. It's here that the famous Loeb Boathouse sits, and the cast iron Bow Bridge is one of the most romantic spots couples regularly seek out in Central Park. From there, you can also see the famous San Remo Apartments. They were the very first twin towered building in New York City.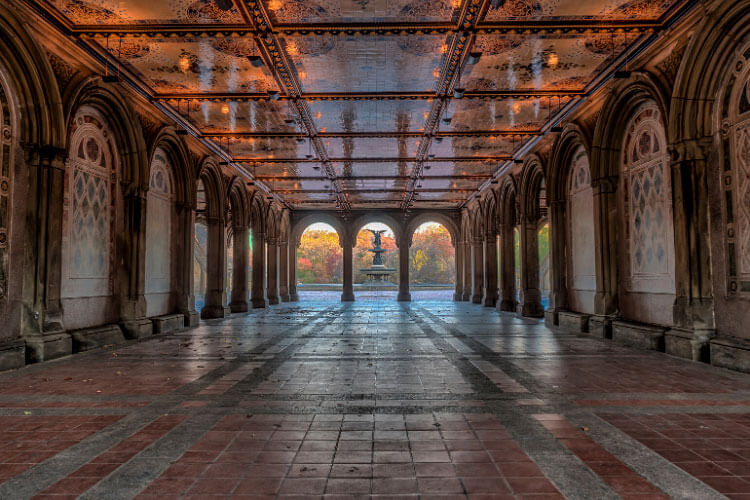 Just a little further south of The Lake is the Bethesda Terrace. It's here that you find the most recognizable icon in Central Park: the famous Angel of the Waters statue right in the center of the Bethesda Terrace.
The Sheep Meadow is a vast lawn where New Yorkers love to come out to soak up the sun. It gets it name from the 19th century when it was actually home to some 200 Southdown sheep for about 70 years!
Then you'll pass by the Central Park Zoo. Tickets are required to enter the zoo itself, but you can see the sea lions swimming about from the East Side.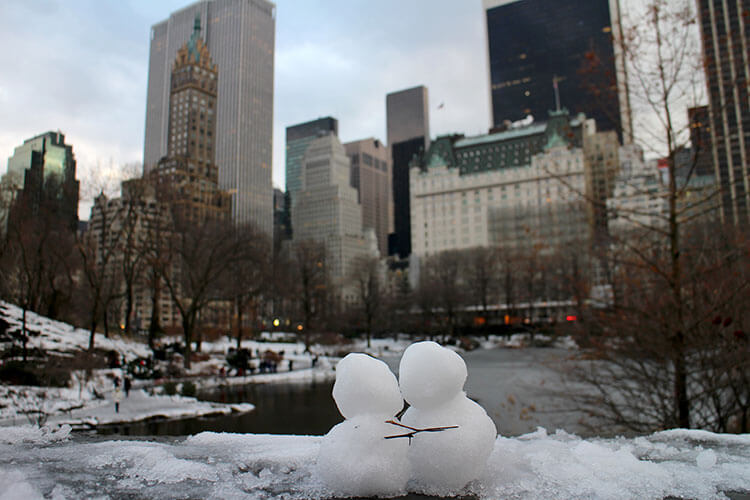 Finally, you must see the Gapstow Bridge. This spot is definitely one of the best views of the New York City skyline from Central Park with the dramatic buildings rising up at Central Park South, including the famous Plaza Hotel. You'll certainly recognize the spot from movies like Weekend at Bernies and Cruel Intentions.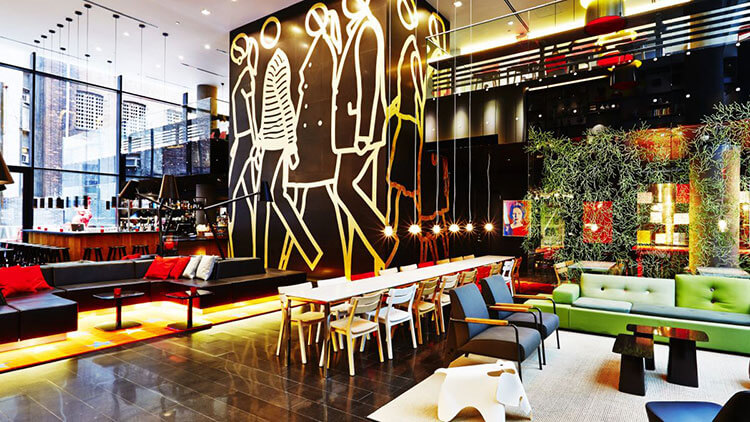 Where to Stay in NYC
One of our new favorite affordable luxury hotel chains as of recently has become the citizenM brand. It's primarily a European brand, but there are a few NYC citizenM locations. The citizenM Times Square is located just off of Times Square on a relatively quiet street, yet is the perfect location for walking Midtown and has multiple subway lines accessible within a block.
While the rooms themselves don't change from location to location with citizenM, we actually love that. We know exactly what to expect. There aren't different levels of rooms like at most hotels, and citizenM is perfect for city stays exactly like this when you want comfort and amenities yet won't be spending a ton of time in the room.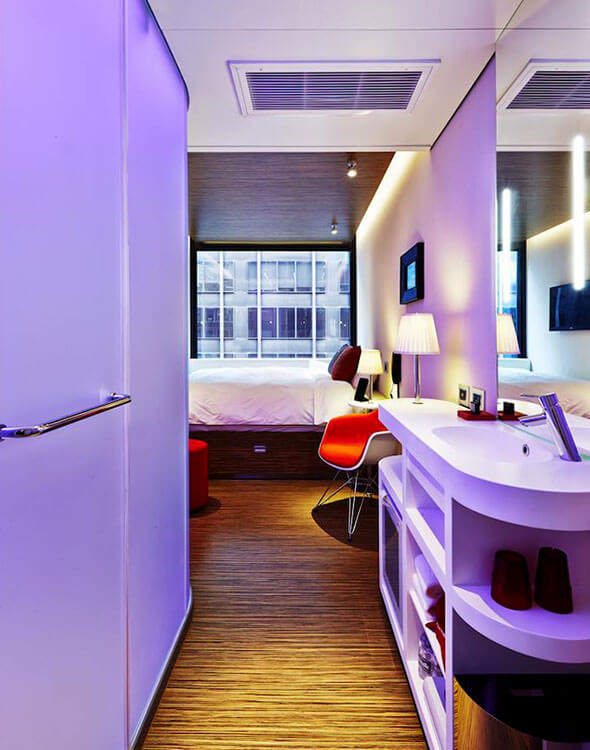 All citizenM hotels are high-tech with the rooms entirely controlled by an iPad. You can change the color of the lighting in the bathroom, which has a fantastic rain shower. There's also blackout shades that lower with the tap of the iPad.
Perhaps our favorite feature is the library of movies you can watch on-demand. The only problem is that all these movies are included complimentary, and in a city like NYC you actually don't want to spend a load of time in the hotel.
The citizenM Times Square location also has a great cocktail bar, and the breakfast is delicious with a buffet of options.
Know Before You Go
Getting to New York City is easy from just about anywhere in the world with three airports connecting countries all of the world to the United States. Direct flights are offered from a number of destinations within the US and abroad to New York's JFK International Airport, Newark Liberty International Airport and LaGuardia Airport.
If you're arriving to NYC by car, you might want to consider parking outside the city. Newark EWR Airport Parking is a safe, secure and affordable option for parking outside the city.

This article contains affiliate links. When you book on On Location Tours, Viator or Booking.com through our affiliate partner sites, we earn a small commission at no additional cost to you.