A lunar-like, rock covered landscape unlike no other. Fairy chimneys and hot air balloons by the hundreds. This is Cappadocia.
Nowadays dubbed a must-visit by just about everyone, the central Turkey region was barely on anyone's radar a mere 20 years ago. But the Bagan meets Petra destination was thrust in to the limelight, and now it seems just about everyone has been there. And if they haven't, Cappadocia is most definitely on their bucket list.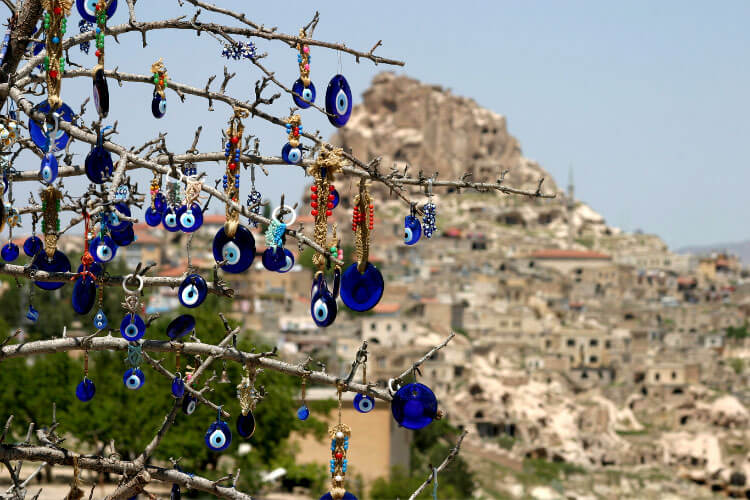 Famous for hot air ballooning and Instagram worthy rooftops, Cappadocia has become one of the most visited places in Turkey. But there's a lot more to Cappadocia beyond balloons and getting Instagram shots of dreamy rooftop breakfasts. Cappadocia is a region – not a city, as many are under the impression. This area spanns some 5000 square kilometers and three different provinces, offering a plethora of things to do in Cappadocia. Cappadocia boasts a national park, numerous underground cities, museums, archaeological sites, gastronomic delights, and is one of Turkey's largest wine-producing regions.
So read on to plan your 2-day Cappadocia itinerary, apply for your electronic visa to Turkey (you need a visa to enter Turkey), and pack your bags. Cappadocia awaits and this Turkish region will definitely steal your heart!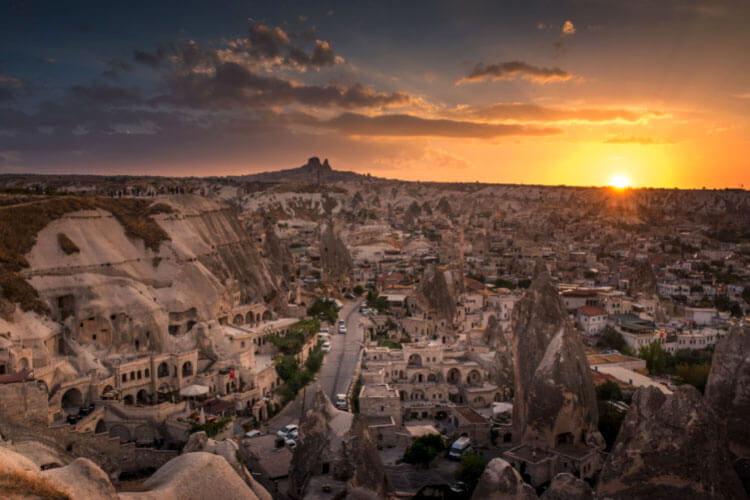 Sunset Panoramic Viewpoint | 7pm
The best way to see Cappadocia is from the numerous viewpoints offered, both free and pay-to-enter.
One of the most popular because of its proximity to Göreme is the Aydın Kırağı viewpoint, also known as Sunset Point Goreme. It's a gentle 5-10 minute walk up a gentle hill, but also generally crowded.
The most unique panorama over Cappadocia is from Uchisar Castle, which is the highest point of the region. Uchisar Castle is the biggest fairy chimney of Cappadocia, and the climb up is worth the effort for the numerous cave dwellings and pillars you pass along the way. There is an entry ticket, and you'll climb around 100 steps to reach the top.
Just be sure to check the sunset time in Cappadocia for the specific date you're visiting. It can be as early as 5:30pm in winter months or as late as 8pm in summer.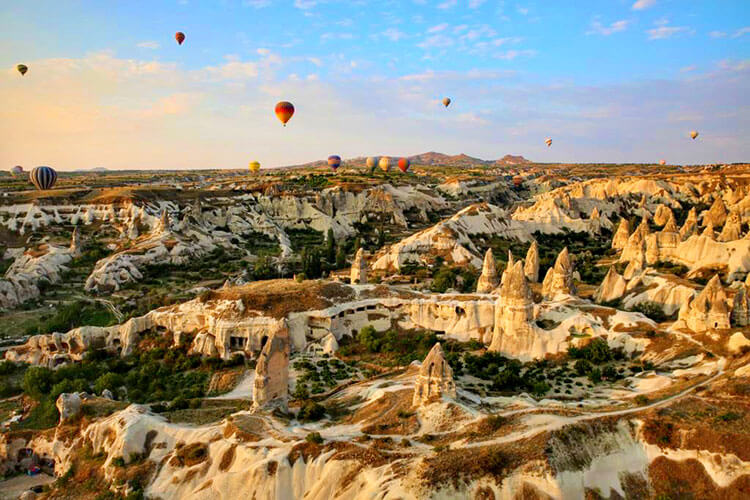 Sunrise Hot Air Ballooning | 5am
Flying in a hot air balloon in Cappadocia absolutely must be on your Cappadocia itinerary. Though we might be a bit biased since we were married in a hot air balloon, there's nothing quite like taking in a beautiful location while gently drifting over it in a hot air balloon. And Cappadocia is undoubtedly one of the world's most popular and unforgettable hot air balloon experiences.
Beyond the incredible landscape of fairy chimneys and river valleys, Cappadocia is one of the world's best hot air balloon destinations because it's one of few places where balloons fly year round. Though weather is critical for safe hot air ballooning and often grounds scheduled flights, Cappadocia typically sees hot air balloons take to the skies an average of 250 days of the year. That's pretty good odds that your scheduled flight will take off as planned, but also why we still recommend scheduling it for your very first morning in Cappadocia. That way if weather does ground your flight, you have an opportunity to reschedule.
There are several different types of hot air balloon flights in Cappadocia, from the standard flight that is pretty affordable for just about anyone to longer deluxe flights. Companies even offer private hot air balloon flights for special occasions. Of course, price depends on which type of flight you take and private flights are at the top end of the price scale.
On most mornings, the skies over Cappadocia are dotted with 100-150 hot air balloons. There's no shortage of companies offering balloon experiences, but don't just pick one because it's the cheapest. Not all balloon companies were created equally, and you want to ensure quality and safety along with a fair price.
We can recommend Cappadocia Voyager Balloons, who we flew with. Though commercial hot air ballooning has only been in operation in the Cappadocia region for around 30 years, Cappadocia Voyager Balloons have been giving customers a memorable experience successfully for 20 years. All pilots are FAA certified and safety is paramount.
The standard flight is with 16 passengers in the basket, the deluxe (or comfort flight as Cappadocia Voyager Balloons calls it) is with 8 passengers in the basket and private flights are available.
Derinkuyu Underground City | 9:30am
One of the unique things about Cappadocia is its underground cities. There are around 36 underground cities in the region, though two of them are the most well known and visited: Kaymakli and Derinkuyu.
These underground cities were essential to the ancient inhabitants survival. Carved out of the soft volcanic rock, these underground cities were built to protect the ancient inhabitants. When attacks were imminent during the Arab-Byzantine Wars, the inhabitants would descend underground with their possessions and livestock. They'd seal up the entrances with rocks and live out their lives in a secret underground world until it was once again safe to emerge.
Derinkuyu Underground City is the largest not only in Cappadocia, but in Turkey. Lying 60 meters underground, the multi-level city is believed to have been able to house 20,000 people plus their animals.
As you'll learn on a tour of Derinkuyu, it was only discovered as recently as 1963 and totally by accident. As the story goes, a local man decided to renovate his home. When he knocked down a wall, he found an odd room and decided to keep digging. The rest is history, and the site was opened to visitors in 1969.
You can explore nearly half of Derinkuyu's vast passageways, which is precisely why it's best to go on a tour.
Wine Tasting | 2:30pm
Though Cappadocia is likely on your radar for the fairy chimneys and hot air ballooning, any wine aficionado won't want to miss the opportunity to do some wine tasting in Cappadocia. In fact, wine historians believe that the southeast part of Turkey was the origin of grape domestication, dating back to 9000 BC. And there is evidence of wine making in the Anatolia region, here where Cappadocia is located, dating back some 7000 years.
While you can stroll in to some wineries like Kocabağ without an appointment and taste the range of wines (usually complimentary), if you really want to learn a bit about the wine history of this area and know about the grape varietals, then it's best to book a Cappadocia wine tasting tour.
We recommend the wine tasting tour of Cappadocia as you visit two of Cappadocia's most renowned wineries: Turasan Sarapcilik and Kocabağ. Turasan Sarapcilik is the oldest and largest winery in Cappadocia. Kocabağ has been producing wine since 1972 and they have an impressive range of 17 different wines. The third and final tasting of the tour takes place on the beautiful terrace of Ariana Luxury Lodge and is accompanied by cheese produced from around Turkey.
Pottery Kebab | 8pm
The must-try dish and most classic of Anatolian cuisine is Testi Kebab, which is also known as pottery kebab. And for one of the best and most authentic, you'll need to book in advance.
Pottery kebab gets its name from the vessel that this Anatolian dish is cooked in, the Avanos pot. These pots are made in the village of the same name, Avanos, set on the banks of the Red River. The tradition recipe was made only with beef, but these days you'll find restaurants serving other options like chicken or lamb.
The beef, along with tomatoes, bell pepper, onions and a mixture of herbs, is sealed in these single serving size pots. The pot is sealed and cooked in a tandoori for at least 4 hours. It's the high pressure that develops while cooking that gives pottery kebab its unique taste.
While it is possible to walk-in to restaurants in Cappadocia and find pottery kebab, know that these pottery kebabs have actually been cooked earlier in the day. They're then reheated for hungry customers.
For a truly authentic Testi Kebab and dining experience, pre-book at family-owned Dibek Restaurant. Set in a more than 475 year old building in the center of Göreme, the ambiance is traditional with diners sprawled out on Turkish seating.
Dibek requires a reservation for pottery kebab because every one is prepared and cooked for those reservations. Once your pottery kebab is ready, the waiter brings the pot to the table along with a tiny hammer. It's cracked open in front of you and the contents are poured out. It's served with rice and salad.
Horseback Riding | 10am
As we said, Cappadocia is a region. Spanning some 5000 square kilometers, there's a lot to see and do in Cappadocia. Obviously, you can't possibly cover even a fraction of it in just 36 hours time. And while you definitely took in a lot of Cappadocia with a bird's eye view from the hot air balloon, don't miss the opportunity to explore some of the majestic rock formations from close up.
Unless you plan to devote your entire holiday in Turkey to spending it in Cappadocia, you're likely pressed for time to cover this unique region. Heading out in to Göreme National Park on horseback is a great way to cover quite a bit of distance in a short amount of time.
Growing up with horses, I'm never one to pass up the chance at doing some horseback riding. And Göreme National Park is definitely a gorgeous place to saddle up. The 2-hour tour is all on quiet trails and away from the crowds at popular viewpoints. Besides riding past the incredible rock formations, you also pass through apricot orchards and vimeyards, along with a visit to the rock-cut Hallacdere Monastery.
It's a great way to end a visit in Cappadocia.
Where to Stay in Cappadocia
While there's several towns to stay in during your visit to Cappadocia, Göreme is the most popular choice. Göreme town is filled with hotels, cafes, restaurants and bustling with life. It's also a great base for tour departures if you don't have a car to get around the region. After Göreme, Uçhisar is sought out as a still offering a selection of restaurants but with a bit more upscale and quieter vibe. Uçhisar is also home to one of the most expensive and luxurious cave hotels of the region.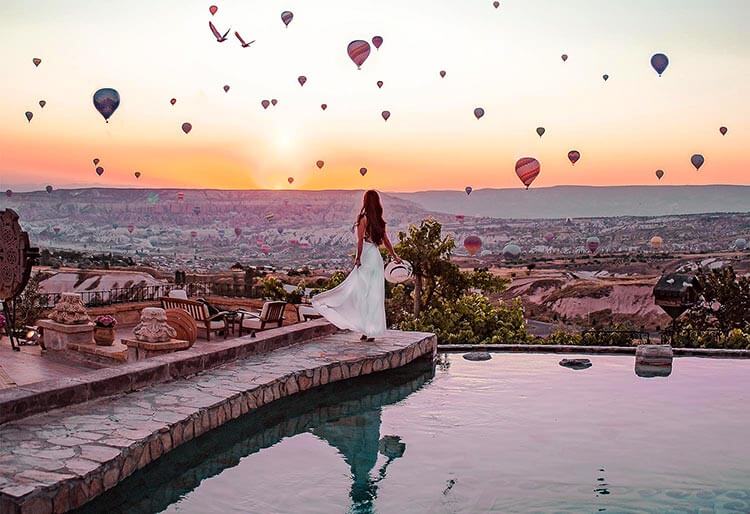 Museum Hotel, Uçhisar
Museum Hotel in Uçhisar is the most luxurious and exclusive boutique cave hotel in Cappadocia. Guests are always surprised and delighted with this hotel's 30 unique room and suites, some with features like wine taps in rooms. Designed for couples (guests must be a minimum of 12 years of age), Museum Hotel offers an unmatched romantic setting and amenities that simply can't be topped in Cappadocia. The pool, which is heated so it can be enjoyed by guests year round, is one of the most photographed pools with a spectacular panoramic view perfect for hot air balloon and sunrise watching.
The hotel's onsite restaurant, Lil'a, is also one of the top fine dining restaurants in the region and offers both traditional and modern takes on Turkish cuisine.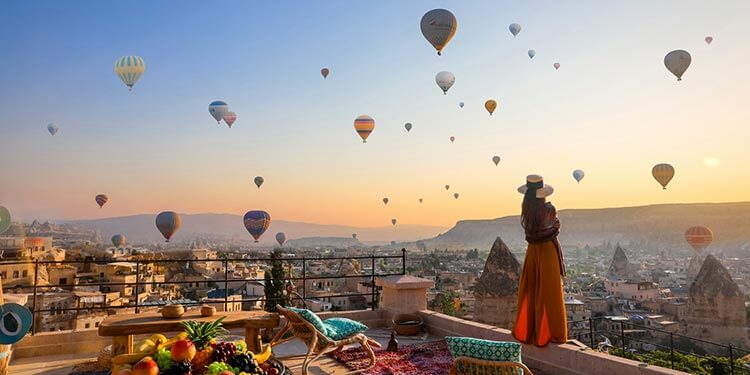 Mithra Cave Hotel, Göreme
When it comes to the best cave hotels in Göreme, look no further than Mithra Cave Hotel for a romantic and authentic stay. The hotel is located on a hill in the center of Göreme, giving you both panoramic views at all times of the day and night. The location is also perfect for exploring the many restaurants, cafes, terraces and activities of Göreme.
The boutique hotel has 39 rooms and are decorated with Ottoman and Greek architectural style to give you a sense of stepping back in time. While there isn't a pool like at Museum Hotel, there is the panoramic sun terrace. The onsite restaurant offers an Instagram photo worthy breakfast and the dinner menu features the pottery kebab.
While guests do ultimately love Mithra Cave Hotel, if a reliable wifi connection is important to you, know that inconsistent wifi connectivity is a regular complaint at this Cappadocia cave hotel.
This article contains affiliate links. When you shop book on Viator or Booking.com through our affiliate sites, we earn a small commission at no additional cost to you.