We frequently receive emails, to the tune of several each week, asking where the best place in Europe to see Northern Lights is. The Aurora Borealis, or Northern Lights as they are more commonly called, truly is one of the greatest natural phenomena on Earth and we absolutely think seeing them should be on every traveler's bucket list. As we encourage in our most popular post ever, 10 Things No One Ever Tells You About the Northern Lights, you should pick your destination based on the other activities you want to do as there is never any guarantee you'll actually see the Northern Lights. But if the true draw for you is to watch the green curtain billow across the sky, we're here to tell you why we think Abisko is the best place in Europe to see Northern Lights.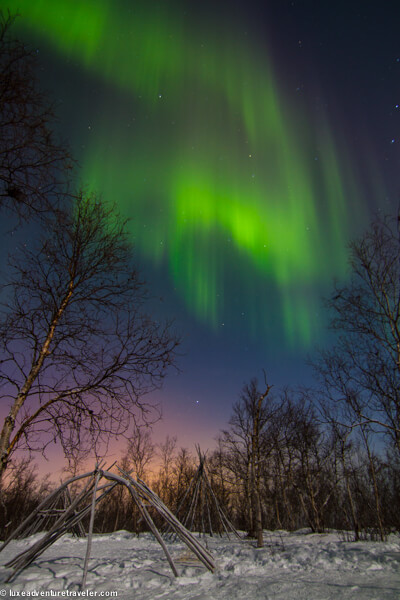 Where is the best place to see Northern Lights?
The fact of the matter is that there is no easy answer to the question "Where is the best place to see Northern Lights?" That question isn't as black and white as it may appear. Northern Lights most typically occur in the aurora zone between 65° and 72° North; however, big geomagnetic storms can push that zone lower. This is what happens when the Northern Lights are seen in places like Scotland or Michigan.
A lot of conditions all have to line up perfectly for Northern Lights to occur and be seen. When Northern Lights appear, they do so in what is called the auroral oval. This is a 3 – 6 degree-wide band that can stretch hundreds of kilometers east to west. So, if Northern Lights are appearing in one town located at 68° North, then they are appearing in many more towns also located at 68° North. You just might not be able to see them because of weather conditions, namely cloud cover.
That means that some places are good places to see Northern Lights because they are perfectly positioned in the aurora zone and have auroras more frequently. Other places are good because they are easily accessible, like Reykjavik with direct flights from a number of European and US destinations. Some places are good because they are so scenic that Northern Lights just make an already spectacular setting utterly phenomenal.

Why Abisko?
Abisko is the best place in Europe to see Northern Lights because it has conditions that line up and make the Northern Lights appear on average 159 nights (of the approximately 212 nights that are dark enough for Auroras to be seen) each year, according to scientists. Abisko is known as a Polar desert and is located in the middle of the auroral zone at 68° North and 200 kilometers above the Arctic Circle. Protected by the peaks of the mountains surrounding Abisko National Park and coupled with the fact that Abisko receives the least amount of precipitation than anywhere else in Sweden, it statistically has the most nights of clear skies of anywhere else in Europe.
Dark, clear nights is one key ingredient in the recipe to a successful Northern Lights sighting. That Abisko also lies in the middle of the aurora zone means it also is statistically most often located in the 3 – 6 degree-wide latitude that the auroral oval occurs in. In the simplest terms possible, if you stay in Abisko for three nights you have an 80% chance of Northern Lights making an appearance.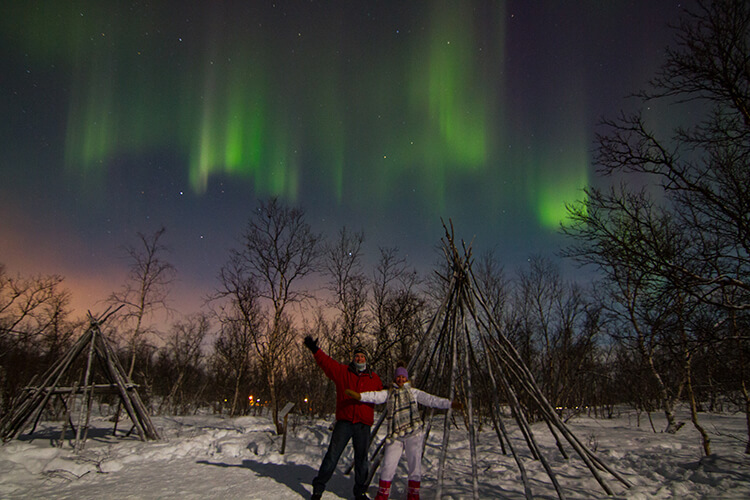 The Reality of Seeing the Northern Lights
That's a whole lot of numbers I just tossed around, and as we've said in every single response we've ever given to anyone asking us what their chances of seeing the Northern Lights is, it's like rolling the dice in a game of craps. We spent three nights in Abisko recently and the Northern Lights appeared on two of our three nights there. By comparison, I spent 22 nights in Iceland in September and the Northern Lights appeared on four of those 22 nights there.
Our very first night in Abisko was also the coldest we spent with temperatures dipping to -25°C (-13°F) and a slight wind. Just a quick walk to scout spots to shoot and our nose hairs were frozen, my face was stinging, and I had a massive headache while walking in to the wind within seconds. We'd also just spent 12 hours traveling door-to-door. I was honestly in bed by 8pm and because I was too tired to put the effort in to bundling up and going back out in to that cold, we missed a Northern Lights display that was dancing faintly in the sky by 8:30pm and continued until around 10pm.
Our second night was a frustratingly long night of waiting out completely cloudy skies for five hours at the Aurora Sky Station on the mountain above the village of Abisko. At 11:30pm we gave up that the sky was going to clear and made our way down to the village again. We spent several more hours setting the alarm clock to check before finally giving in at 2am.
Our third and final night in Abisko was turning out to be frustrating as well. We went out on a Northern Lights nightly photo tour with Lights Over Lapland and the crystal clear skies were promising. We spent three hours photographing the mountains and Sami structures around an outdoor museum while waiting for the Northern Lights. Again, we finally gave in at 11:30pm and our group headed back to the hotel. Tim and I had just changed into our pajamas and popped our heads out just to check one more time. There directly above us was the white wispy cloud-like band that is the beginning of Northern Lights.
Sometimes Northern Lights can last 15 minutes and other times they can dance around the sky for hours. You just never know, so I threw on my coat and boots, grabbed my hat and gloves and was out the door. At first I thought it was going to be a quick show, but waiting outside paid off. The Northern Lights finally danced across the sky and continued to do so for an incredibly cold three hours I spent outside in not much more than a pair of pajamas – my nice warm Icelandic wool thermals sitting inside a hotel room.
Two days later I got an email from one of other couples that had been in our Lights Over Lapland tour group that night. They had taken a cab back to their hostel in the village right after we'd all come back to the STF Abisko Mountain Station and gone to bed. Our photos, which they'd come across on Instagram, were the only Aurora sighting they had for their trip.
I tell this tale because I think most people think they they just need to go to a destination where you can typically witness the Northern Lights and it's as easy as that. Sometimes it is because the Northern Lights happen to appear exactly during a scheduled tour or you're lucky enough to be staying at a hotel that offers a Northern Lights wake-up call. But the reality is that Northern Lights photographers spend a lot of long, chilly nights doing nothing other than waiting for a natural phenomenon to occur so that they can capture it on film.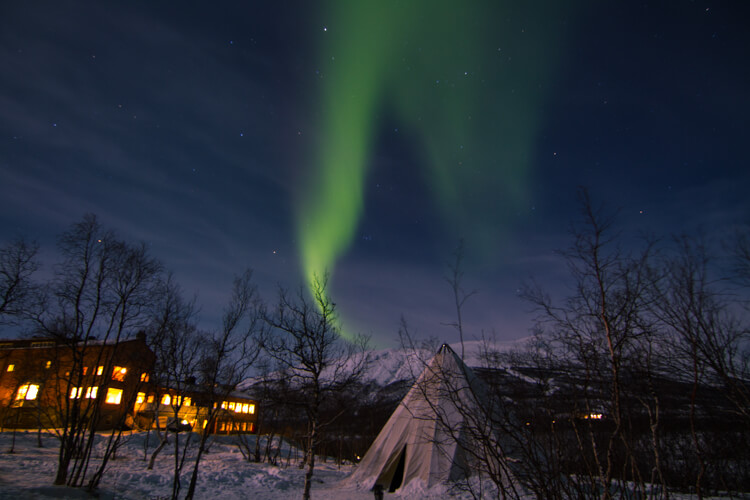 Northern Lights Photo Expeditions
Lights Over Lapland offers 5-day Northern Lights photo expeditions with expert photography instructions from owner and world-famous Northern Lights photographer Chad Blakely. We have gotten to know Chad and Lights Over Lapland over the years online before spending a bit of time with him in Abisko. He's a passionate Northern Lights photographer and his multi-day photo expeditions have a great success rate with 98% of his guests having seen and photographed the Northern Lights on at least one night of the trip. Lights Over Lapland's expert low-light photography instruction will help you to perfectly capture auroras in the best place in Europe to see Northern Lights.
Know Before You Go
The
Abisko Turiststation
is located in Abisko National Park away from the light pollution of the village and the best hotel in Abisko.
Our Aurora Odyssey trip to Swedish Lapland was provided by Abisko Aurora with the support of Lights Over Lapland in order to bring you this story. However, Luxe Adventure Traveler maintains full editorial control of the content published on this site. As always, all thoughts, opinions, and enthusiasm for travel are entirely our own. This article contains affiliate links. When you book on Booking.com or Manawa through our affiliate partner sites, we earn a small commission at no additional cost to you.