There are thousands of waterfalls in Iceland; so many, in fact, the actual number is unknown! We've climbed to the top of and crossed over Iceland's highest waterfall, we've been blasted with mist from Iceland's most famous waterfall, and now we've visited Iceland's most historic waterfall, Goðafoss.
We had spent the previous day traveling around Lake Mývatn by Super Jeep with Saga Travel, so we wanted to hit the road and see some of the sights of the North that are a little further afield. We checked the handy Vegagerdin.is website to see what the road conditions were like heading out to Dettifoss, Europe's most powerful waterfall. We had passed the turnoff on our way to Lake Mývatn and the road was closed. Still showing closed, we decided to see Goðafoss instead. (See more tips for driving in Iceland in winter.)
Goðafoss in winter is spectacular and many locals confessed that they think winter is the most beautiful time to see it. Heavy snow blanketed the banks of the Skjálfandafljót River and larger than life icicles alternated with the rushing water across the 30 meter wide falls as blocks of ice plunged into the river below.
Like many things in Iceland, Goðafoss of course has a legend. As the story goes, in the year 1000 a local chieftain Þorgeir Ljósvetningagoði decided that Icelanders should adopt Christianity. He threw all of his statues of Pagan gods into the waterfall and the waterfall was appropriately named Goðafoss, which translates to the "waterfall of the gods".
We spent some time exploring the area along the river bank and up close to the falls, being careful because the heavy snow pretty much covered the ropes that warn not to go beyond that point. The heavy snow overhung the riverbank and getting just a little too close could end in disaster.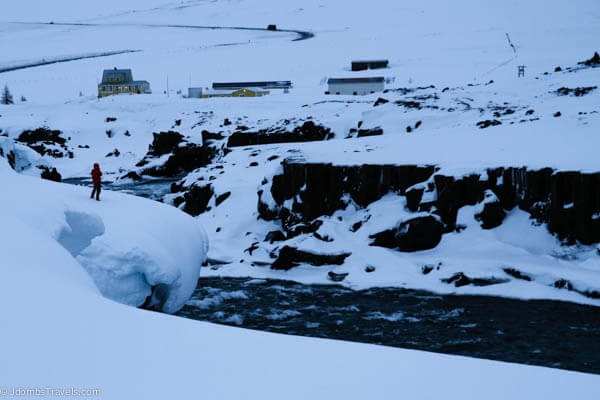 The Skjálfandafljót River is a glacial river and huge chunks of ice were piled up on both sides of the riverbank. Looking at photos of the river and Goðafoss in the summertime, we estimated that we were even standing atop part of the frozen river covered up by snow.
Know Before You Go
The road leading from Mývatn to Goðafoss is on a grade and was quite icy. Be sure to check Vegagerdin.is for the current road conditions if visiting in winter.
Goðafoss is located about 50km east of Akureyri and 49km west of Reykjalið; the turnoff for the car park is on the Ring Road about 300 meters past the bridge.