Kenya's Masai Mara is one of Africa's greatest wildlife viewing areas and the jewel of Kenya. The nearly 600 square mile Masai Mara National Reserve is remarkable for its year-round density of big game wildlife and spotting Africa's Big Five is almost a guarantee. It's a no-brainer when selecting a once-in-a-lifetime safari experience. The one thing you might not have considered for your safari, though, is taking to the skies in a Masai Mara hot air balloon safari. And a hot air balloon Masai Mara experience simply needs to be on your bucket list.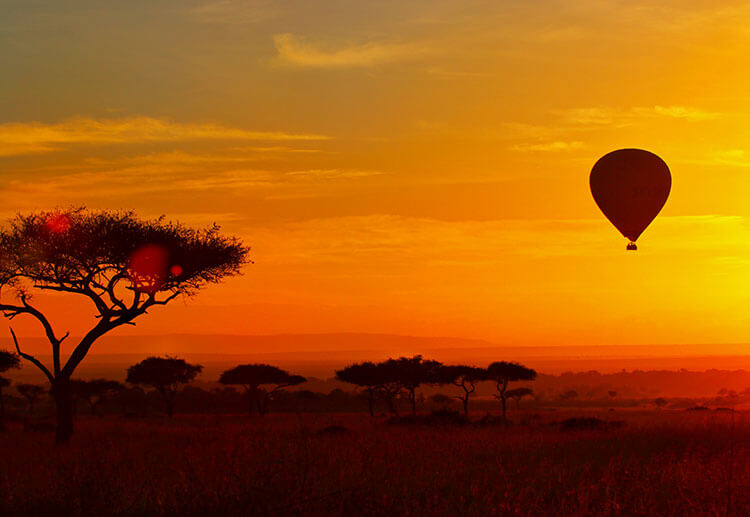 The Masai Mara
The Masai Mara is in the southwest of Kenya along the Tanzanian border. Together with the Serengeti, the two make up one giant area spanning two countries that is revered as Africa's most spectacular and diverse ecosystem.
Masai Mara National Reserve is home to an abundant amount of lions, elephant, giraffe, buffalo and cheetah. Already a year-round incredible game viewing destination, the grassy plains and Mara River become the stage for one of the greatest wildlife spectacles on the planet during the Great Migration. Every year over two million wildebeest, alongside zebra, elands and gazelle, migrate to the Masai Mara from July to October.
Aside from the big game predators nearly everyone going on safari wants to see, the Masai Mara is also home to over 450 species of birds. You just never know what you'll find when out on a game drive. From the cross-eyed chameleons to the mohawk-headed crowned crane, a day out in the Masai Mara never disappoints.
Masai Mara Balloon Safari
A Masai Mara game drive is a highlight of any time spent there. We couldn't get enough and spent as much of our four days in the Masai Mara on game drives as the daylight and park hours allowed. But no Masai Mara trip is truly complete without taking it all in from a hot air balloon.
I'm not a morning person in the least bit. But if every day could start with a balloon ride as mesmerizing as the one we took with Governors' Balloon Safaris, I'd happily hop out of bed at 4am every single morning. It was that magical.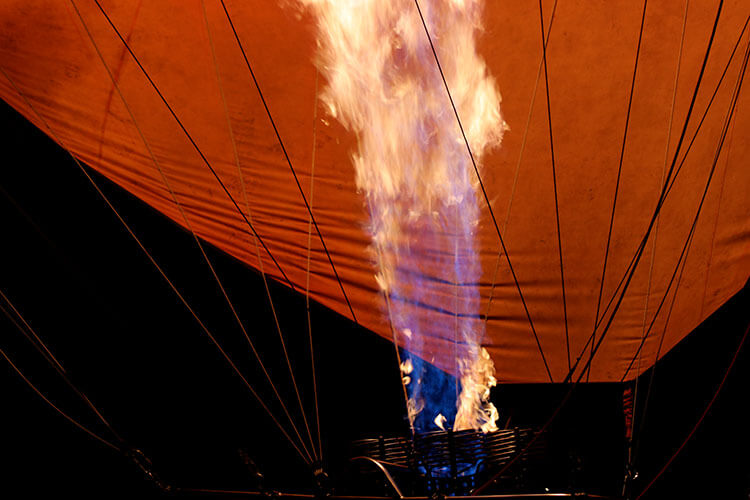 Under the moonlight from 2019's biggest super moon of the year, we arrived to Little Governors' Camp Masai Mara well before sunrise. Coffee and tea await while paperwork and safety briefings are done and the balloon is filled with air.
Governors' balloons are some of the largest in the world, standing 15 stories tall when inflated. The basket carries a maximum of 16 passengers, plus the balloon pilot. It was actually one of the most comfortable balloon baskets we've ever been in. The basket is designed with four individual compartments that each have a seat in the compartment. Four passengers are assigned per compartment.
Safety is Governors' Balloon Safaris' number one priority. The team of pilots have experience flying all over the world and have impressive records of flying balloons for 30 years or more each. They were one of the very first balloon operators to start flying in the Masai Mara and have an impeccable safety record spanning more than 40 years now.
If you can't climb in or have difficulty using the little holes in the basket designed to assist as steps, then you can opt to get in while the basket is tipped over during the balloon inflation. Otherwise, a five minute warning is yelled out so that everyone can gather and quickly climb in once the balloon is ready to go.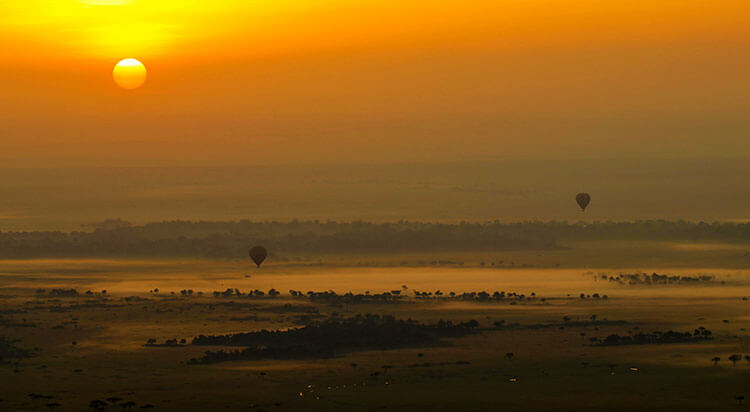 Governors' Balloon Safaris takes off shortly before sunrise so that you experience the magical golden sunrise of the Masai Mara from the sky. Being located just below the equator, the twilight periods before sunrise and after sunset don't last long. And though I'm not awake for too many sunrises, we were happily up well before the sun all three mornings in the Masai Mara. We can confidently say it is among the most beautiful sunrises you'll experience on earth.
Hot air ballooning over the Masai Mara offers a totally different perspective of the landscape. On game drives, you see that there are patches of forest but mainly time is spent on the grassy plains. From up above, the landscape takes on a new life. It's from the hot air balloon that you see how the Mara River snakes through the Great Rift Valley and its' tributaries trisect the landscape.
It's also from up above where you truly understand how such large animals seemingly disappear. Governors' Balloon Safaris pilots do their best to fly low so that you get a birds-eye view of the wildlife up close.
We saw just about everything from the air. Soaring low over the grasslands, we saw the herbivores like buffalo and topi. It's also either very early in the morning or late in the evening when you tend to spot hyenas, and we saw the only hyenas of this trip to Kenya hunting from the balloon.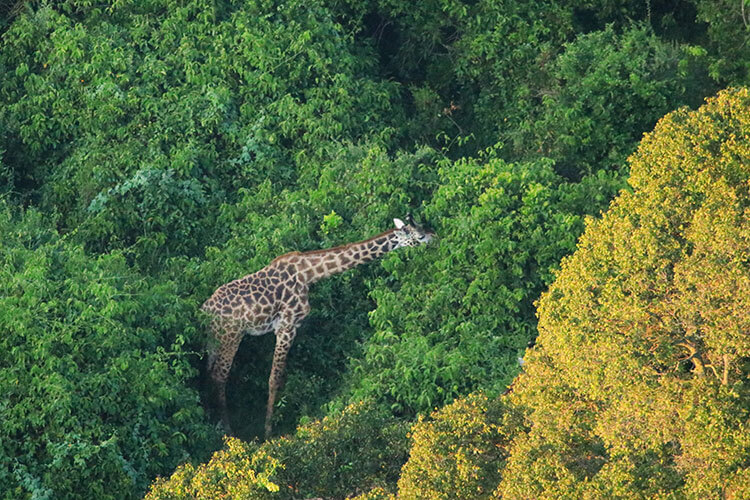 You wouldn't think giraffes would be so hard to spot at times being as tall as they are, but they do a remarkable job of disappearing when they go in to the forest. Flying just over the treetops, we saw many giraffes pruning the trees of the forest as they pulled off leaves while consuming the 40 kilograms of food they'll eat in a single day. The giraffes are the gardeners of the Masai Mara. Our pilot not only did a fantastic job of flying us, but he shared interesting facts about the wildlife we were seeing.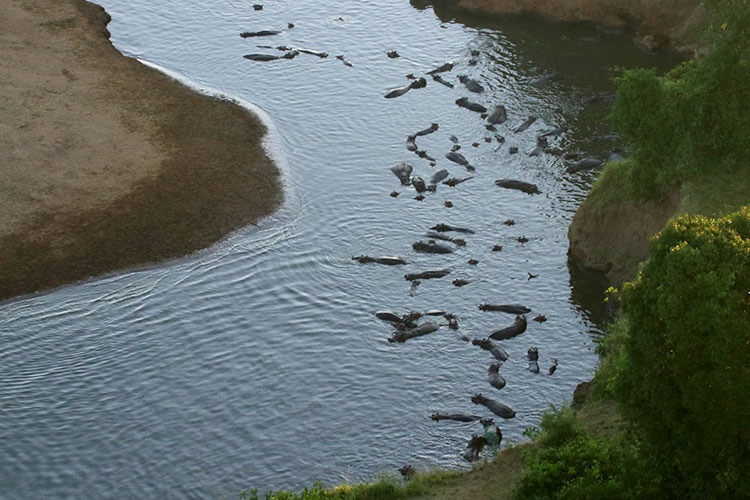 We also drifted low over the Mara River where the pods of resident hippos grunted and wheezed below us. We were on the lookout for the infamous Mara crocs that snatch up wildebeest as they cross the Mara River during the Great Migration, but the river level was quite low in this dry period. It made crocodile spotting difficult.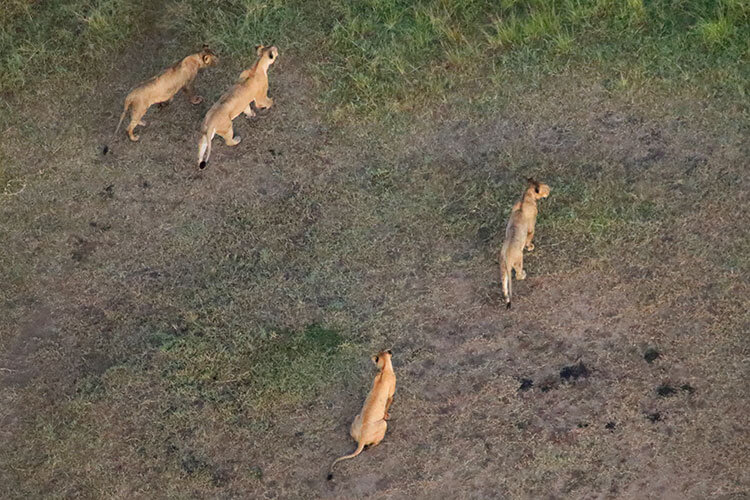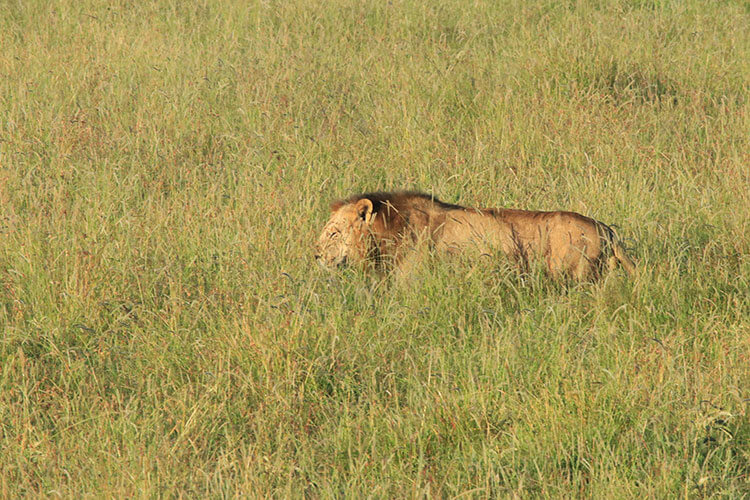 A pride of lionesses on the move walked below us. And later, just before we were ready to land, a large lone male lion looked up at us while his golden mane billowed in the breeze.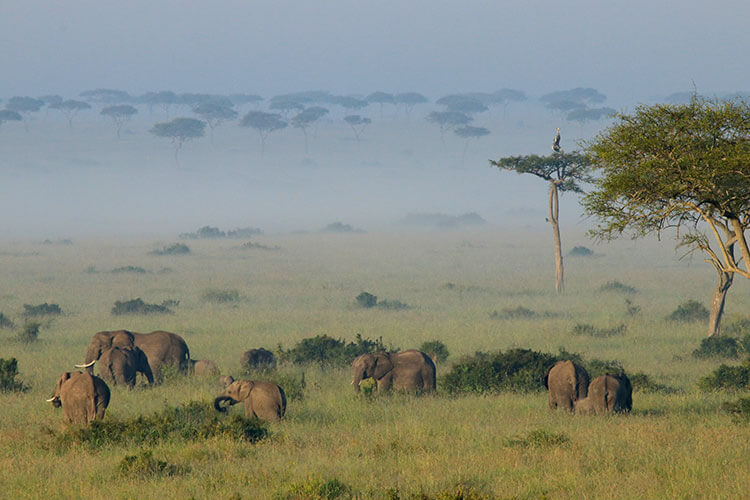 Huge herds of elephants were indifferent to our balloon drifting over them, and the babies play-fought while the adults pulled up grass with their trunks and continued with their breakfast.
We've been hot air ballooning now around the world from Napa Valley to Bagan, Myanmar. We were even married in a hot air balloon in the Las Vegas desert when we called Sin City home. Though we should say our wedding in a hot air balloon was our favorite, no other flight before has been as enchanting as this Masai Mara hot air balloon experience.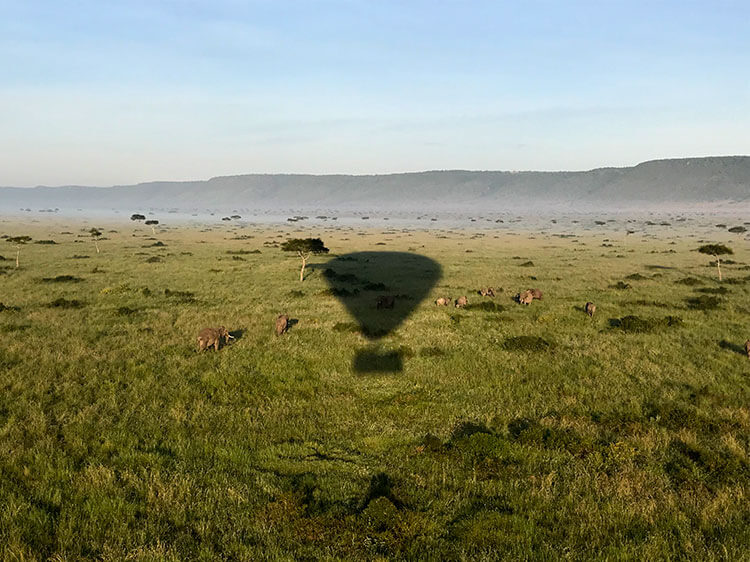 The flight ends with a bush breakfast near the balloon landing site. The vehicles were waiting and our Angama Mara guide drove the short distance from where we landed over to the breakfast. Governors' Balloon Safaris crew were ready and waiting for us, and champagne was handed all around.
After all, it's customary to toast a successful balloon flight with champagne. As our terrific pilot explained, the hot air balloon was invented by the French in the 1780s. It was French aristocracy that traveled in the balloons and already not very popular with the much poorer French farmers, they especially didn't like these balloons landing on their fields. As a sort of payment for landing their balloons, the aristocrats offered up bottles of champagne to the farmers and they'd all drink together then and there. It's a custom still carried on around the world today, and we're always happy to indulge in a bit of bubbly.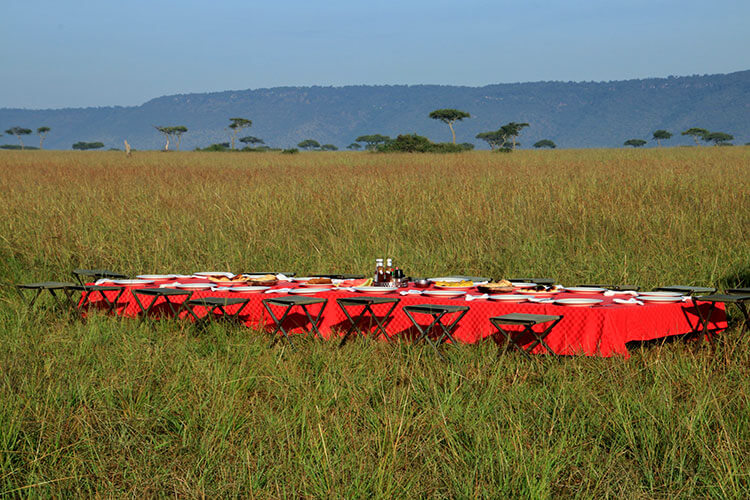 The bush breakfast was one of the best we've ever had and left you wanting for nothing. Already on the table ready and waiting for us to dig in were platters of fresh seasonal fruit like watermelon, bananas and pineapple, various Kenyan breads, bacon, sausages, potato latkes and baked beans.
Nearby a chef cooked up crepes over balloon burners. As residents of France, we can assure you they were the best crepes in the Mara. And coffee, tea and hot chocolate were also available to enjoy over breakfast.
Curious giraffes cautiously came to check out our breakfast as all 16 of us newly christened Masai Mara ballooners chatted excitedly about everything we'd seen with the captain. We'll all forever be bonded over that special morning flying over the Masai Mara.
Know Before You Go
The flight last 1 hour and is followed by a champagne bush breakfast. The Masai Mara hot air balloon price is $480 per person including landing fees. There is a reduced rate for children. Book directly with
Governors' Balloon Safaris
by sending a request via their website.
Angama Mara
guests can book directly with your Angama camp manager.
We stayed at
Angama Mara
, a luxury tented safari camp located in the Mara Triangle.
Our Masai Mara balloon safari was in partnership with Governors' Balloon Safaris in order to bring you this story. However, Luxe Adventure Traveler maintains full editorial control of the content published on this site. As always, all thoughts, opinions, and enthusiasm for travel are entirely our own.