Tim and I had talked about a trip to Morocco for ages, it seemed. It's a diverse country with everything from surfing to wine making, which can make trying to decide what to do on a week long trip to Morocco seem impossible. But ever since we had an incredible Bedouin experience camping in Jordan's Wadi Rum, we knew a trip out to the Sahara Desert absolutely had to be on our itinerary.
"Trust me. You don't want to go to the Sahara," my friend Amanda, an American married to a Moroccan and owner of Marrakech Food Tours, told me.
Despite Amanda's two previously terrible experiences making the long trek out to the Sahara to camp in the desert, one of which involved a case of food poisoning so bad it made her delirious, I somehow managed to convince her to give the Sahara one last chance. Amanda begrudgingly agreed on two conditions: she'd only go on a private, luxury glamping Sahara tour and there would be no camel riding.
Tim and I were both more than okay with her stipulations. The Sahara can easily reach 100ºF in March and neither of us were keen on spending four sweaty days without showers. We also both still vividly remember the painfully uncomfortable camel trek in Jordan and have no desire to ever repeat that experience again. I think I still have a scar from wear my pants rubbed my skin raw.
Choosing a Sahara Tour
The first thing to know about choosing a Sahara tour, which I did not know until our trip, is that very few companies operate both the tour and the camp. Most companies offer a package that includes the transportation, meals and camp; however, you aren't guaranteed which camp you'll be staying in, and more importantly, the level of quality of the camp. The companies will call around to camps when they're on their way out to the Sahara to see which camps have space for their group.
Your group arrives none-the-wiser that this camp wasn't the plan from the moment you left Marrakech.  For this reason alone, you should never, ever book with a guide approaching you in the Medina.
Second, it's crucial to realize just how far away the actual Sahara Desert is from Marrakech. It is NOT possible (yes, using my favorite French phrase here) to go on a day tour to the Sahara. The Sahara I'm betting you want to see because it's the very one Tim and I wanted to see is a 10 hour one way drive on single lane roads that climb straight through the High Atlas Mountains. And that's before you get to the two hours of off-roading through sand dunes.
We witnessed two German girls that haggled for an overnight tour and ended up at our camp on the second night with two incredibly creepy tour guides. They arrived just in time to run up a dune and watch the sunset and then they were off on their long journey back to Marrakech before we'd even finished breakfast the next morning.
That, I thought, is no way to actually enjoy the Sahara.
There are a few companies, like ATTA Desert Camp who we went on our 4-day Sahara tour with, that operate both the tour and camp.
I highly recommend that you choose this option to ensure quality and safety. Remember, you're a good two hours by vehicle to the nearest hospital in Zagora (98 kilometers away) if something should happen. And there is no cell phone reception in the Sahara, so you want a guide with a reliable vehicle and safety record.
ATTA Desert Camp
ATTA Desert Camp is owned and operated by Lahsen Alkouch, an ATTA Berber who was born around the very Erg Chigaga dunes where his permanent camp now resides. The camp still has close ties with the Berber tribes that lives in the area and employs some camp hands from the tribes.
The camp is located in exactly what I imagined the Sahara to look like from every movie and picture I'd ever seen. Shifting, towering red-gold dunes made of the finest powdery sand you can imagine. Camels dotting the horizon as a fiery ball of sun paints the entire desert in shades of red and pink. A sky filled with so many stars and the Milky Way clearly visible because of the lack of light pollution.
The Erg Chigaga dunes are the largest and wildest of Morocco, stretching for over 40 kilometers long and 15 kilometers wide. They're only accessible by 4×4, camel or on foot.
There are six traditional nomad style tents that have actual beds and mattresses, so you don't sleep on a pad on the ground like at other camps Amanda had previously stayed at. These tents share a bathroom facility located in a permanent structure a few steps away. The bathroom facility has individual shower stalls and toilets for privacy.
We stayed in the luxury camp, which is typically located on the other side of a dune to give the feeling of complete privacy. The three luxury tents had to moved just behind the traditional nomad tents due to a recent storm. It made no difference though since we were the only guests on our first night and just the two German girls and their guides stayed on the second night.
Each of the three luxury tents have their own private ensuite bathroom. The tent is divided into two sections with a large bedroom and sitting room and a bathroom. There is a portable toilet in its own little room of the bathroom, which is essentially a mini port-a-potty, but is emptied by the staff daily. The sink is in the center room of the bathroom and your own private shower is in another little room.
The bathroom has hot water thanks to a generator that supplies each of the three luxury tents with electricity. Like when we glamped on safari in Tanzania, the water is heated with solar power during the day. If you want to shower in the morning, like I like to do, you just let the camp staff know and they will start up the generator for hot water in the morning.
While there's nothing dangerous in the Sahara like lions and other animals in Tanzania, there can be snakes, scorpions and a variety of other things that could sting or bite you. We never saw any of those types of things, but it was nice to have the ensuite bathroom and not have to trek across a dark camp in the middle of the night to use the bathroom.
Activities at ATTA Desert Campt
You might wonder what in the world you do for two full days in the middle of the Sahara Desert. Quite a lot, actually!
There are a variety of activities you can do right at the camp from cooking to camel trekking. Sandboarding is a must. You will fall down in an epic fall that leaves your friends rolling on the sand in laughter, but it's all part of the fun. Unless you're good at everything and show all of your friends up on your second run, like Tim.
Amanda's husband, Youssif, and I opted for the safer option of using the sandboard like a sled. Safer and you don't end up with all of the sand from the Sahara in your clothes.
Amanda and I also helped prepare sand bread, which is a big, round dough that sort of looks like a pizza cooked right on the blazing hot sand.
Not to worry, the sand was never actually hot enough to bake bread. Lahsen first built a fire before sunset and the fire burns down to just the hot coals so that it heats the sand. The dough is then placed on the sand to cook and cleaned after so you're not eating any sand or coals. (Amanda wrote a detailed post about baking the sand bread on her blog, MarocMama.) We watched the Bedouin make something similar in the Negev Desert in Israel. Bread is an essential part of the meal in both countries.
The Sahara Desert isn't all towering sand dunes. The landscape was much more varied than I expected and we even spent a bit of time looking for fossils on the rocks surrounding a now dry-as-a-bone ocean bed. We only found small ones, but paleontologists have found remains of the world's largest ocean-dwelling crocodile named the Machimosaurus rex in the Sahara.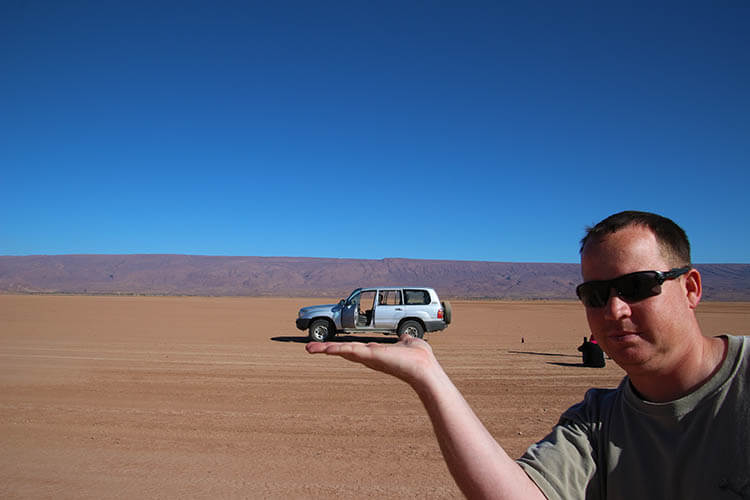 That dry ocean bed separated Africa from Europe about 130 million years ago. These days the vast expanse serves as a great place to play around with perspective. We had a great time perfectly lining up the camera to make it look like we were balancing on Coca-Cola bottles and holding our 4×4 in the palm of our hand.
We also visited the Nomad School for a few hours. Teachers are assigned to the Nomad School and Berber children come each day to learn reading, writing and arithmetic. We were thrilled to see that even in the middle of one of the harshest places on earth, these kids were still getting an education and learning multiple languages.
There was also a surprising amount of wildlife beyond the camels, donkeys and goats that wander the Sahara. We saw this jerboa hopping around his burrow at sunrise. We also spotted some gazelle while dune bashing, but didn't get a great shot of them. We didn't see any and we were glad not to, but desert monitor lizards, scorpions and sidewinders also all live in the Sahara Desert and are all venomous.
And did you know oasis actually exist? I had to laugh when Tim declared, "That's like an oasis over there!"
Amanda cheekily responded, "No, that isn't like an oasis. It is an oasis, Tim."
Of course, I can't leave out watching the sunset and then being amazed by the incredible amount of stars in the sky. You're so far away from light pollution that you can even see the Milky Way with the naked eye.
We had an incredible experience luxury glamping in the Sahara and can highly recommend ATTA Desert Camp. Stay tuned here on the blog for more about our stops enroute to the Sahara at Kasbah Telouet, Ait Ben Haddou, Tamegroute and Tazenakht.
Know Before You Go
ATTA Desert Camp
offers private tours, so each can be custom designed. Our experience was a 4 day/3 night tour that included:
round trip transportation from Marrakech
one overnight in Skoura at a bed and breakfast
two nights in the Sahara at ATTA Desert Camp in the luxury camp with full board
stops along the way in small towns and villages such as

Kasbah Telouet

,

Ait Ben Haddou

,

Tamegroute

and Tazenakht
Not included were:
two lunches enroute
snacks
alcohol is BYO
entry fee at Ait Ben Haddou


Our luxury glamping in the Sahara tour was provided by ATTA Desert Camp in order to bring you this story. However, Luxe Adventure Traveler maintains full editorial control of the content published on this site. As always, all thoughts, opinions, and enthusiasm for travel are entirely our own.