Let us introduce you to SkySafari by Elewana. The ultimate African adventure, SkySafari takes a luxury safari to the next level. Guests are whisked between some of the most incredible Tanzania national parks by their luxe executive Cessna aircraft. Game drives begin right from the dirt airstrips and evenings are spent unwinding in lavish camps by the Elewana Collection.
What makes SkySafari by Elewana unique is traveling between national parks, reserves and conservation areas by plane. The travel time on often treacherous roads is cut out, so that you get to experience what you came for – Africa's wildlife and landscapes.
Watching herds of elephants wallowing in a watering hole in Tarangire National Park, captivated by lions feasting on their kill in Ngorongoro Crater, catching a hippo out of water during a bush walk in the Serengeti and sipping on sundowners nightly as the sun set over some of the world's most stunning landscapes are all memories that are as vivid several years later as the day we experienced it. A Tanzania safari with SkySafari by Elewana is truly one that makes a lifetime of memories.
Thinking of booking your SkySafari by Elewana experience? We'd tell you not to hesitate for even a second. When it comes to the best luxury safari companies, many choose to offer Elewana Collection's luxury safari lodges are their accommodation option anyway. So why not book right with the source?
Our safari in Tanzania is the number one travel experience we've ever had, and no other African safari will probably ever live up to it. Take a look at the day by day SkySafari experiences, outstanding accommodation and all the wildlife we saw:
Day 1: Arusha
|
Day 2: Burka Coffee Estate
|
Day 3: Tarangire National Park
|
Day 4: Tarangire National Park
|
Day 5: Ngorongoro Crater
|
Day 6: The Manor at Ngorongoro
|
Day 7: Serengeti National Park – Grumeti River
|
Day 8: Serengeti National park – Grumeti River
|
Day 9: Serengeti National Park: South Central Serengeti
Day 1: Arusha Coffee Lodge
Our SkySafari by Elewana luxury Tanzania safari began with one night at Arusha Coffee Lodge, located on the Burka Coffee Estate. After 24 hours of travel from Italy to Kilimanjaro, we hardly wanted to do anything more than relax around the beautiful Arusha Coffee Lodge and our plantation suite.
SkySafari guests are automatically upgraded to one of Arusha Coffee Lodge's 12 spacious plantation suites. They radiate out from the original land owner's house that dates back to the early 1900s. With an outdoor terrace where you can watch the monkeys play and swing in the trees and inclusive room service, it's the perfect welcome to begin a Tanzania trip.
There is a swimming pool and the Peaberries Spa offers massages. There's also two onsite restaurants and a sumptuous buffet luncheon in addition to room service.
We didn't do much but relax and unwind from the long journey so that we'd be feeling rejuvenated for early wake-up calls and long days of game drives over the next nine days.
Day 2: Burka Coffee Estate & Tarangire
Our first morning of our SkySafari by Elewana began with us venturing out on the optional 1-hour tour of Burka Coffee Estate. If you're a coffee lover, don't miss this tour and the fascinating look at how coffee goes from bean to cup.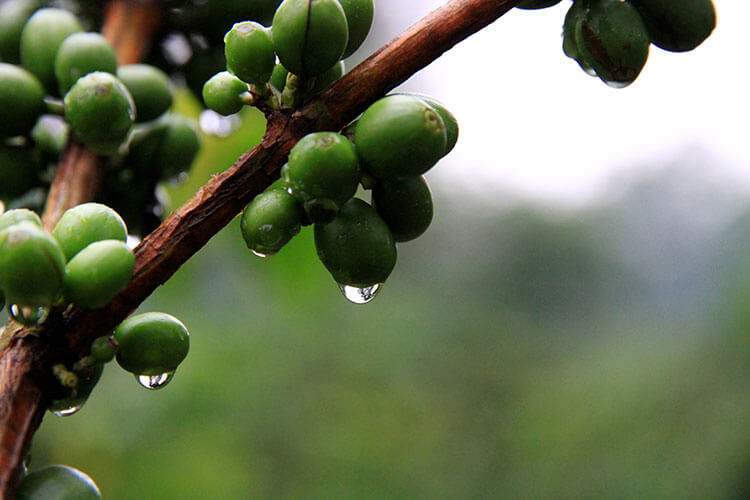 Burka Coffee Estate
Burka Coffee Estate was founded in 1899 by German settlers that brought the Arabica coffee bean from India. Today the Swiss-German business is privately owned, employing some 300 permanent employees that live right on the estate. Our tour began among the coffee trees, naturally, where we learned how Tanzania's oldest coffee grower produces the near perfect bean.
Coffee cherries grow and ripen on the trees. When ripe, the coffee cherries are picked by hand. The men and women are paid by the number of baskets that they collect. Supervisors provide a quality control so that unripe cherries aren't collected, since unripe cherries produce a very bitter taste when roasted. Since the cherries ripen at different rates, pickers might return to the same tree more than 10 times in a season.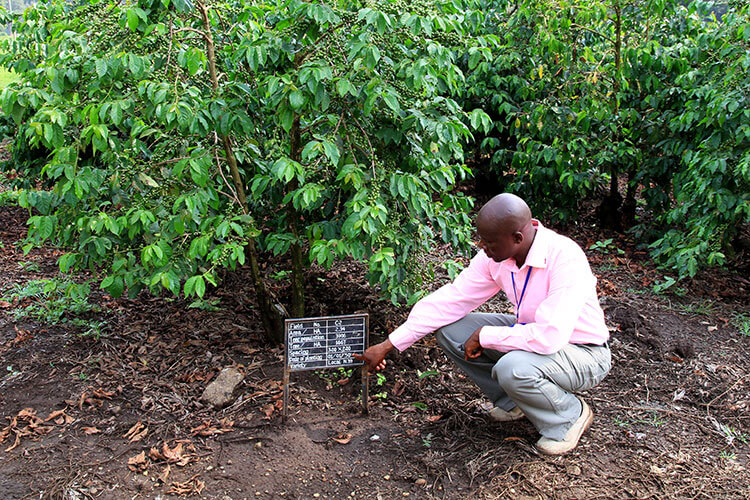 The first coffee trees were planted at Burka Coffee Estate in 1918. All the fields are individually marked with the number of coffee trees, their date of planting and variety. We saw some fields that were planted in 1950.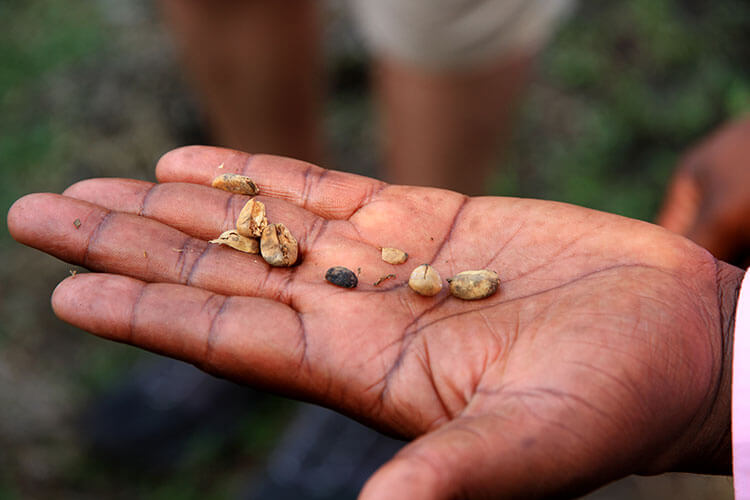 If picking sounds like a tedious process, you'll probably appreciate your coffee beans even more after hearing about the shucking, drying and roasting process they go through. A coffee bean is actually inside three layers. The next step after picking the ripe cherries is to take a pod out and let the pod dry for six days. The beans are then shucked from the pod, but they have yet another protective layer of silk on them which also has to be removed before the beans can finally be roasted.
Arabica coffee makes up 80% of the world's coffee trade and there are 28 different varieties. We learned that Arabica beans have 1.5% caffeine, which is reduced by how long the bean is roasted for. So a dark roast will have less caffeine than a light roast. Starbucks is a major client of Burka Coffee Estate and the Starbucks Blonde Roast has more caffeine than a light roast, but will have a milder and easy-drinking taste.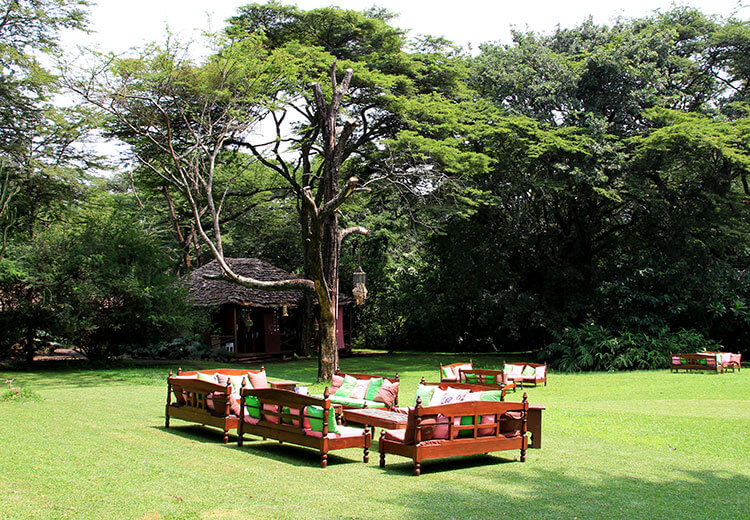 Finally it was time to taste some coffee grown, picked, roasted and brewed right from Burka Coffee Estate. The estate has a lovely garden where you can enjoy the resident monkeys playing on the trees and all the birds chirping while sipping on your cuppa joe.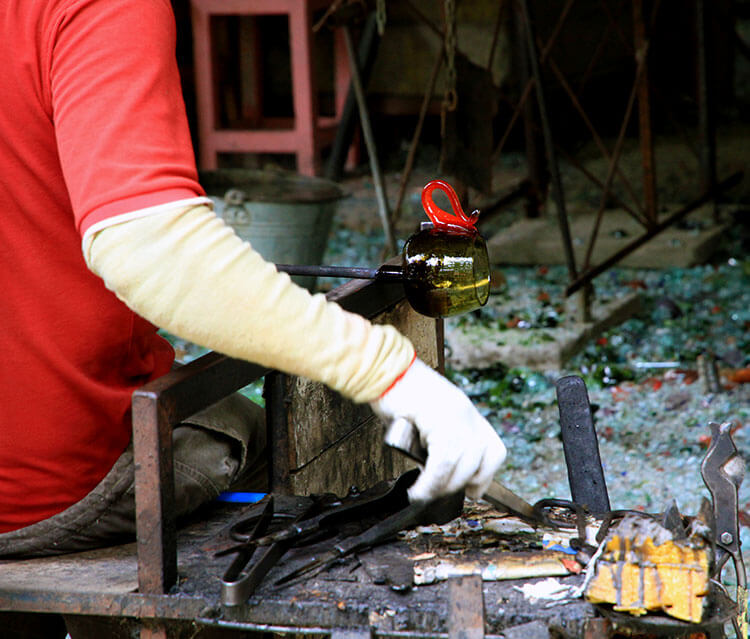 Also onsite is a mini market of handicrafts all made right there by the disabled. You'll find everything from blown glass where they blow glass into really interesting things like elephant coffee mugs, paintings, jewelry and scarves.
The visit to Burka Coffee Estate takes one hour and is well worth it for an interesting look at how coffee is produced.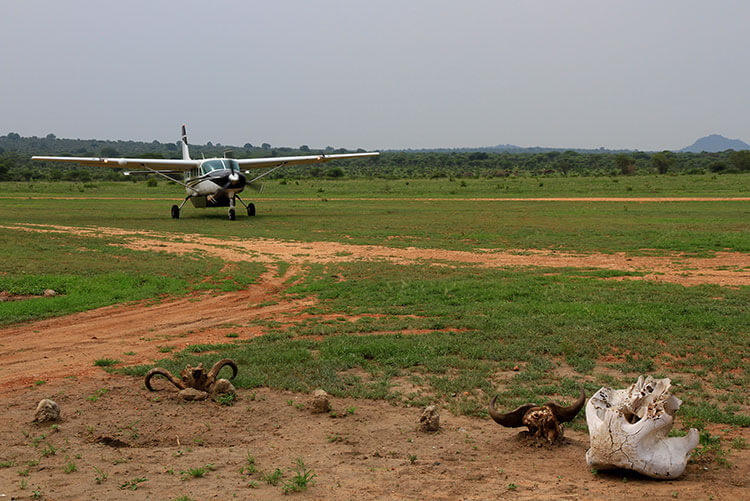 SkySafari by Elewana's Private Jet
That afternoon we boarded our SkySafari by Elewana's Cessna Caravan, an executive-class private jet with luxurious individual leather bucket seats that holds just nine passengers. The flight is shared between up to nine total SkySafari guests. Unlike other African safari holidays, the flight transfers between parks make things simple and maximizes your time enjoying the wildlife and wonders of Tanzania, Kenya or both.
Just before landing at Kuro Airstrip, we flew over herds of African elephants playing and drinking in the swamp. Not even out of the plane yet, everything we imagined sub-Saharan Africa to be was materializing before our eyes.
SkySafari guests are told to pack light and soft-sided luggage like a duffel bag is encouraged. I managed with a teeny, tiny green duffel. That was all of my luggage for a nearl two weeks safari to Tanzania with a beach add-on in Zanzibar. Our camera bag was bigger… And yes, it's totally possible to pack so little when traveling with SkySafari by Elewana since they offer services like laundry at each lodge and camp. Check out our guide for how to pack for an African safari.
Landing in the middle of Tarangire National Park meant our first game drive started right then and there. We saw tons of elephants, giraffes and monkeys that still make us giggle. Mother Nature sure does have a sense of humor sometimes. The Blue Ball Monkey was officially added to the new species list in 2012.
A post shared by Luxe Adventure Traveler (@luxeadventuretrvlr)
Tarangire Treetops
After an amazing first game drive, we arrived to our first African bush accommodation: Tarangire Treetops. Every single one of the Elewana Collection lodges and camps we stayed at were extraordinary, but Tarangire Treetops was our favorite of their lodges in Tanzania.
Every kid loves their tree house and has probably begged mom and dad to sleep it in at least once. But tree houses aren't just for kids anymore. Tree house hotels offer adventurous travelers a chance to bring out their inner tree-climbing kid. Built into the branches of thousand year old baobab trees, you can realize your childhood dreams of sleeping in a tree house with the sounds of the African bush all around you at Tarangire Treetops.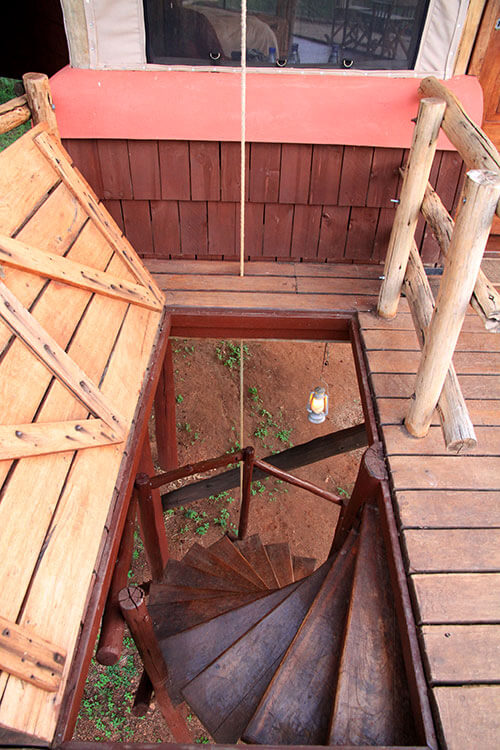 The Tree House Rooms at Tarangire Treetops
Led by Maasai tribesmen to our tree house, we climbed up the spiral steps and threw open the trap door to our new home for two nights during our stay in Tarangire. During daylight hours, it is safe to walk to and from the tree houses to the main lodge on your own, but the Maasai do all the heavy lifting of your bags and make sure you get settled in okay.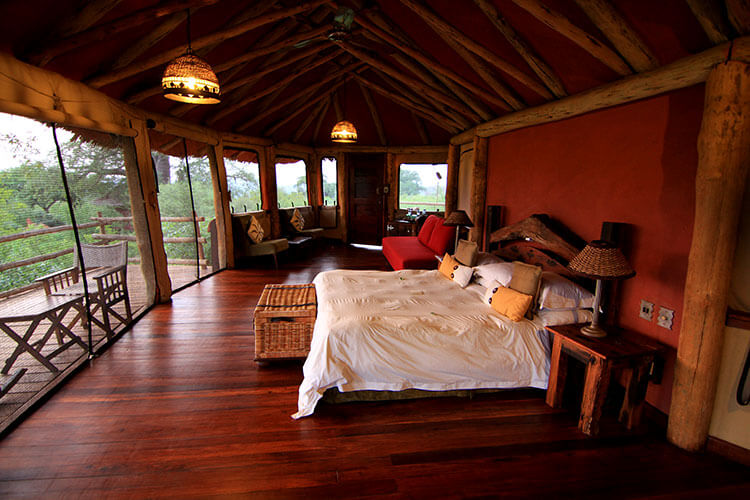 The rooms are incredibly spacious with a sitting area for relaxing, comfy king size bed, private balcony and desk (in case you need to get a little work done while on safari like us). Our tree house looked out across the tops of the baobab and marula trees, and it was serene listening to the birds sing their songs.
Our glamping experience was complete with a full en-suite bathroom with dual rain shower heads and hot water, which was heated by the Maasai building a fire beneath our tree house. You simply let the main lodge know what time of day you like to shower, and the Maasai come build a fire to heat up your water. Also convenient with having an en-suite bathroom is that at nighttime when you cannot leave your tree house without a Masai escort, we never had to worry about needing a middle of the night bathroom break.
Other in-room amenities included slippers, a hair dryer that actually had enough power to dry my hair in a reasonable amount of time, universal adapter plugs and whiskey and snacks to enjoy while relaxing in your tree house. We had a walkie-talkie to call to the main lodge in case of any problems or if we needed an escort during dark hours. Laundry services are also available and after a dusty day of game drives, you'll definitely be taking advantage of this SkySafari by Elewana amenity.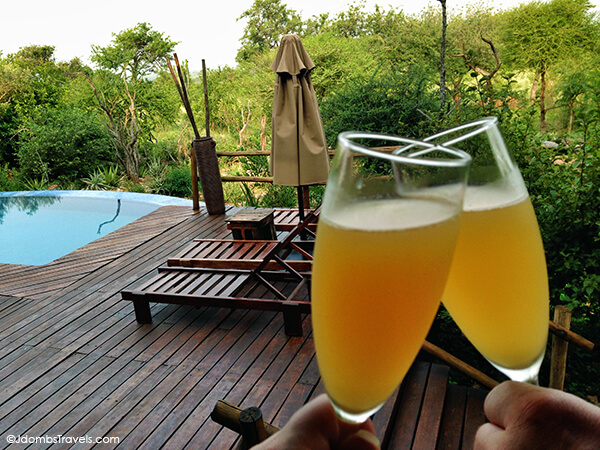 Dining at Tarangire Treetops
We were continually impressed with the food all throughout our SkySafari by Elewana. Elewana Collection's camps and lodges are almost all located in remote locations where delivery of supplies is challenging. Yet, chefs at each of the camps and lodges created delicious menus with a range of variety. We never got bored with the meals and Tarangire Treetops was no exception.
To prepare you for a full day of game drives and bush walks, the breakfast menu offered several different options from omelets to pancakes served on the main lodge deck overlooking the pool and a watering hole where elephants and other animals regularly come to drink. On Valentine's Day, we even enjoyed mimosas with our breakfast.
Lunch was equally as good, with one meal enjoyed on the deck of the main lodge and another as a bush lunch served during our game drive. While we saw others with their sad-looking box lunches that had sandwiches wrapped in plastic wrap, we enjoyed hot multi-course meals with soup, baked chicken, pasta salad and fruit. Wine, water and sodas were always on offer.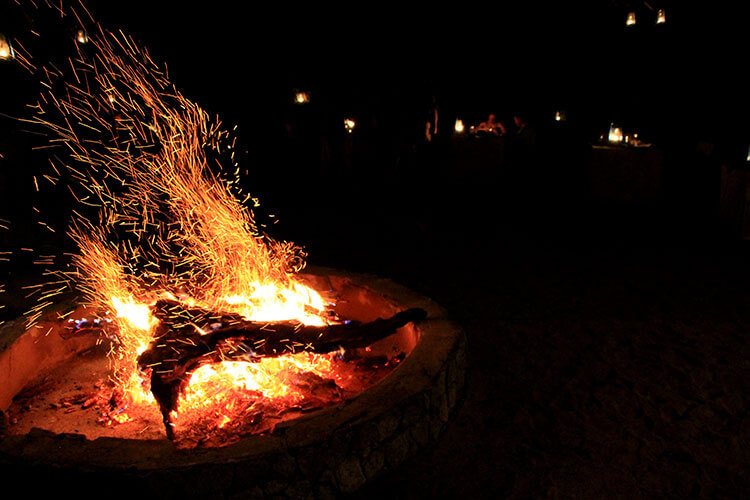 Both of our dinners at Tarangire Treetops were served in the boma, a type of fenced in enclosure surrounded by acacia thorns with a central fire pit. Because we dined by candle light, we weren't able to capture dinner photos, but dinner was always a three-course affair with starter, main course and dessert.
The Main Lodge at Tarangire Treetops
The main lodge is set around a huge baobab tree with a lounge area overlooking the watering hole that is perfect for enjoying sun downers. A huge in-set fire pit offers another place to relax and sip a glass of wine before heading back to your tree house for the night. The main lodge is also equipped with wifi, just in case you don't want a total digital detox while on safari in Africa.
Admittedly we didn't sleep the best at Tarangire Treetops. But we ran into some couples doing SkySafari by Elewana in reverse, and they didn't sleep a wink at Serengeti Migration Camp. We had slept fantastic there. I think that if you are on your first African safari, it just takes a few nights to get used to the sounds of the African bush. After all, Tarangire National Park is teeming with wildlife. And as we saw on our night safari game drive in Tarangire National Park, the animals don't sleep just because the sun goes down.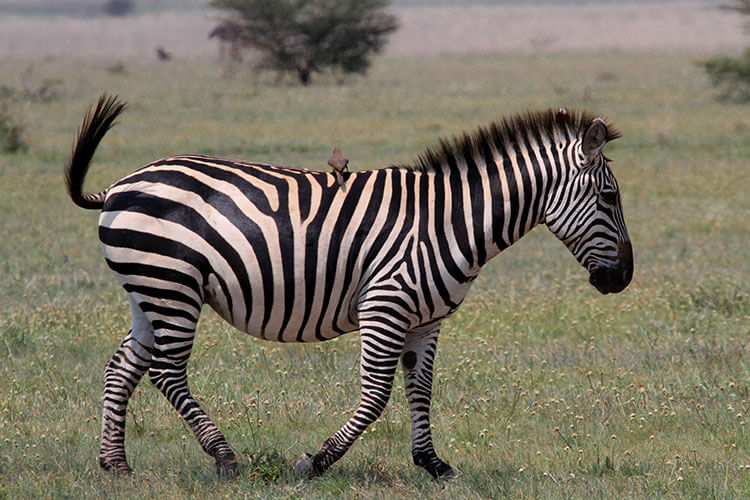 Day 3: Tarangire National Park
Our second day at Tarangire National Park was spent on game drives, both during the day and a night game drive. We came across quite a lot of skulls and bones on the plains, the remnants of what cheetahs and lions leave behind. Our game drives were filled with tons of elephants moving in herds of up to 300 individuals, giraffes, blue ball monkeys and baboons. And we spotted our very first lions of the safari.
We came across a herd of around 30 elephants, a small herd really considering it's not uncommon to see herds of up to 300 in Tarangire National Park.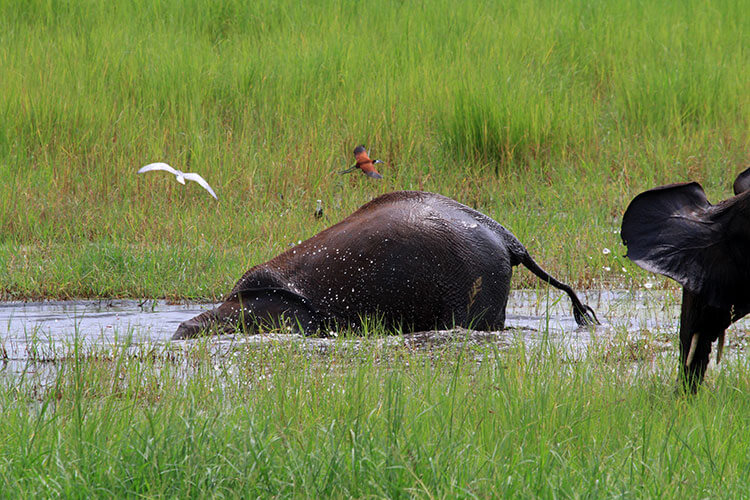 We'd seen other large herds over our three days in the park, but this was truly a treat. A large watering hole was relatively close to the road and the elephants loved snorkeling in the water and then coating themselves in the mud. The mud actually keeps them cool and works like a sunscreen to protect them from the intense African sun. It also helps to keep the pesky biting insects away.
Elephants herds like this one are families and consist of females and their young. Male elephants leave the herd between the age of 12 – 15 years of age and form their own groups. The female aunts all work together with the moms to protect the babies in the group.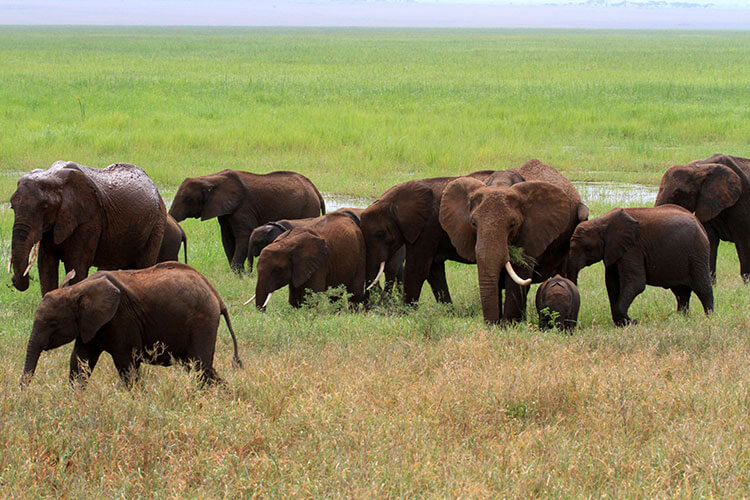 When it's time to move on from the watering hole, the matriarch of the group moves away from the herd, turns her back and gives the "let's-go rumble" while flapping her ears. This spurs a series of back and forth vocalizations within the group before the entire family finally departs. And when you have a couple of teenagers that are allergic to listening, the leaders of the herd will come pull you out of the watering hole and tell you to get your butts moving along.
Day 4: Tarangire & Ngorongoro
The last morning at Tarangire Treetops began with a game drive/transfer from the camp back to the Kuro Airstrip. We'd be flying on to Ngorongogo Crater later that day for the next stop of our SkySafari.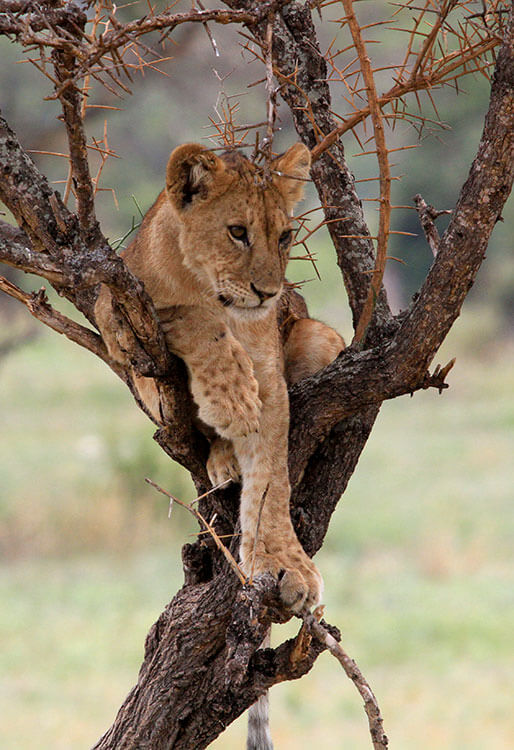 Our Tarangire guide, Elly, was determined not to send us off to Ngorongoro Crater without first finding the tree-climbing cats of the Tarangire. And he didn't fail to deliver.
Just before a bush picnic lunch on the way back to Kuro Airstrip, Elly found us a pride of lionesses lazing in the sun with their cubs. His ability to pick out wildlife we'd never have spotted on our own was a true testament to the intimate knowledge SkySafari's local guides have of their area.
By this third morning in the African bush, we'd already checked off three of Africa's Big Five. There was no doubt we were on the best safari in Africa.
The Manor at Ngorongoro Crater
That evening, and on our 12th wedding anniversary, we arrived to the lovely Manor at Ngorongoro Crater after another flight on the SkySafari Cessna Caravan. The Manor at Ngorongoro Crater sits high on a hill overlooking the Shangri-La Coffee Estate on the rolling hills south of Ngorongoro Crater. The Manor combines old world grandeur with a homey feel that made us feel more like we were visiting with old friends than staying at a hotel.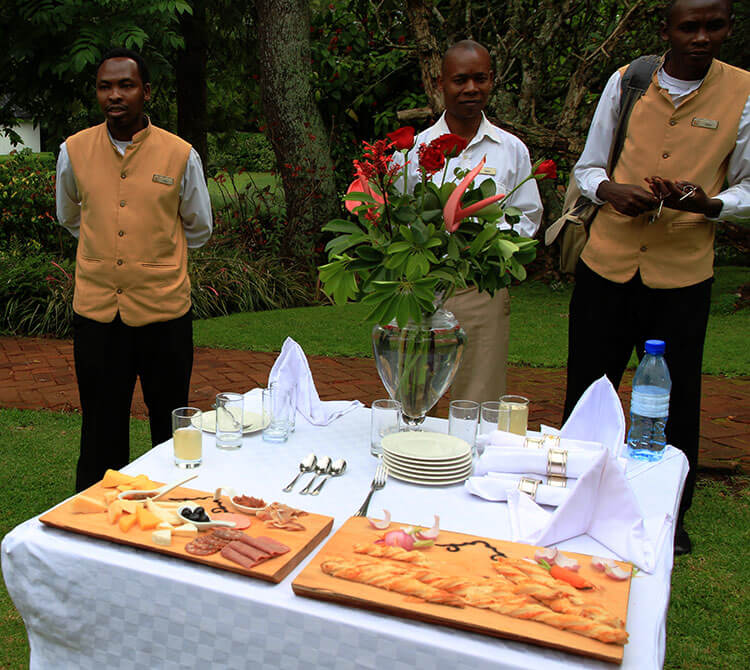 The elegant manor prides itself on its friendliness and service. That was evident from the moment we climbed out of the Land Cruiser and were greeted with refreshing drinks. Before long, we were escorted to a picnic on the lawn with local cheese, meats, vegetables from the manor's very own garden and nice cool glasses of lemonade. The snacks hit the spot after our flight from Kuro Airstrip in Tarangire National Park to Manyara Airstrip, and the long drive up to the Manor due to an afternoon rain. By the time we'd finished, our butler had already transferred our bags to our cottage and we had nothing to do but relax after a busy morning wildlife spotting in Tarangire.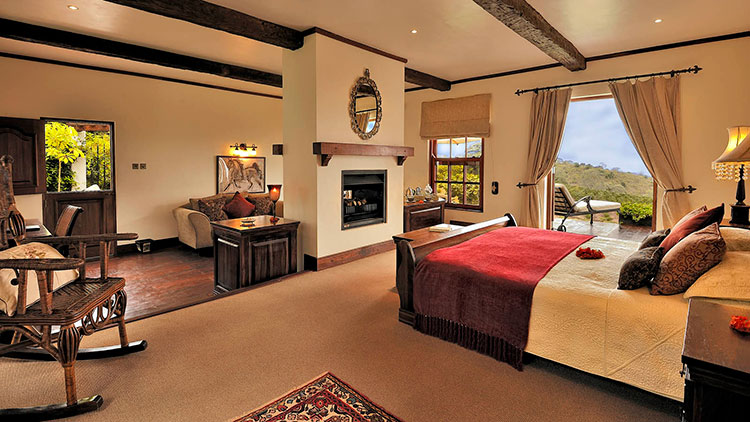 The Cottages at The Manor at Ngorongoro
There's 9 luxurious cottages and each has two guest suites per cottage. The suites are cozy with an upscale farmhouse feel. We loved the central fireplace that you could enjoy from the living room or while lying in bed.
The bathroom has heated floors, which are a treat for your feet with the cooler temperatures in Ngorongoro, separate rain shower and a pedestal bath that would gloriously be drawn when we returned from dusty game drives.
While the main Manor House does serve tea, coffee and drinks, we could also relax in our cottage or on our patio with tea, coffee and whiskey right in the comfort of our own cottage. We practically didn't want to leave.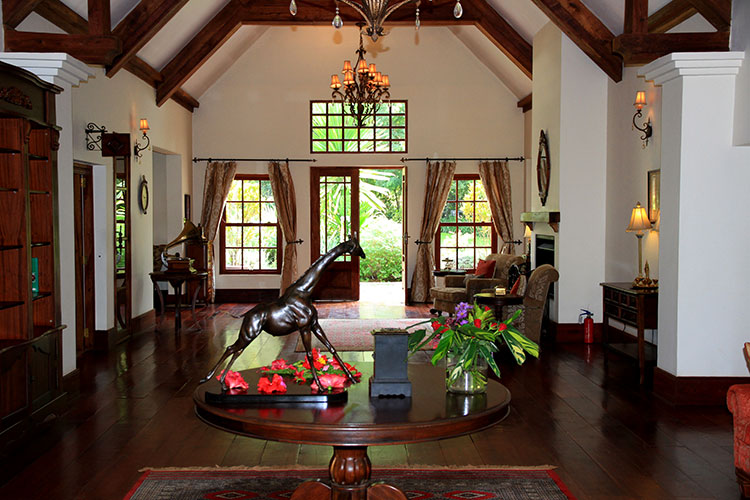 The Main Manor House
The main Manor House is equally as inviting, with tasteful decor and amenities to keep guests entertained. There are plenty of places in the main house to steal away for a bit of privacy and numerous fireplaces to curl up in front of. Even in Tanzania's hottest months, the nights are cool and a crackling fire is lovely.
If you're looking for little more to do than compare game drives with the other guests over appetizers and drinks, head to the billiards or movie rooms downstairs. You can even arrange a wine tasting in the Manor's wine cellar. Or leave the men to the billiards and movies and head to The Manor's on-site spa for a little pampering.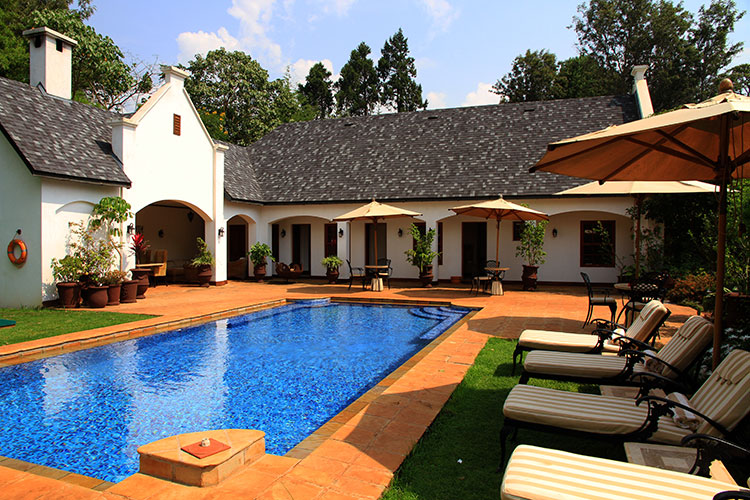 There's plenty to do outdoors, too. With on-site stables, you can arrange a horseback ride or a bike ride around the Shangri-La Coffee Estate. There's also lawn games like croquet or just lounge around the gorgeous pool.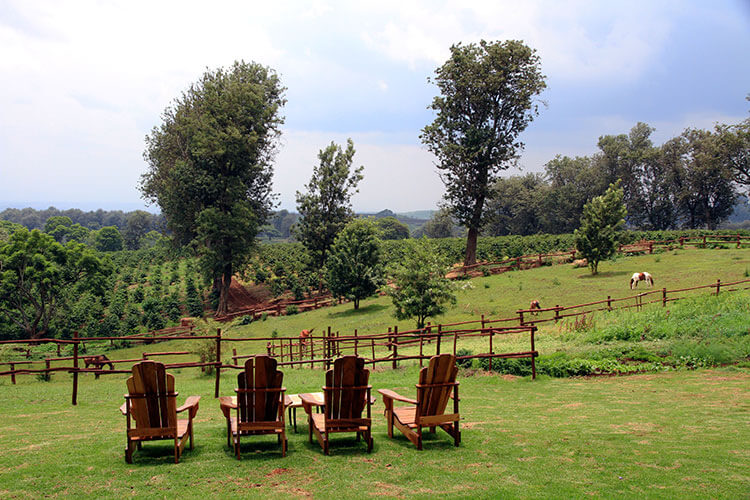 With the Adirondack chairs overlooking the rolling plantation and pastures where the Manor's own horses graze beckoning you to curl up with a good book, you can't help but want to spend time on the lovely grounds. The view was so pretty that on our final day at The Manor, we opted to skip the game drive to Lake Manyara National Park and enjoy lunch on the lawn looking out to the plantation.
Dining at The Manor at Ngorongoro
We ate well on our entire SkySafari, but The Manor is faced with far less challenges with supply deliveries than the other Elewana Collection camps and lodges in the African bush. And because big game wildlife don't wander the grounds, they even have their very own herb and vegetable gardens. We had our favorite meals at The Manor, including a surprise dinner especially created for us because the staff had got word that we were celebrating our 12th wedding anniversary.
We were treated to a private table in our own romantic room of the main Manor House decorated with candles and rose petals. We enjoyed prawns, carpaccio right from The Manor's farm, and lamb with vegetables from the garden. We enjoyed a delicious bottle of South African red wine and were presented with a cake specially made and decorated for us.
Breakfast is an a la carte menu and I highly recommend the eggs benedict with cheese from the farm.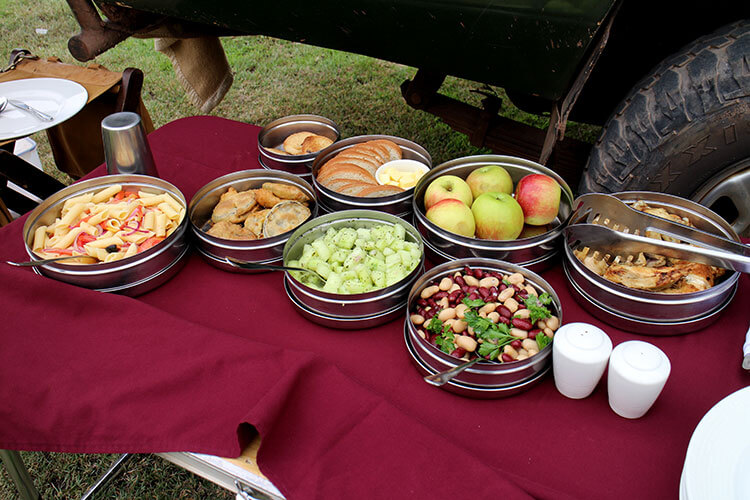 A picnic lunch is sent with you on the Ngorongoro Crater safari and was an impressive spread of pasta salad, roasted chicken, cucumber salad and dessert. If you opt to stay at The Manor, you'll have your choice from the day's lunch menu and to dine outside at a table set up on the lawn.
Day 5: Ngorongoro Crater
Ngorongoro Crater, which is the world's largest intact volcanic caldera, is like a big bowl where the scenes of Disney's The Lion King come alive. One of the largest concentrations of wildlife in Africa can be observed on Ngorongoro Crater's crater floor. Unlike the Serengeti and Kenya's Masai Mara where the animals are in a constant migration while following the rains in search of water, the wildlife stays year round in Ngorongoro.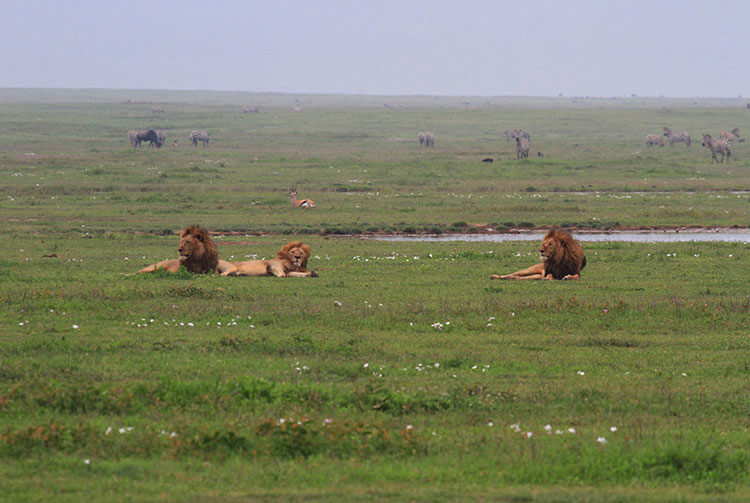 It didn't take long after we'd descended into the Ngorongoro Crater before we spotted our first lions: three males just sitting in the grass. Two of the lions were just watching. Waiting. As the third lifted his head and then decided we weren't very interesting, we realized there wasn't going to be much excitement from this pride. Despite our very early start, it was already nearing 9am and chances we'd be witnessing a kill were slim.
Lions tend to hunt at night or very early in the morning. Much of the rest of the day, usually around 20 – 22 hours, lions do exactly what we'd just observed – sleep. Sounds like an easy life, right? After all, lions are the king of the beasts.
Wrong.
Lions actually have quite a hard life, despite their reign over the African savannah and place at the top of the food chain. Lions aren't fast animals, especially in comparison to their common prey like wildebeest that can reach top speeds of around 80 kilometers per hour and effortlessly maintain their speed over long distances. Lions have terrible stamina.
Up ahead we saw a commotion and what seemed like all of the vehicles on a Ngorongoro Crater safari gathering. Earlier a pride of lions had taken down a Cape Buffalo and while we didn't see the kill itseld (the guides estimated the kill had probably occurred between 5 – 6am), we did witness the lions feast on their kill. It might sound gruesome to watch them eat, but we were fascinated. This was the real Africa and the circle of life.
Usually it is the female lions that are responsible for hunting, but this pride was made of up four males and just one female. A group hunt typically only has a 30% success rate and of the majority of hunts that scientists have observed, the most successful ones occur at night with dense cover. So here on the wide open plains of Ngorongoro Crater, this kill was something special to witness in the circle of life.
Lions expend all of their energy in the hunt and when plenty of food is available, like with this Cape Buffalo that they'd killed, they will gorge themselves into near immobility. There is a hierarchy in who eats first, with the pride leader (usually the largest male) eating first. He'd already had his share and the others were feasting when we'd arrived. Hyenas and jackals sat waiting nearby, just hoping for any morsel.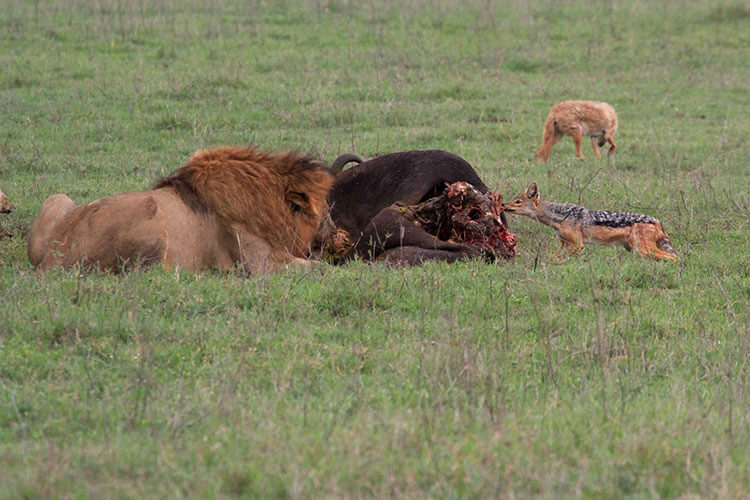 Impatient, the jackals were practically fearless. No matter how many times the lioness warned them off, they were persistent in trying to get any piece. One little jackal finally succeeded, only to have the chunk of meat literally ripped away from him by a hyena moments later.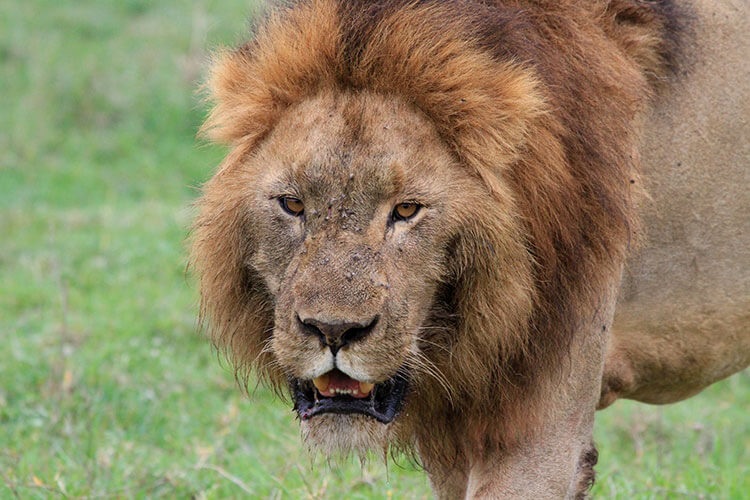 We continued to watch for a while as the lions took turns eating and ripping open the body to eat the heart, liver and kidneys. The pride leader rested in the shade of our line of safari vehicles, blood still dripping from his mane. We were in no danger – he'd just gorged himself into a sleep and still had plenty for later.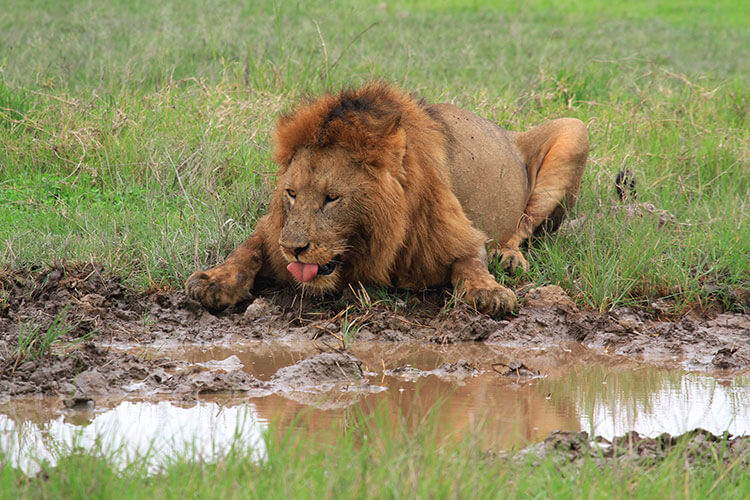 We reluctantly left the lions as the pride leader slowly wandered down to a puddle for a drink. The day was really just getting started and we already had tales we'd be telling to the newcomers at The Manor that evening.
I've mentioned a few times now how blown away we were by how close we got to the wildlife. Tim's selfie with this male lion should give you an idea of just how close the animals come. The safari vehicles offered a welcome bit of shade in the wild open plain in Ngorongoro Crater and just as the lions were unfazed by our presence, elephants and other wildlife would just amble between the vehicles without a thought.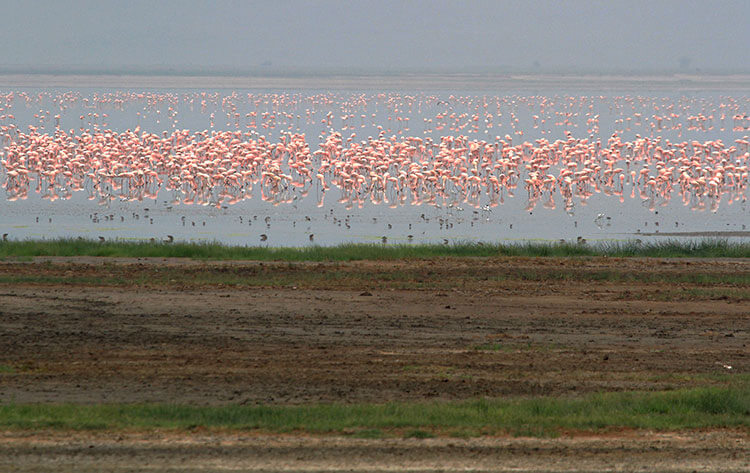 The reason most of the animals stay year round in Ngorongoro Crater is the year round presence of several lakes in the 100mi² crater. Thousands of pink flamingos love to feed off the plankton in one of Ngorongoro's salty lakes.
Flamingos weren't the only birds, either. Tanzania is a treat for birding with more colorful birds that we've ever seen anywhere else in the world. From the little ones like the iridescent blue superb starlings to the ostrich, the largest living bird in the world, we can't even begin to count all the ones we saw.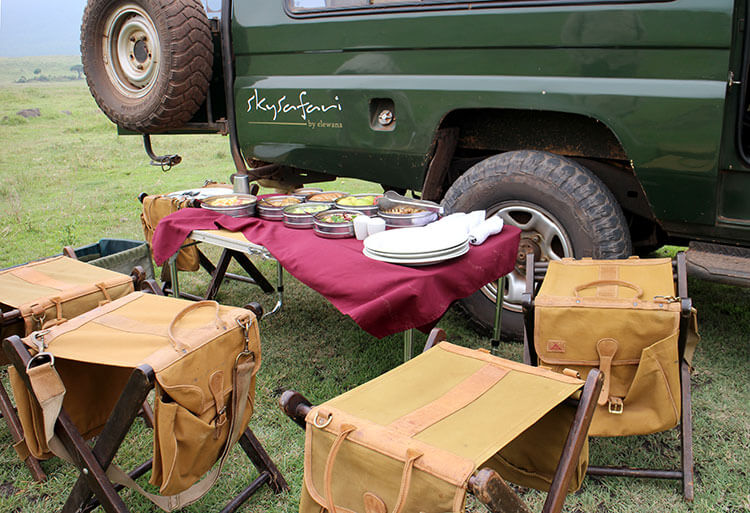 The Ngorongoro safari was a full 10-hour long day and our packed lunch was served comfortably with a table and camp-style chairs set up for alongside another of Ngorongoro's lakes with hundreds of resident hippos. Ngorongoro Crater was the only place where we even saw other Tanzania safari tours, and the difference was evident as we watched nearly all the others around us sit in the dirt and try to scoff down sandwiches from paper bag lunches.
Ngorongoro Crater is the one place where you could check off all of Africa's Big Five in one day. The Big Five, a name conceived by Africa's big game hunters, are the lion, Cape buffalo, elephant, rhino and leopard. After lunch, our guide's agenda was to find us our two remaining Big Five: rhino and leopard.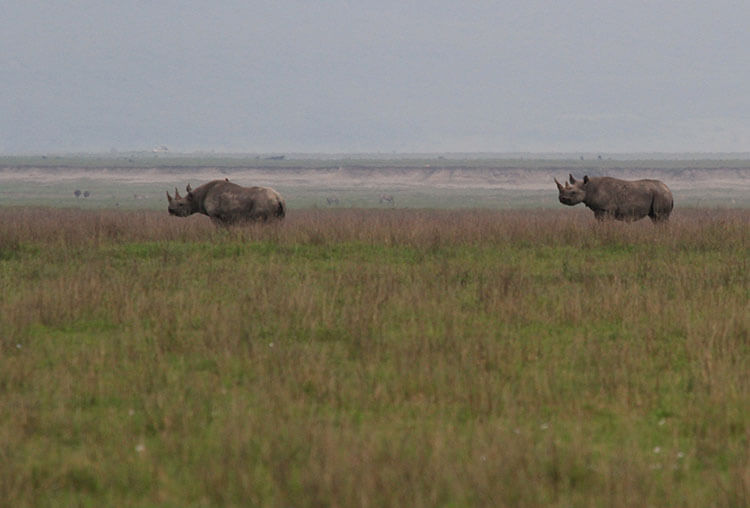 With only 26 black rhinoceros estimated to live in Ngorongoro at the time we visited (it was announced to be estimated around 50 by the Ngorongoro Chief Conservator in 2018), the rhinos are hard to spot. We count ourselves incredibly lucky to have seen two grazing together. It was the perfect end to our day in Ngorongoro Crater.
Of the Big Five, only the leopard continued to remain elusive.
Day 6: The Manor at Ngorongoro & the Serengeti
Our last morning at The Manor, we had the option of a game drive at Lake Manyara or to relax. Nearly a week into our Tanzania trip, we opted to sleep in a little and relax before the next several days in the Serengeti. The Manor has a gorgeous pool, horseback riding from their own on-grounds stables, a spa and even things like croquet on the lawn. We enjoyed lunch on the lawn overlooking the coffee plantation. It was a perfect little break from long days and extremely early mornings.
After another flight to Lobo Airstrip in the Serengeti and a short game drive, we arrived to Serengeti Migration Camp located right in Serengeti National Park just in time for sundowners. Literally steps away more than 70 hippos were grunting away in the Grumeti River.
The camp is made of up 20 elevated tents in a dramatic rocky outcrop alongside the Grumeti River. The main tent is a split level structure with a swimming pool, viewing decks and the camp's restaurant.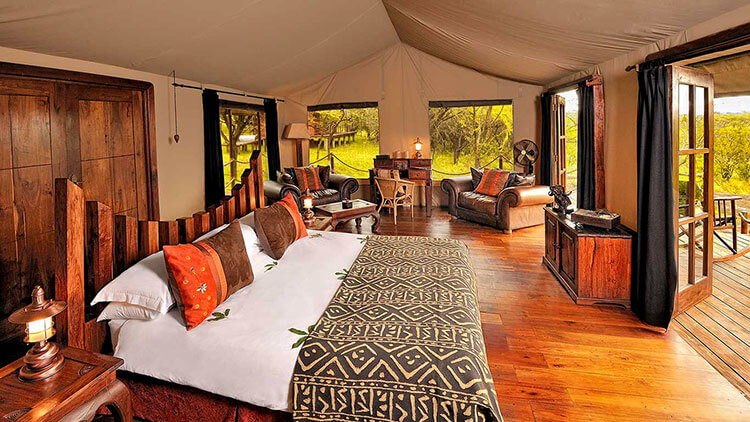 Our luxury safari tent was spacious with a king-size bed, sitting area and full en-suite bathroom with solar generate hot water available 24 hours a day. The tents are canvas, though the interior walls and the wooden floor are fixed on the platform the tents sit on.
Day 7: Serengeti National Park
Home to the greatest spectacle on earth, Sergeneti National Park is one of most famous national parks in Africa and has earned the title of Africa's best safari park the past four consecutive year. It's reputation for some of the best wildlife and big game viewing on the planet has put a Serengeti National Park safari on many a travelers' bucket list.
Established in 1952, Serengeti National Park encompasses 5700 square miles. Larger than the entire state of Connecticut, our exploration with SkySafari would take us in in the western area near the Grumeti River and eventually toward the plains where we hope to catch up with the famous zebra and wildebeest migration.
Unlike Ngorogoro, we never saw a single other safari vehicle while in the Serengeti. Instead, our encounters with not only Africa's most famous big game animals, but also with ones we had yet to know even existed.
It's not just the hundreds of lions we saw when it came to big cats. We'd barely left our Serengeti safari camp when our guide stopped. I didn't even see what it was he'd spotted a first.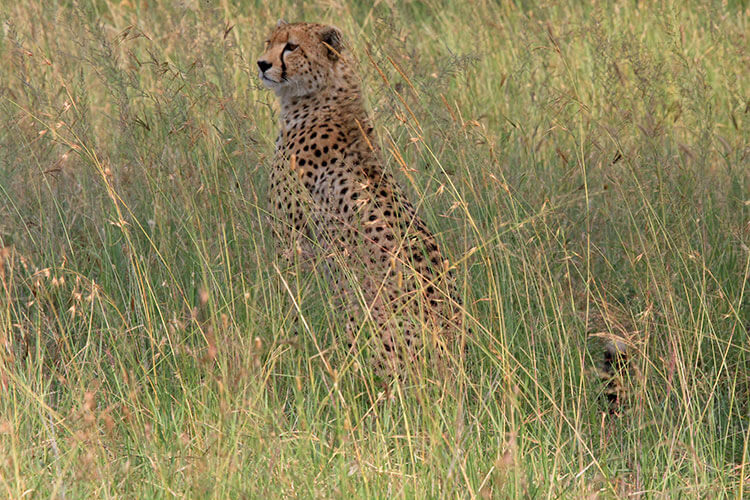 With an eye like a hawk, he'd spotted a cheetah hidden in tall grass. The only indication it was even there was the gently flicking of its tail. We waited and our patience was rewarded as he finally sat up, looked around and then casually sauntered off deeper into the tall grass.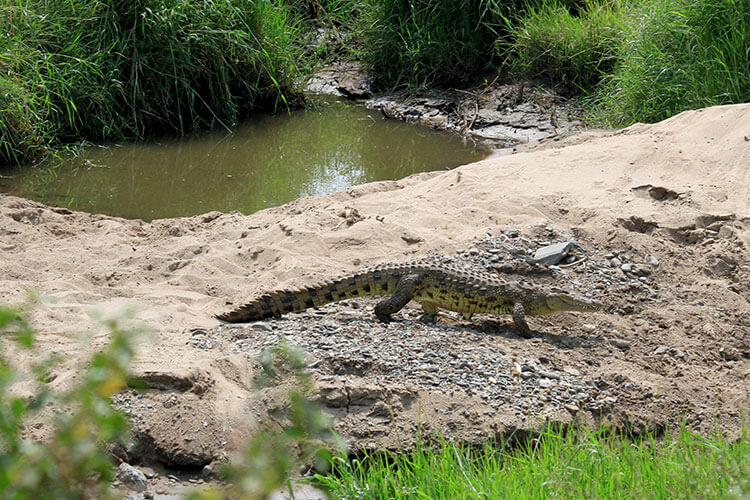 As we drove along the Grumeti River, the crocodiles sunning themselves along its sandy banks were a reminder that it's not only the hippos that call the river home. While crossing the Grumeti River, the crocs are just one of the fierce predators that the wildebeest face on their annual migration.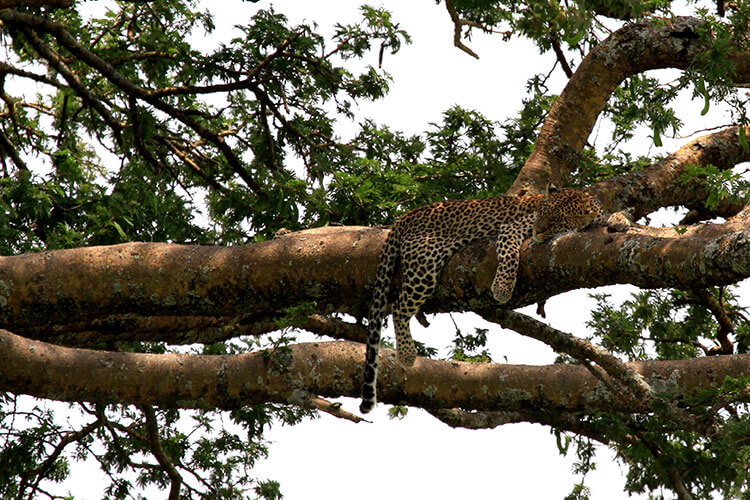 Then on our way toward the Retima hippo pool, we finally spotted our first leopard. And when I say we, I mean our guide. We weren't looking for leopards to be sleeping in tamarind trees. The only indication they're even there is a tail hanging down or a leg dangling from a branch. From that point on, it became a sort of game to see who could spot the next leopard first.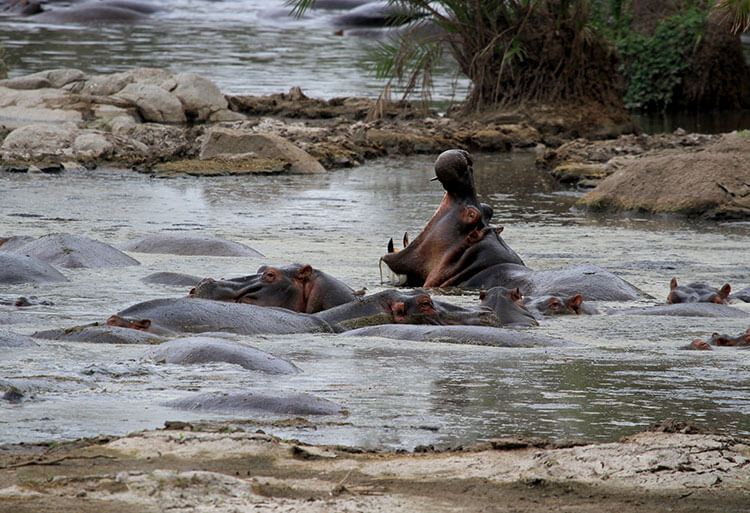 Another delicious SkySafari bush picnic was sent along with us and we enjoyed it at the Retima picnic site. It's near the Retima hippo pool, which is known as one of the top things to do in Serengeti National Park thanks to its 200 resident hippos.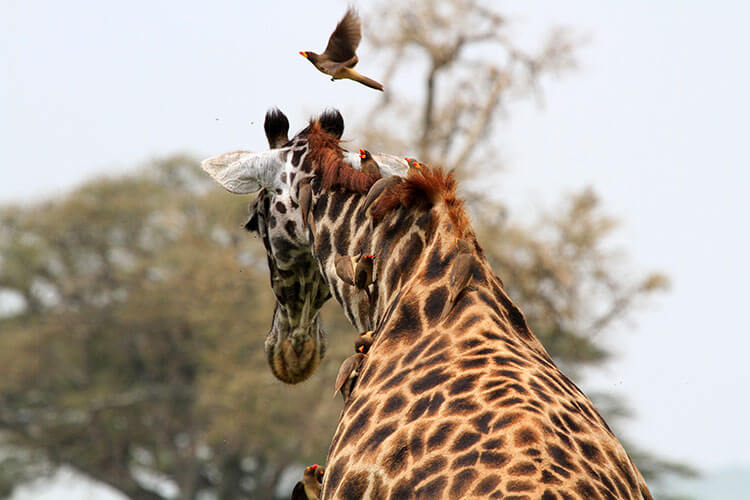 This many days in to an African safari, you have your favorite animals to watch. While it was lions and other big cats that we were most excited about seeing in the wild leading up to our safari, giraffes quickly became my personal favorite to watch.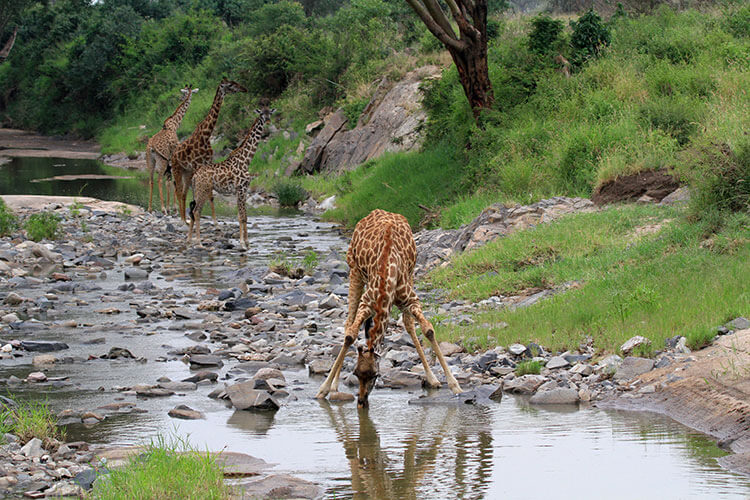 It's not easy for any of the animals out there, but you just don't realize the hard lives giraffes lead because of their ungainly legs and long necks. I'd been mesmerized watching them run. Their heads tilted up to reach that branch just out of their reach brought a smile to my face. But my heart broke a little when I watched a poor giraffe struggle to spread her legs just to be able to get a drink of water.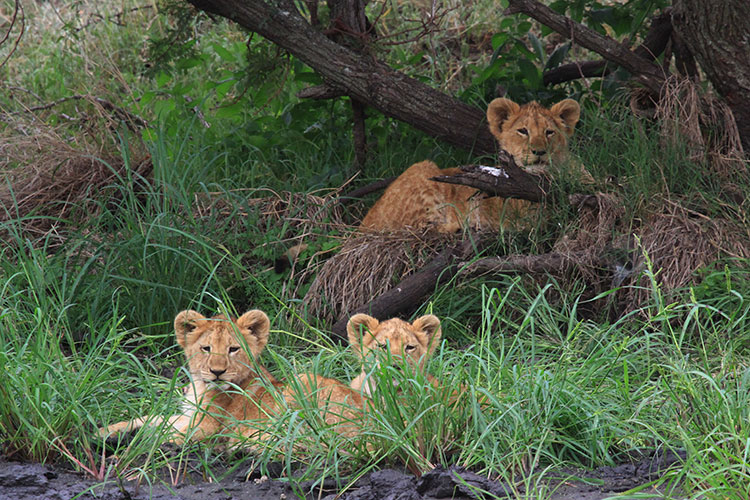 Our full day Serengeti safari ended with spotting a pride of lions that had the youngest lion cubs we'd see during our entire time in Tanzania. February was a great time to go with nearly every animal we saw having adorable babies in tow.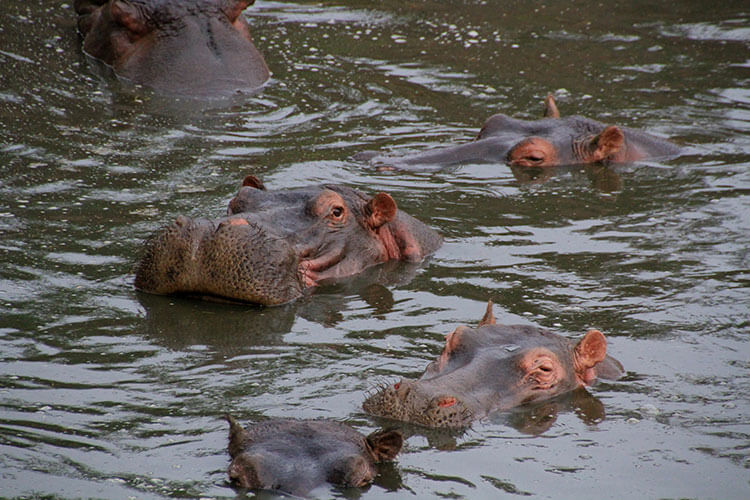 Day 8: Serengeti Migration Camp
The fantastic thing about staying in a Serengeti safari camp is that you're right in the park. Located alongside the Grumeti River, some 70 hippos reside right next to Serengeti Migration Camp. At night we'd not only hear the hippos grunting, but moving around as they came out of the river to eat.
One of the activities offered at Serengeti Migration Camp is a bush walk, or walking safari. Up until that point, all of our safaris had been game drives and we mostly stayed inside of the vehicles. But that morning we accompanied our guides and rangers from Serengeti National Park on a walking safari to get a closer look at the hippos.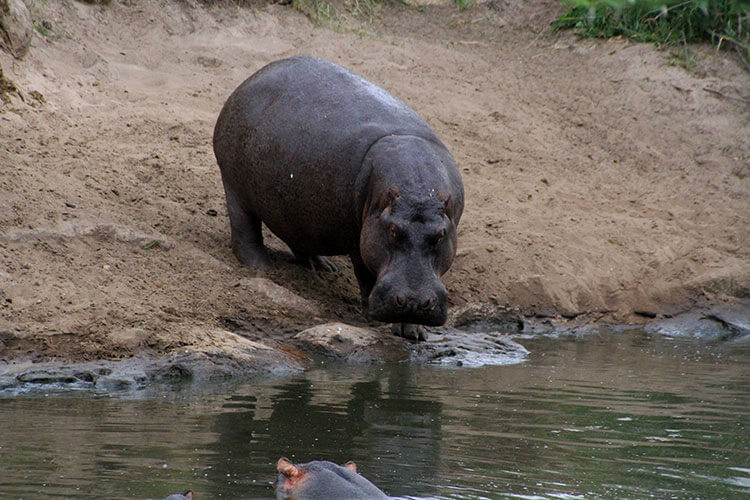 Imagine our surprise – and the hippos – when we caught one quite a distance from the river. Lots of grunting commenced as we approached, and our fantastic guides kept us safe with their supreme animal behavior knowledge. We stayed as still as possible and quiet until the poor hippo felt safe enough to make her way back to the river to rejoin her pod.
A little further down the river, we crossed it to hike up to a viewpoint overlooking the entire Serengeti Migration Camp.
Most of the animals are actually much more cautious of you when on a walking safari than a game drive. They've become used to the vehicles as part of their environment. While giraffes were always curious, they'd pay us no mind as long as we were in a vehicle. Walking, even though we remained as quiet as possible, a giraffe we encounter remained as still as it could be like we wouldn't see the 15 foot tall creature as long as it didn't move.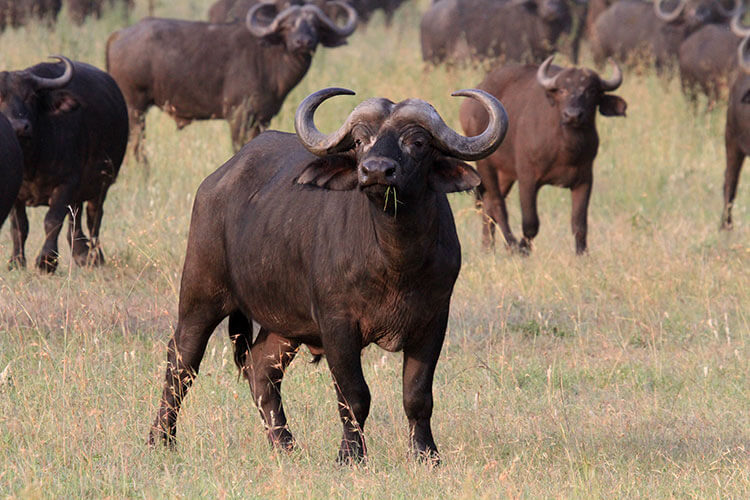 The Cape buffalo is actually considered to be the most dangerous of Africa's Big Five. They become very aggressive and Cape buffalo have killed more people than any other of the Big Five in Africa. And we had one stalking us.
The guard from Serengeti National Park was able to run off the Cape buffalo, then scouted out that he had truly gone. We never felt scared thanks to knowing our guides knew exactly what they were doing.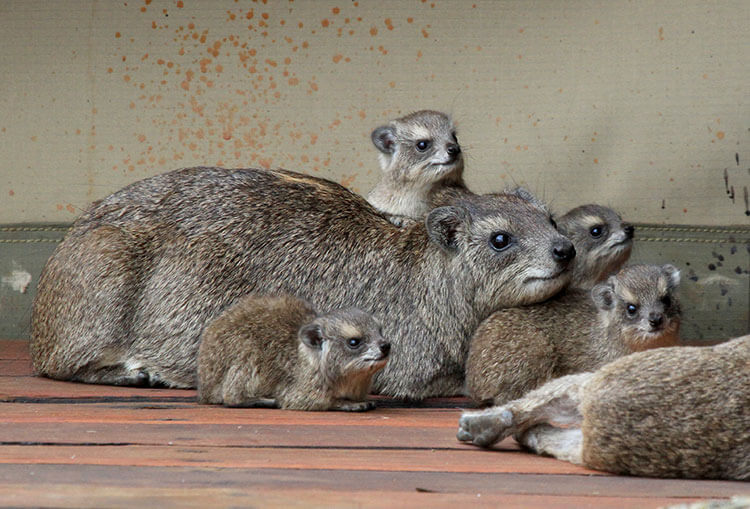 After making it back to the Serengeti Migration Camp, we had one last lunch on the terrace of the main tent while warthogs and deer just casually wandered right through the camp. The families of hyrax, which sound like little velociraptors by the way, scampered all over the deck while we ate.
We'd spent two nights at Serengeti Migration Camp, and it was time to move south to Serengeti Pioneer Camp. Our transfer to the new Serengeti camp was a leisurely game drive along the way. Like our other days on safari in Serengeti, we saw many hippos, more crocodiles, giraffes, herds of elephants, loads of lions and found another leopard.
Serengeti Pioneer Camp
Serengeti Pioneer Camp is located in the South Central Serengeti. It's the most visited of the three areas that make up Serengeti National Park. By extending our SkySafari to include both Serengeti Migration Camp and Serengeti Pioneer Camp, our four days would cover nearly 90% of Serengeti National Park.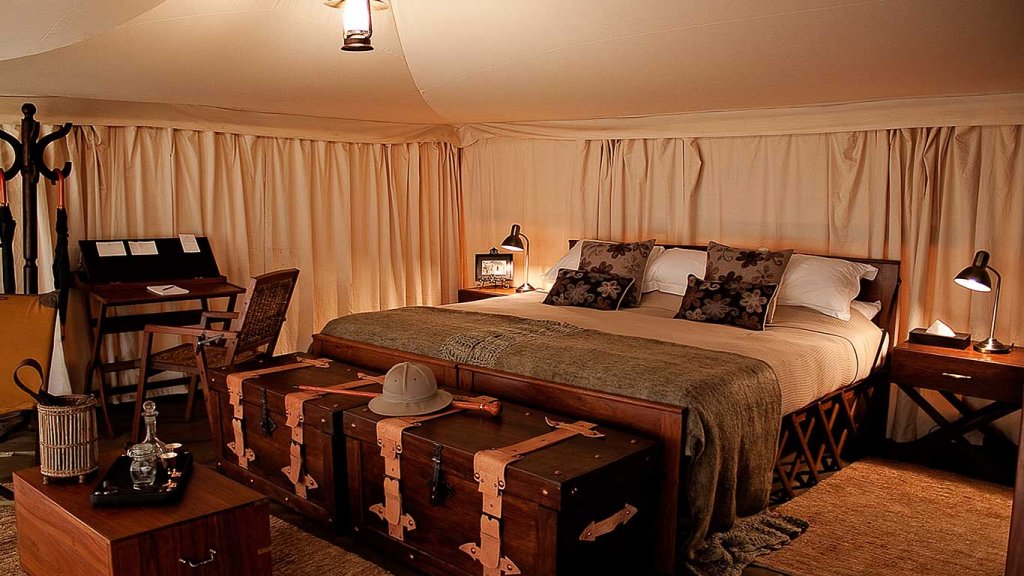 Each of Elewana Collection's camps and lodges are unique. Serengeti Pioneer Camp is even more intimate than Serengeti Migration Camp with just 10 tent. The design is a bit more rustic, paying homage to the mobile camps of the 1930s. The tents are full canvas tents, though the furnishings are still luxurious with a queen size bed, bathroom with solar heated hot water and flush toilets.
You take your shoes off outside of your tent to help keep the canvas floors clean, but we were reminded not to actually leave our shoes outside. There's a clan of hyenas that live in the rocks near the camp, and they love to steal shoes.
There's a dining tent and dinner is always under the stars, or inside the tent in case it rains.
Each night at Serengeti Pioneer Camp, we had a good 'ol fashioned bonfire. Camp managers Tom and Allison had heard it was our wedding anniversary a few days before and surprised us with a bottle of South African sparkling wine. There's nothing quite like sipping wine by the campfire while baboons, hyrax and hyenas make the sounds of the Serengeti.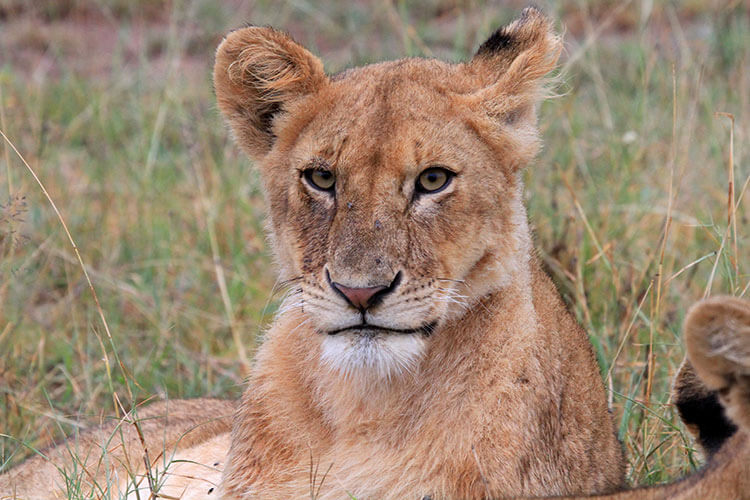 Not far from our tent, which was on the edge of the forest, an elephant had died of wounds from a poacher. Lions, jackals and hyenas were having a feast. Lions near the camp were a common sight thanks to the carcass and we went to bed to the sound of lions calling in the night.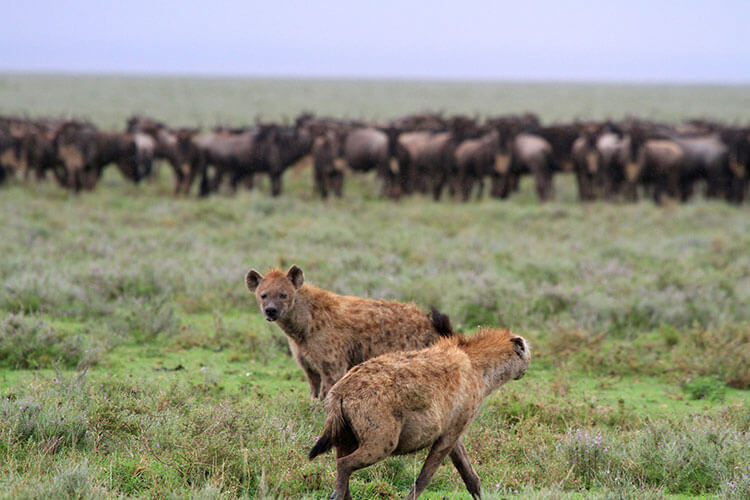 Day 9: South Central Serengeti
Our last full day in the Serengeti and on safari in Tanzania was a game drive of the South Central Serengeti. From December to April, it's this part of the Serengeti that the wildebeest call home during the Great Wildebeest Migration.
It's the last triumphant mass movement of animals on earth. Every year some one million wildebeest, accompanied by thousands of zebras and other plains game animals, follow the rains from Tanzania to Kenya and back again on a 2000 kilometer journey.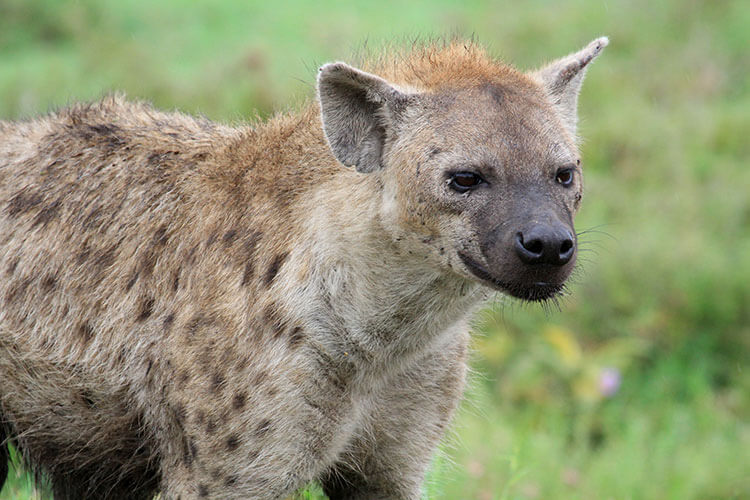 The wildebeest spread out, with herds moving into the Ngorongoro Conservation Area and Ngorongoro Crater. Each February and March the wildebeest and zebra babies are born on the short grass plains in the shadows of Ngorongoro. They're born in such numbers that waiting predators like hyenas could never take them all. And the mineral-rich grasslands are ideal for building young wildebeest bones. It's a survival strategy, and one that clearly works as the wildebeest is the most numerous of all plains game.
If it rained all year, the wildebeest and zebra herds would probably never leave. But there is no permanent water supply on the short grass plains. So each May as the long rains end, the herd moves north toward Keyna.
Not all take part in the Great Wildebeest Migration together, though. Unlike herds of elephants, towers of giraffes or prides of lions, individual wildebeest actually have no ties to the population besides that of mother and calf. Each wildebeest follows its own path toward the rains, and that isn't always a perpetual forward motion. It depends purely on the rains and herds can even go back the way they came.
We'd already seen part of the migration in Ngorongoro a few days earlier. And we came upon some more of the migration here in the South Central Serengeti.
This time, we would witness the circle of life as a pack of hyenas hunted the slower young wildebeest in the herd. We watched the hyenas circle and formulate their plan of attack. The wildebeest gathered surrounding the babies in the middle. But as the hyenas took off in a chase, one baby wildebeest fell and just couldn't keep up. The hyenas had a meal, their bellies fat and bloated after.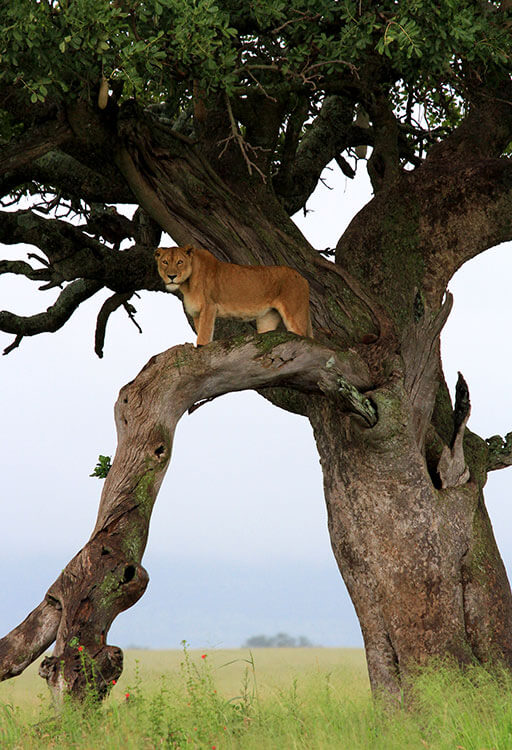 We'd already seen so many lions that we'd lost count, but there was an even higher concentration of lions in this area of the Serengeti. There's many kopje, small rocky hills, in this part of the Serengeti and lions lazing on the giant boulders felt like a Pride Rock scene out of The Lion King.
We were also mesmerized by the occasional tree-climbing cat. They're actually not very adept tree climbers, and we watched a lone lioness gingerly inch her way down out of a tamarind tree.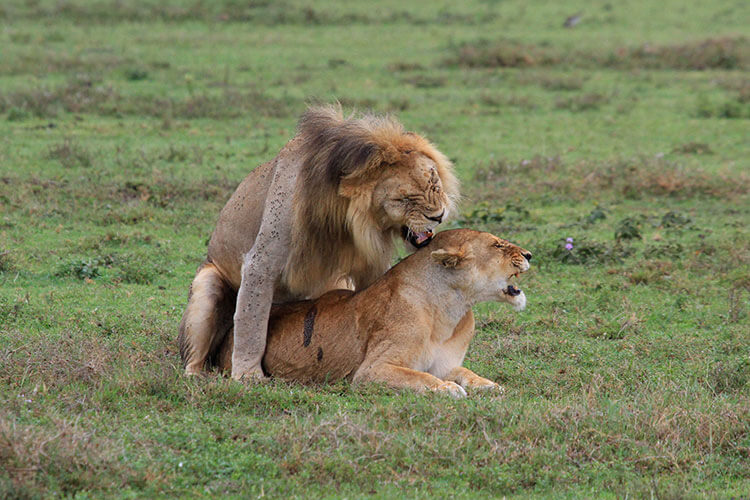 We also caught some lions doing the deed and perhaps making the next litter of cubs that would grow up to roam the Serengeti. This, however, was not a sweet romantic scene from The Lion King. The lioness first tried to fight off the male's advances, leaving her with bloodied wounds on her back. And he just stalked away to nap on his own once he was done.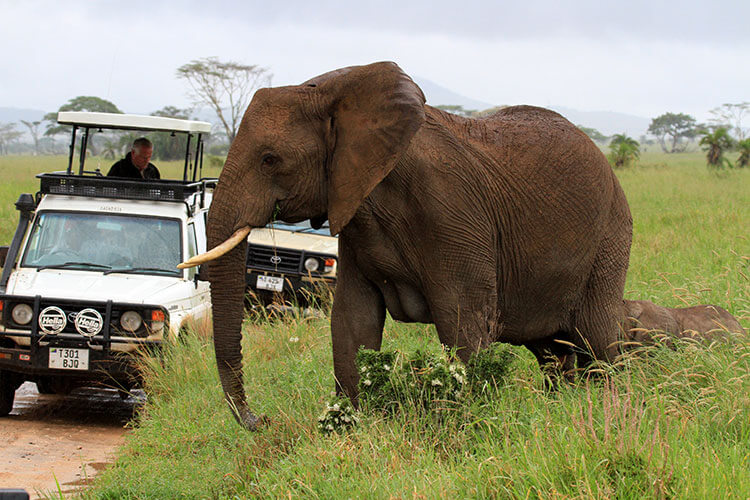 Day 10: Departure to Zanzibar
We couldn't have been more sad to leave. The Serengeti, Ngorongoro Crater, and Tarangire surpassed our expectations and our time there had felt like a dream. An absolutely amazing nine days with SkySafari, we said goodbye with one last short game drive on the transfer back to the airstrip. Just as with all of our other bush flights, animals like herds of elephants roamed the plains below.
We don't know when, but we know this: we'll be back to Africa again because SkySafari by Elewana was the trip of lifetime.
Our trip to Tanzania was hosted by SkySafari by Elewana in order for us to bring you this story. However, Luxe Adventure Traveler maintains full editorial control of the content published on this site. As always, all thoughts, opinions, and enthusiasm for travel are entirely our own.