When it comes to wildlife adventures, the African continent delivers ten fold with some of the world's most magnificent animal encounters. While a Big Five safari is on the top of many a traveler's bucket list, don't overlook the opportunity to also go on mountain gorilla safaris in Africa's gorilla nations. Visiting mountain gorillas in the jungles of equatorial Africa is one of our plant's most incredible wildlife adventures.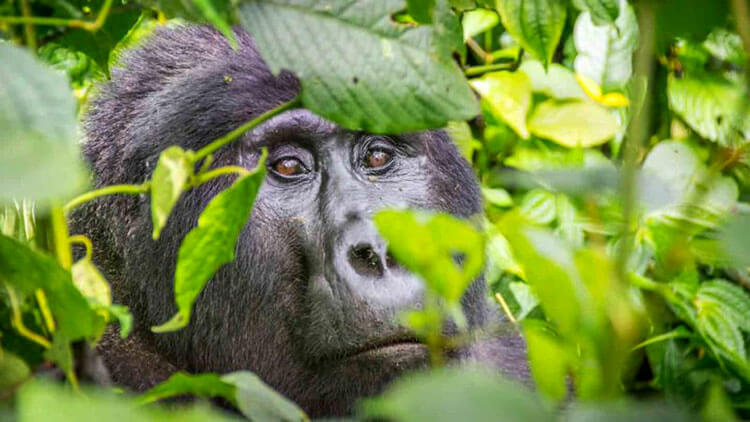 Why Go on a Mountain Gorilla Safari?
Gorillas are fascinating. Charles Darwin wasn't wrong when he stated that African primates are the closest living species to humans in 1871. He had no evidence to back up that claim, but many studies have been since been done and gorillas share about 98% of their DNA with us. So observing gorillas in the wild is practically like hopping in an evolutionary time machine.
Mountain gorillas are the largest species of primate. Critically endangered, there's only around 1000 individuals left in the world. They're confined to a very small pocket of the world with only two places that you can find them: in the Virunga Mountains straddling Rwanda, Uganda and the Democratic Republic on Condo (DRC) and in Uganda's Bwindi Impenetrable National Park.
Mountain gorillas were only discovered as recently as 1902 by Captain Robert von Beringe. And unlike their lowland gorilla cousins, not a single mountain gorilla is known to exist in captivity. They're elusive and intelligent gentle giants that only a small percentage of people will ever have the privilege of laying their eyes upon.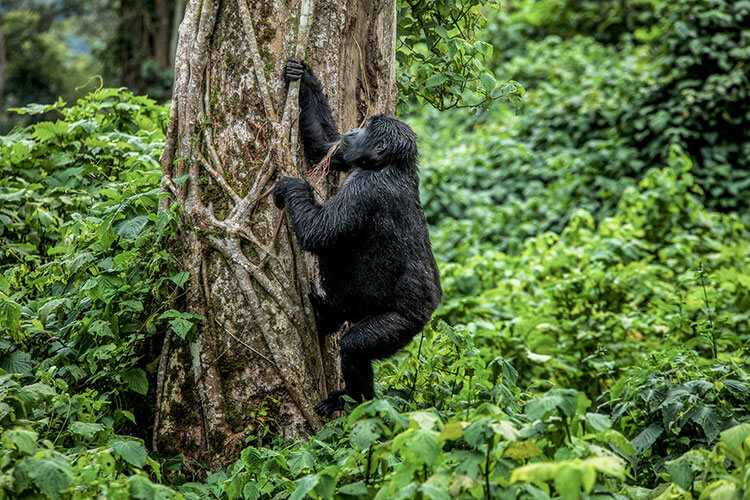 How to Go Gorilla Trekking
Unlike a Big Five safari on which you comfortable watch animals from a safari vehicle, it takes quite a bit of effort to be able to see mountain gorillas in the wild. With mountain gorilla troops located deep in the thick jungle at altitudes from 2000 – 4300 meters, the only way to access them is in small, regulated group treks.
Every gorilla trekker is required to have a permit. Permits themselves are regulated to small numbers, and cost $1500 in Rwanda and $600 in Uganda. With concerns over crime and civil unrest in the DRC, most visitors rule out any consideration of gorilla safaris there – though gorilla trekking permits are the least expensive in the DRC at $400. Gorilla safari tour operators handle obtaining your gorilla permits for you, taking a lot of hassle out of your trip planning.
On the day of your gorilla trek, it can take between 2 – 8 hours of trekking through dense jungle in slippery and muddy conditions. The length of the trek itself depends on where the gorilla family is located, and the speed that your small group of a maximum of 8 people treks at. The guides take you to where the gorilla troop was observed the previous day, then you follow the gorillas' tracks until you locate the troop.
Once you reach the gorilla troop, the group has one hour to spend with the gorillas. You should keep your voices low, stay closely together and maintain a minimum distance of 7 meters from the gorilla troop at all times. Capture as many photos (without flash) as you can and like during your time with the gorillas.
The one hour is strictly regulated. You have one hour with the gorillas regardless of which gorilla trekking operator you go with. It's not enough, but it's an hour you'll remember for a lifetime.
The Best Time to Go Gorilla Trekking
Gorilla trekking can be done year round, but the long rains from March to May make the trek treacherous with the wettest and most difficult conditions. Peak gorilla trekking season is from July to August, and there is another rainy season in November known as the short rains.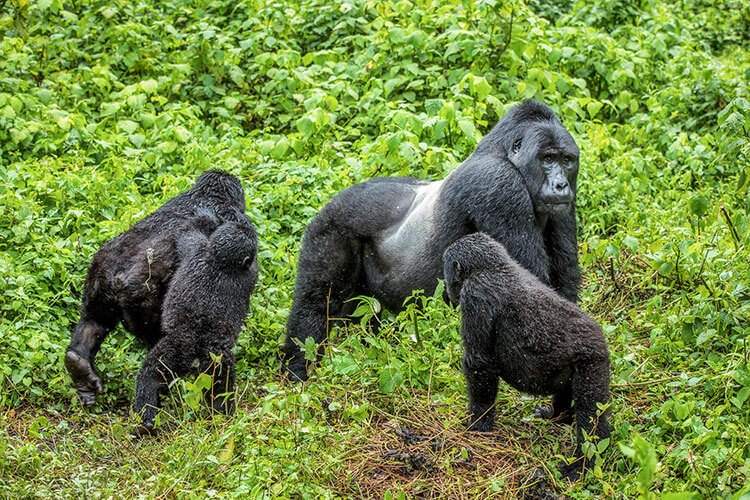 What Else Can You See on a Gorilla Safari?
While the highlight of a gorilla safari is, of course, seeing mountain gorillas, these giant primates aren't the only animals you can see in Rwanda and Uganda.
Choose 2 – 10 day itineraries in Uganda, which can cover many of the mammals like lion, elephants, leopard, hippos, hyenas and more in Queen Elizabeth National Park, as well as other primates like chimpanzees, colobus monkeys and more.
Rwanda safaris can range from 1 – 5 day itineraries with primate lovers able to combine chimpanzee and gorilla trekking with game drives and a boat cruise in Queen Elizabeth National Park.
You can also combine trips in Rwanda or Uganda with safaris in East Africa to the Serengeti or the Masai Mara, two year round safari destinations teeming with hundreds of species.