Nairobi doesn't have to be just the city you fly in and out of on your way to a safari in Kenya. Nairobi is definitely worth a couple days of your time, and you might even be surprised to discover that you can go on safari right in Nairobi. There's no where else in the world with big game wildlife practically roaming the city itself (and sometimes those curious cats do get out and lions can be seen roaming Nairobi's busiest roads). If you're wondering exactly what to see in Nairobi and how to go on safari in the Kenyan capital, follow our 3-day itinerary for the best things to do in Nairobi for wildlife lovers.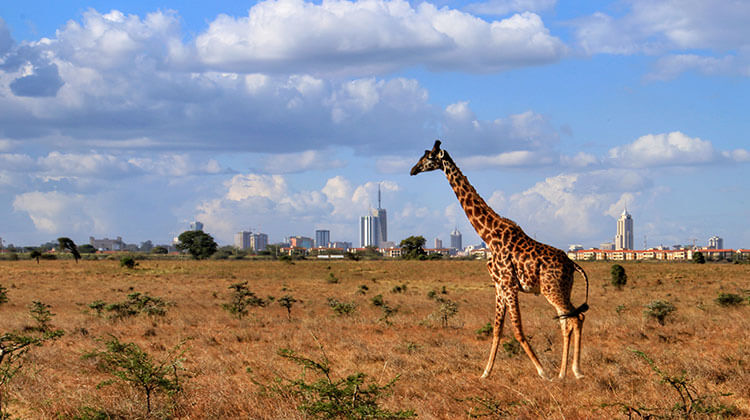 Day 1: Nairobi
Nairobi is a long way from just about everywhere. Africa is a massive continent and even arriving from other destinations within Africa can mean quite a long journey.
Take it easy and recuperate from the long trip for the better part of the day. A few hours spent poolside soaking up some sun is just what the doctor ordered so you can feel refreshed, rejuvenated and ready for a lot of very early mornings as you head out on game drives (what a safari is typically called in Africa) to see what you've come all this way to see: sub-Saharan Africa's incredible wildlife.
Eat a Beast of a Feast at Carnivore Restaurant Nairobi
Carnivore is Nairobi's most famous restaurant and really deserves a spot on your Nairobi sightseeing itineary. It opened in 1980 and was immediately popular with both locals and tourists alike. Deemed a "beast of a feast", the restaurant is known for it's massive barbecue bit where all kinds of meat are skewered and cooked on traditional Maasai swords.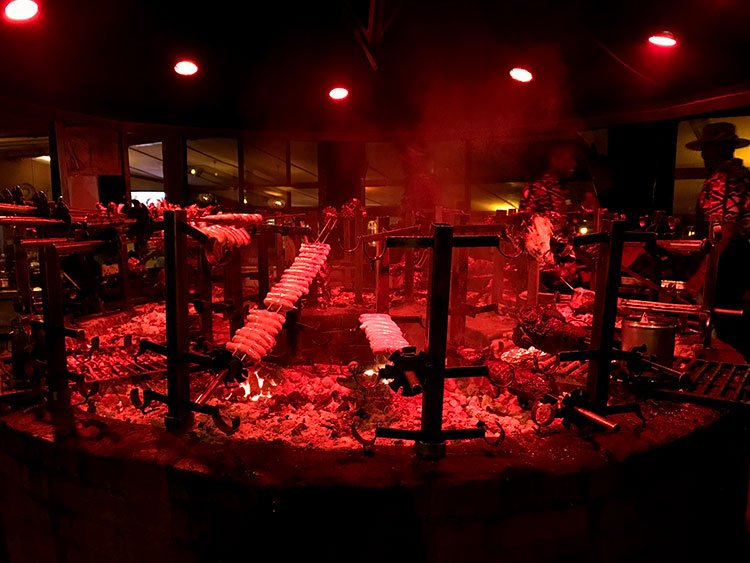 The concept is an all-you-can-eat meat feast, though there is a vegetarian option available too. It's similar to the Brazilian-style restaurants we've been to where a variety of salads are offered, but the stars of the dinner show are the various types of meat brought around on swords. You can try what you like, and as much of it as you like. Then when the meat sweats start and you finally call mercy, you take down your flag in surrender.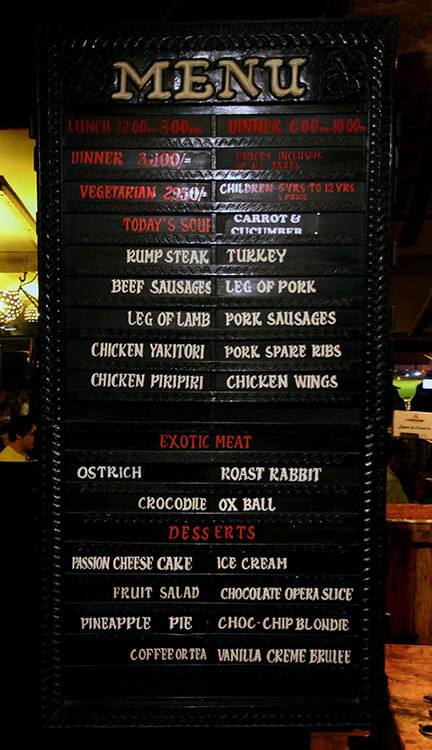 When Carnivore in Nairobi first opened, it had all sorts of exotic game meat on offer. Kenya banned the sale of wild game meat in 2004, and Carnivore updated it's menu to include domestic animals like chicken, beef, pork, turkey and some farm-raised exotic meats like ostrich and crocodile.
Carnivore is also famous for their Dawa, a Kenyan cocktail that they make table side with a bit of fun pomp and circumstance. Dawa is Swahili for medicine, though this cocktail tastes nothing like a medicinal-like alcohol you cringe at. It's vodka with honey, lime and sugar.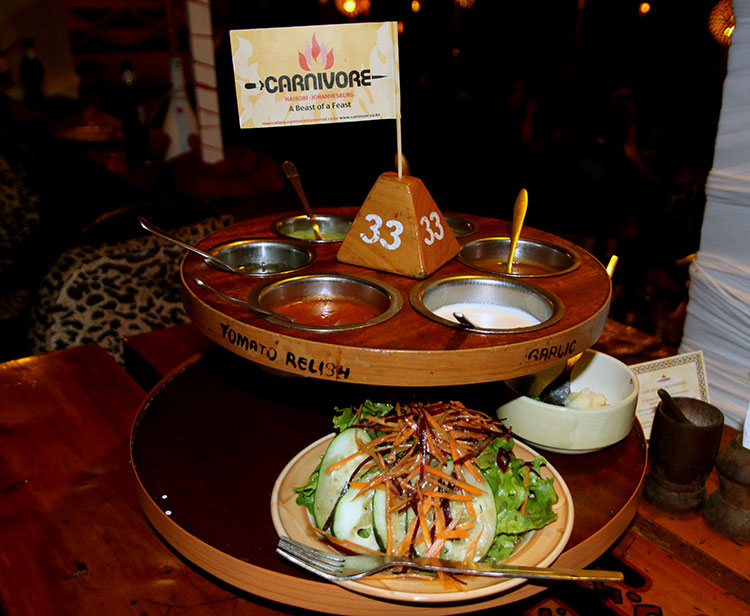 Cocktails in order, our meal started with a small bowl of the soup of the day. It was a carrot and cucumber soup on the day we visited. You also receive a two-tiered lazy susan laden with various sauces on the top tier, and salads like a garden salad, couscous and seasonal vegetables on the bottom tier.
Before long a hot cast iron plate arrived and one of the servers with roasted potatoes was hot on our waiter's heels. Then you just wait for the swords of meat to start making the rounds.
Each meat-wielding server explains exactly what they've got. If you're just not in to that particular meat, you're more than welcome to turn it down. We went with the attitude that we'd at least try everything, even the ox balls – which was honestly the only thing that didn't sound appealing to me.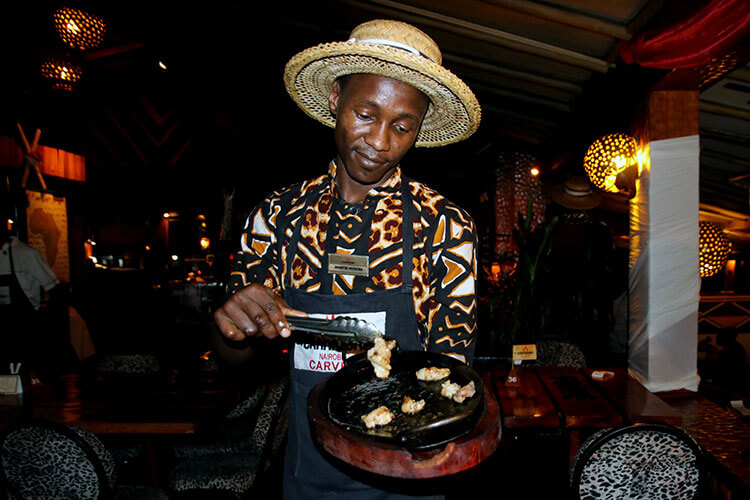 The servers also recommend which of the sauces go best with the various meats. The crocodile, which we put the garlic sauce on as recommended, ended up being the favorite. It's a white meat and has a firmer texture than chicken. We happily accepted seconds when more crocodile came around.
We've had ostrich before. It was actually fairly regularly available at a grocery store near our house in Italy, and there's an ostrich farmer that sells the eggs and burgers made with ostrich meat on the Cambridge Market where Tim lives currently in England. We like it and looked forward to having it. It's actually a red meat and tastes similar to venison or prime beef.
The ox balls weren't terrible, but I could have done without them. They were sliced in to discs like a slice of sausage. The moniker "tastes like chicken" definitely doesn't apply here, and it was really the chewy texture that I didn't like about them. But at least I tried it.
When you finally have your fill and have tasted everything you want, you pull the little flag out of the top of the lazy susan to indicate you're done. And if you have room, dessert and Kenyan coffee or tea are included.
It is indeed a beast of a feast. But when it comes to what to do in Nairobi, it's one of those fun and delicious experiences you simply must have. We definitely recommend you make a reservation, which you can easily do on their website, because it is always busy.
We took an Uber from our hotel in Nairobi city center and it only cost around $4 USD each way. There are tours that include hotel pick-up and drop off if you're not comfortable using an Uber in Nairobi, but if you go that route we recommend this one because you're just paying for the transportation. You'll pay Carnivore directly for the meal. Beware of booking tours that include the price of the restaurant because we noticed that they were all very marked up in price.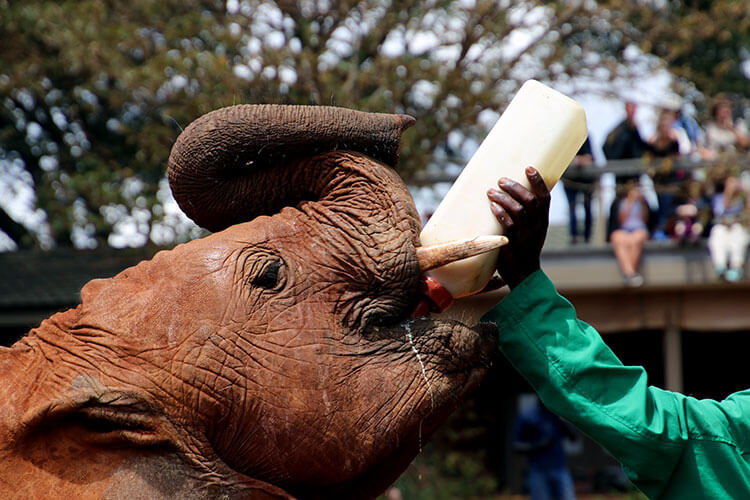 Day 2: Giraffe Centre and David Sheldrick Wildlife Trust
Nairobi is known as the wildlife capital of the world thanks to its unique national park sitting right on the edge of the city. There's no where else in the world like it, and our second day was all about Nairobi's wildlife.
We booked a Giraffe Centre and the David Sheldrick Wildlife Trust Elephant Orphanage half day small group tour. Both centers are located around a 40-minute drive from Nairobi city center. Though you could easily take an Uber or taxi and visit these two wildlife centers on your own, going with a knowledgeable local guide added to our experience.
Joy visits the Giraffe Centre and Elephant Orphanage regularly with small groups and she knew exactly the best spots to position us, as well as was an expert photo and video taker. With her expert guidance on what to expect in advance, our small group could all thoroughly enjoy these busy and popular Nairobi attractions.
Get a Giraffe Kiss at the Nairobi Giraffe Centre
You simply can't miss a visit to the Giraffe Centre. It's one of the most fun places to visit in Nairobi, particularly if the giraffe is one of your favorite animals. And going with a local guide on a small group tour means you'll have an expert photo and video taker to help capture your giraffe interactions on camera.
Founded in 1979 as part of the African Fund for Endangered Wildlife (AFEW), the Giraffe Centre came about through the passion of a British-American couple in Kenya. Jock and Betty Leslie-Melvile discovered the plight of the critically endangered Rothschild giraffe.
Only 120 Rothschild giraffes existed at the time on an 18,000 acre ranch in Western Kenya and this sub-species of giraffe is only found in East Africa. That ranch was an area scheduled for urban development to resettle squatters, and the Rothschild giraffes were about to lose their habitat. It was a certain death sentence for the Rothschild giraffes.
The couple decided to take action to attempt to save the species and brought two of the young Rothschild giraffes to their land in a suburb of Nairobi on the edge of Nairobi National Park. At that time, they founded the AFEW and the history of the Giraffe Centre was born.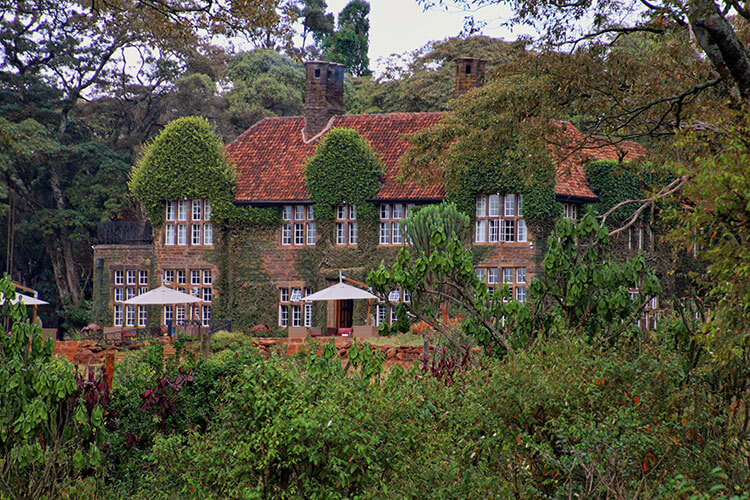 The Giraffe Centre is located in Langata and you'll find the world-famous Giraffe Manor on the edge of the Giraffe Centre's sanctuary. It's the Giraffe Centre's Rothschild giraffes that go over to the manor each morning expecting guests to share their breakfast. So even if you can't get a reservation or the nightly room rate at Giraffe Manor is just a bit too steep, you can enjoy the very giraffes that rule the Manor.
The Giraffe Centre serves two main purposes. It's a breeding center for the Rothschild giraffe, and as of today there are now over 600 Rothschild giraffes that are located throughout Kenya and breeding in the wild. It's also an education center, both for Kenya school children and visitors from far and wide, and educates visitors on Kenya's wildlife and environment.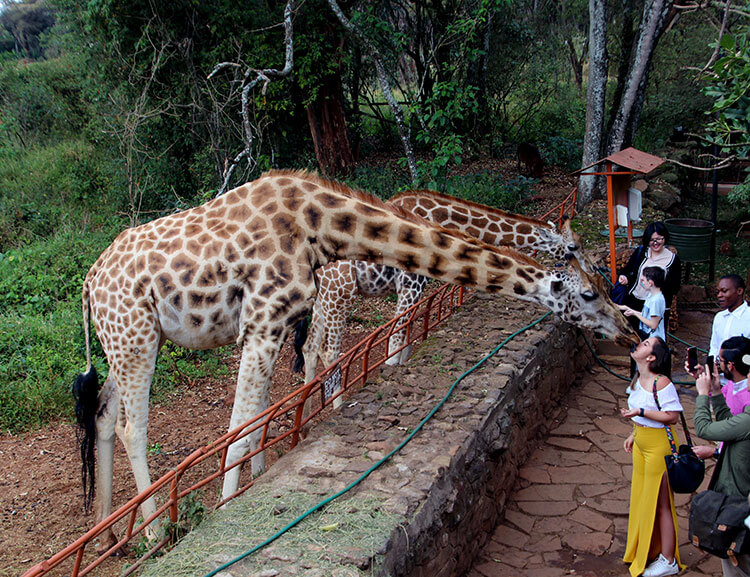 The Giraffe Centre is nothing like a zoo or a tourist gimmick that exploits animals. You do have the opportunity to get up close with the world's tallest animal, feed them and even get a giraffe kiss if you want. But the giraffes are bred, raised until they are 2-3 years of age and old enough to survive on their own, then placed in a safe area in seclusion where they learn to feed themselves before eventually being re-homed to the wild. To date, 40 Rothschild giraffes born at the center have been re-located to the wild.
There's usually around 20 Rothschild giraffes at the Giraffe Centre at any one time, which is the maximum capacity that the center can accommodate to give them the food sources and space giraffes need. You won't interact with 20 giraffes, though. Only a handful are social. And it's a good thing, because it minimizes the human interaction and giraffes' association of humans with food.
The social ones are mainly gentle giants. The guides, like our guide Joy, and staff at the Giraffe Centre know each and every giraffe by name and their unique markings. The giraffes do have unique personalities, like the one giraffe that isn't at all fond of kids.
A staff member is nearby with a bucket of giraffe pellets and they'll give you a handful. You're instructed to feed the giraffes one pellet at a time, though some giraffes get a little impatient and will swipe your whole handful with a flick of their tongue.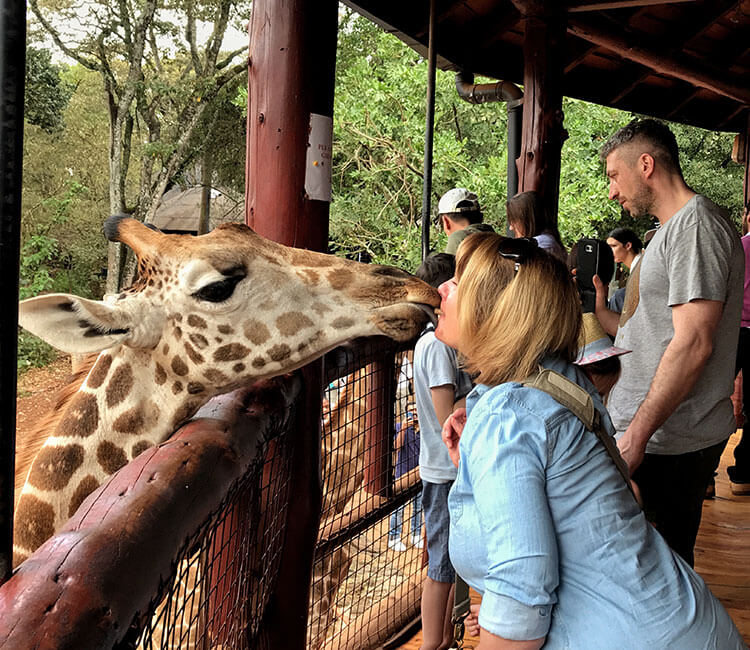 There's a platform to bring you face to face with the giraffes. Brave souls that don't mind a wet, slobbery kiss can put a pellet in between your lips to lure a giraffe in for a kiss. It's really not that bad! Just keep your lips clamped shut and at most you get a little bit of a lick around your face.
There's a sink at the bottom of the platform to wash your hands and face with soap and water.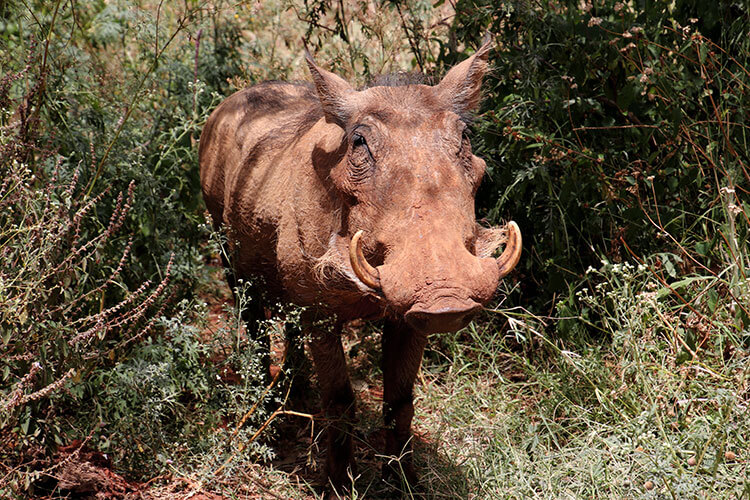 You'll also notice warthogs running around everywhere. They're well and truly wild, coming in to the Giraffe Centre's grounds from Nairobi National Park.
The warthogs and giraffes have a symbiotic relationship. Warthogs depend on giraffes to be able to spot predators from far away. They know that if giraffes start running, they need to flee too. But warthogs have an attention span of about 45 seconds, and they quickly forget why they're running in the first place.
Giraffe Centre staff give short talks all about the giraffes, their plight and provide a lot of really interesting information about the breeding program. It's well worth taking the 20 minutes to hear the talk and ask any questions you may have before leaving the Giraffe Centre.
If you do go on your own, we recommend arriving about 20 minutes prior to opening. One of the most popular attractions in Nairobi, people are already waiting before the Giraffe Centre even opens. And it just gets busier throughout the day. It's also good to know that cash is not accepted. You can pay the 1000 Kenyan shillings (about $10 USD) non-resident Giraffe Centre entry fee by debit card.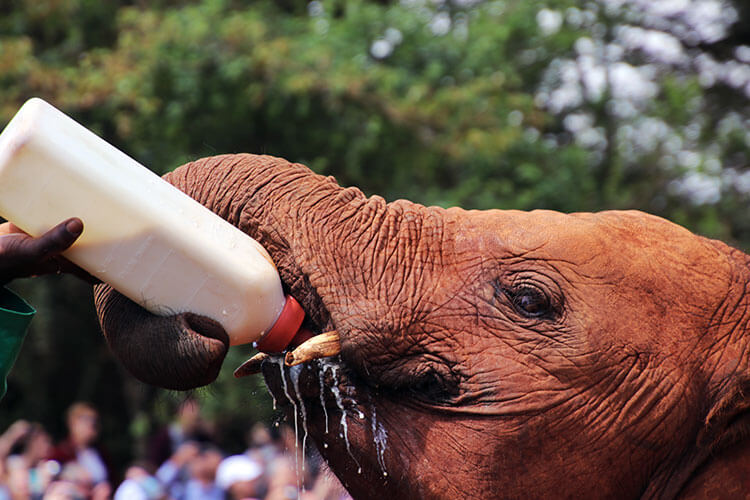 See the Adorable Babies at the David Sheldrick Wildlife Trust Elephant Orphanage
While Nairobi National Park doesn't have elephants in it, you can still see elephants while visiting Kenya's capital – and the most adorable baby elephants at that. The David Sheldrick Wildlife Trust Elephant and Rhino Orphanage (DSWT) was founded in 1977, and are renowned as the world's most successful elephant rescue and rehabilitation center.
Thankfully Joy, our guide, had prepared us for what to expect otherwise we might have been wondering a bit. It was the most crowded and busiest of any of the attractions in Nairobi we visited. The elephant orphanage is one of the best places in Nairobi, and it feels like every tourist in the entire city has turned up.
But with good reason. The David Sheldrick elephant orphanage only opens to the public for 1 hour daily, in order to minimize the human-elephant interaction. Once the milk-dependent baby elephants are old enough and rehabilitated, they are released back to the wild.
During the 1-hour long visit, visitors to the Nairobi elephant orphanage gather around a large roped area and are asked to be quiet. This is both for respect of and to not startle the baby African elephants, and in order to be able to hear the presentation.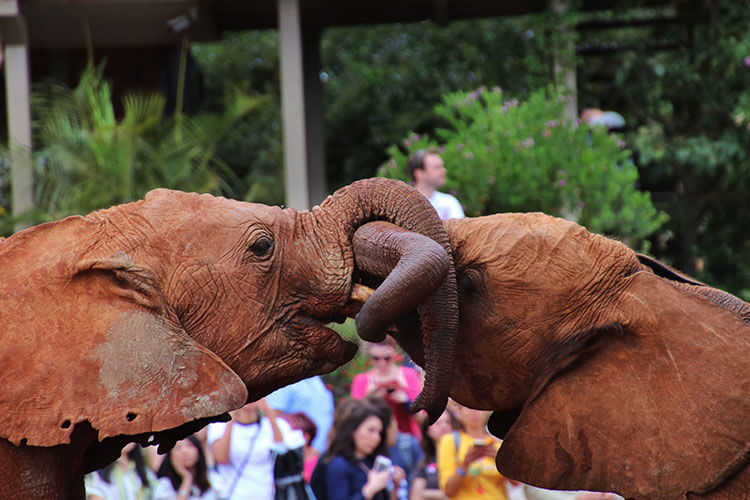 The presentation educates visitors on the Nairobi elephant orphanage program and introduces visitors to the baby elephants currently in the elephant nursery. On the day we visited, many of the elephants were orphaned as a result of human-wildlife conflict.
We learned the name of each and every elephant, and the story of how they'd come to be at the DSWT. While some were found alone and some had to be rescued from wells, one thing was clear with each and every story: these elephants would not be alive today with the intervention of the DSWT.
They help elephants by rescuing them from situations in which the elephants wouldn't have otherwise survived on their own, and rehabilitate them by hand-raising the elephants on milk until around 3 years of age. At that point, they are re-homed to become wild elephants in Kenya again.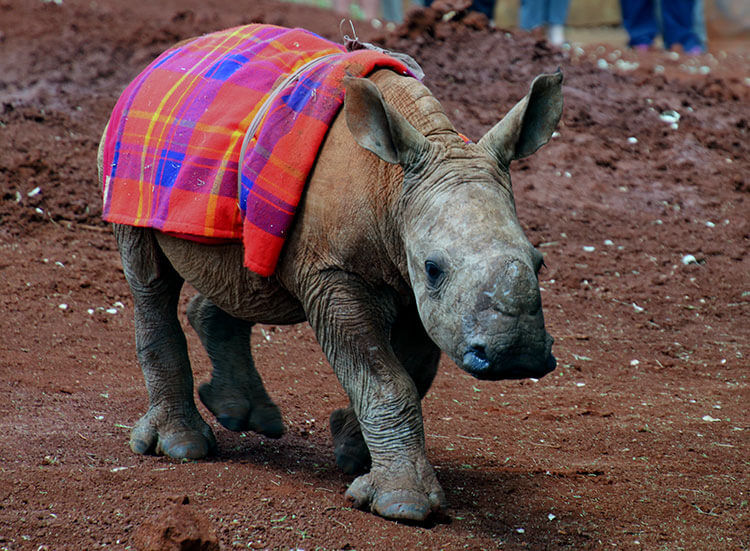 The DSWT also sometimes rescues baby rhinos and similarly raises and rehabilitates them as with the elephants. We met Maarifa, a 4-month old baby white rhino who had to be rescued as she was stuck in the mud in Meru Rhino Sanctuary. Her mother had been unable to free her, and her efforts were actually making the situation worse.
While rangers were able to free her, the mother had moved off and left the baby alone. Rangers tried reuniting them over the course of three days, but the mother didn't pay any attention to little Maarifa's cries or scent. The DSWT had to intervene before it was too late. They believe from the little rhino's small size that she was likely born only the day before she fell into and became stuck in the muddy hole.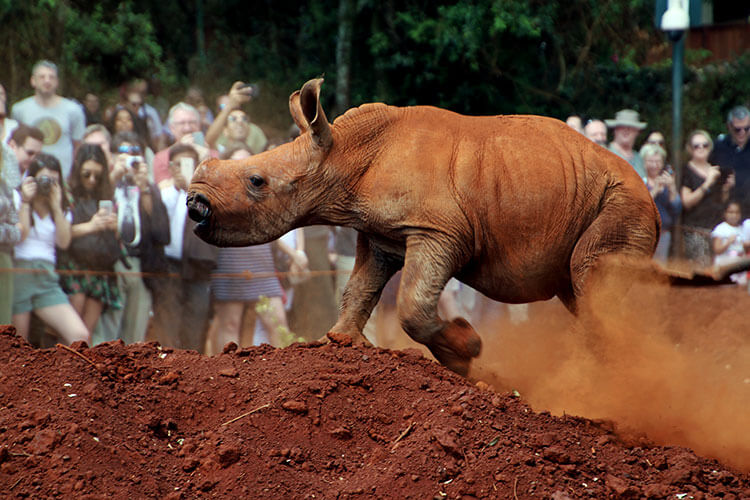 She's doing well now and is a spunky little thing. Maarifa put on quite a show charging at full speed playfully toward her keepers and having a good 'ol time rolling around in the dusty red dirt.
You can adopt an elephant for a minimum of $50 USD per year and the funds go toward the project and raising the orphaned baby elephant. You get a monthly email update about your baby elephant. And one of the special perks of adopting an elephant is that you can book an appointment to visit from 5pm – 6pm.
This visit to the elephant orphanage in Nairobi is open to adopters only. What happens is the adopters gather in a space between the forest and the elephant nursery where the baby elephants sleep at night. Your orphan will be pointed out as the babies pass and you're welcome to take photos. Then you can meet your baby in the elephant nursery. Do know that only the keepers are permitted to actually feed the elephants their bottles of milk and enter the individual stables where the elephants sleep.
No matter whether you adopt an elephant before your trip and arrange an adopter visit, end up adopting one while visiting the David Sheldrick Wildlife Trust, or just visit for the day, the baby elephants will melt your heart. The proceeds go to an excellent cause. And despite being crowded, the elephant orphanage is one of the most fun things to do in Nairobi and well worth it.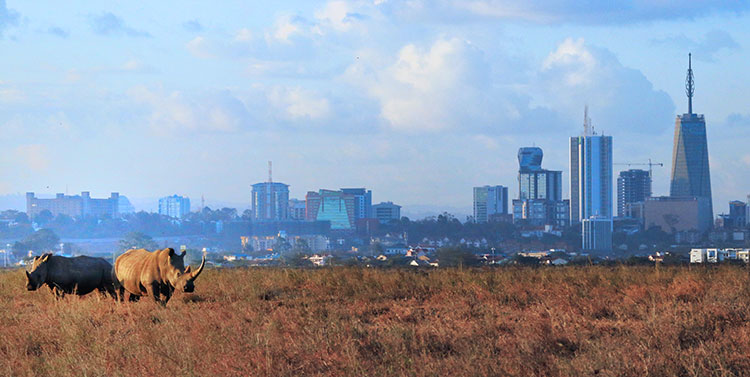 Go on Safari in Nairobi National Park
Nairobi National Park was established in 1946 and was Kenya's first national park. Located just four miles from the city center of Nairobi, it's unique in that urban development knocks on the door to this park. Nairobi is the only capital city in the world that co-exists with big game wildlife like this and it is home to four of Africa's Big Five: lion, leopard, rhino and Cape buffalo. Only the elephant, the fifth to make up the Big Five, is missing. The park is too small and there is not enough woodlands to sustain an elephant population with food.
The park gives visitors a glimpse of what Kenya was like just over 100 years ago, when elephants and all the other Kenyan wildlife roamed and migrated across these plains. Nairobi was only established as a city in 1899. At that time all of Nairobi was a lush landscape with acacia tree dotted plains, steep gorges, forests and thick vegetation along the Embakasi River.
Nairobi is Africa's fastest growing metropolis. To put things in to perspective, the population was 188,976 in 1948 and had reached 1.5 million by 1997. Nairobi's population exploded in less than 50 years.
Today over 4 million people call Nairobi home. Urbanization encroaches on Nairobi National Park and threatens this unique place on our planet. Not even 20 years ago, you could see herbivores like wildebeest that numbered in the 10,000s in the park. Today there's only a few hundred of them left in the park because their migratory routes have been cut off by urban development.
That's precisely why it's important to visit. The park is managed by the Kenya Wildlife Service (KWS) and a portion of the proceeds from the Nairobi National Park entrance fees, which are currently only $43 USD per person for non-residents, go to community outreach programs that help to manage human-wildlife conflict.
Yes, the Masai Mara had been incredible. But the problem is that when you leave, you want more. Like Karen Blixen, you can't help but fall head over heels for Africa. Luckily, Nairobi National Park delivers and is rightly billed as one of the top things to do in Nairobi.
When you go with the best guides and visit at the right times, Nairobi National Park is a gem teeming with wildlife. The 17.21 square kilometers (28,963 acres) park is home to 80 species of mammals, 450 species of birds, 40 species of amphibians and 500 species of trees.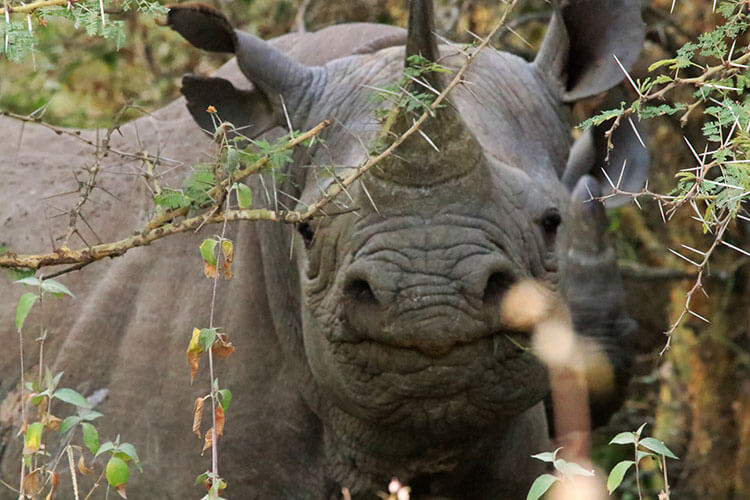 It's also a sanctuary for the critically endangered black rhino, with nearly 100 of Kenya's 540 black rhino residing in the park. The rhinos are heavily protected by armed guards in Nairobi National Park and the park re-homes rhinos to other parks in Kenya.
A Nairobi Safari Experience at The Emakoko
You can have a full experience of going on safari in Nairobi thanks to the stunning boutique lodge, The Emakoko. It's one of just a handful of safari-style camps and lodges in Nairobi National Park (technically that sit on the edges of Nairobi National Park). The Emakoko (read the TripAdvisor reviews) sits on the un-fenced eastern edge of the park and enjoys animals roaming right on to the property, including rhinos that regularly come for a drink from the pool. It's definitely one of the adventurous places in Nairobi to stay.
Nairobi National Park lodges like The Emakoko make going on safari accessible for everyone. A safari is something that is often a once-in-a-lifetime experience for most people, and carves a large chunk out of your bank account with even the most budget-friendly options.
Nairobi National Park Game Drive and Activities
The Emakoko is more than just a unique place to stay in Nairobi. They provide guests with an opportunity for a Nairobi National Park safari and the experience is just like being on safari with a luxury tented camp in the famous Masai Mara. Our guide from The Emakoko picked us up in one of their four Land Cruiser safari vehicles and whisked us the four miles from the always chaotic Nairboi center to Nairobi National Park.
Like being picked up from an airstrip, the route doesn't have to be a direct one straight to the lodge. You design your time at The Emakoko with the experiences you want. If it's wildlife, they deliver with a Nairobi National Park game drive. The animals are most active early in the morning and then again from late in the afternoon as the sun dips lower on the horizon and the scorching temperatures cool down. Our guide, Rajesh, asked us if we wanted to go a game drive and there was no hesitation about that answer.
The famous pictures you often see with giraffes in front of Nairobi's skyline of skyscrapers are taken not far from Nairobi National Park's main gate. This is also the busiest section of Nairobi National Park and where the majority of visitors spend their time.
Patience is key to capturing that shot. While the Nairobi National Park animals include just about everything but elephants, our knowledgeable guide pointed out that it's pretty common to be able to capture the Nairobi skyline with animals like zebras, wildebeest and gazelles fairly easily. Bigger animals like giraffes are harder. And patience is essential to waiting for lions or rhinos to perfectly line up for that particular shot.
You can book a half day Nairobi National Park tour with a number of companies, but these are typically small group tours of up to 8 people per vehicle and last 3 hours. You won't be able to sit waiting for animals to wander to exactly the right spot for your photo. Since we were designing our own time at The Emakoko, we could wait out possibly getting the perfect photo. And it was our luck and persistence that two southern white rhinos were grazing while heading in the direction of just the right place.
Our guide was in touch with another Emakoko guide who'd just come across Nairobi National Park's two oldest dominant male lions, Sam and Cheru. They'd killed a buffalo early in the morning and the duo were having a drink of water at a watering hole. We rushed off to see them.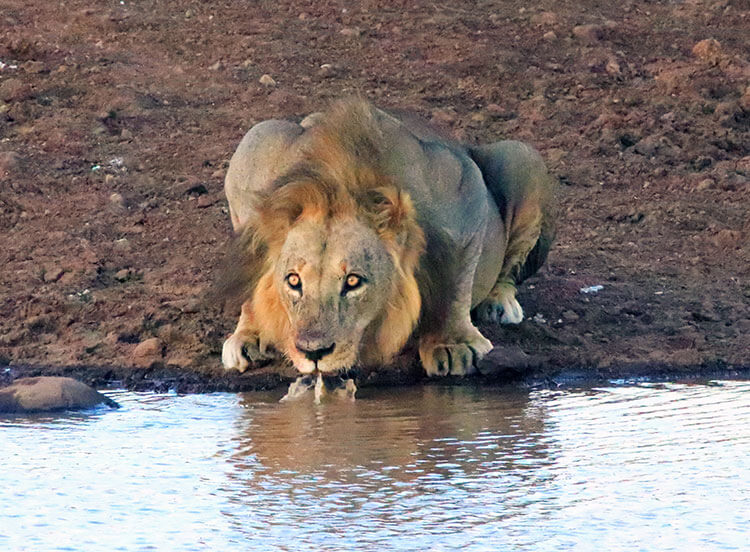 The brothers are Nairobi National Park's oldest of the estimated 39 lions in the park and the central part of the park is their territory. They're well-known by many guides and you can distinguish them by their manes. Sam has the all golden mane and Cheru has a dark and golden mane.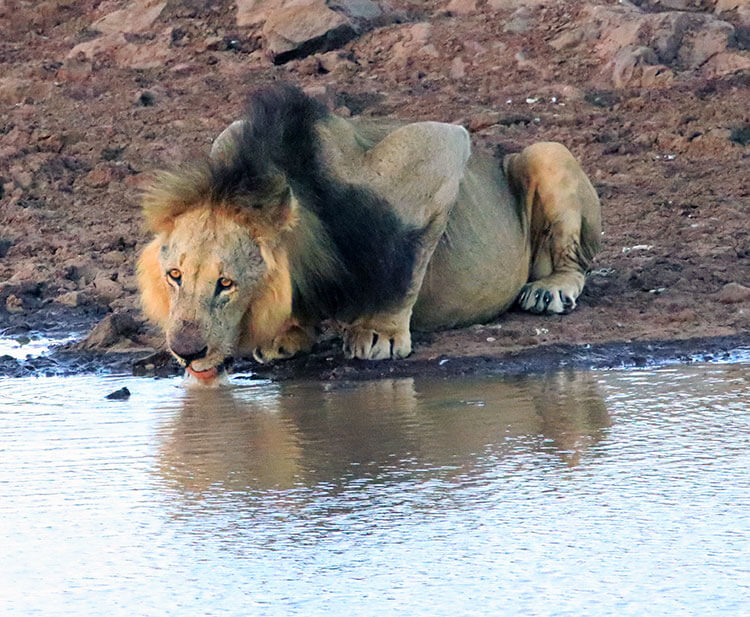 Neither seemed bothered by the presence of the cars, but Cheru is reputed to have quite a short temper. He's well-known for running other lions out of their territory and even out of the park. He's also an escape artist. Cheru is the lion that broke out of the fence that runs along the northern border of the park, and was spotted along the Mombasa Road, one of Nairobi's busiest, in 2016.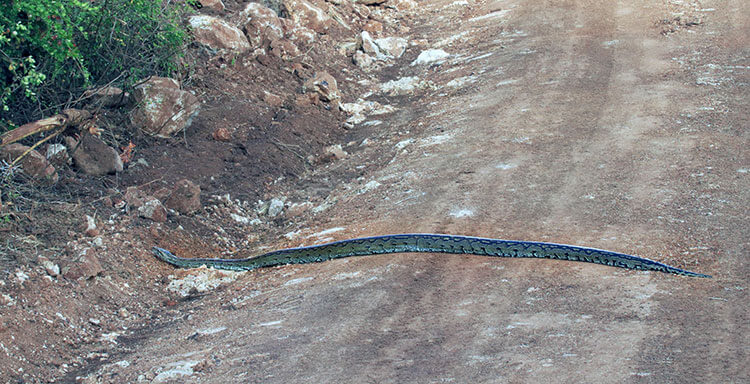 The rarest sighting of all was the African Rock Python that just slithered across the road right in front of us. It's Africa's largest snake (also one of the six largest snake species in the world) and can grow up to 20 feet in length (6 meters). My guide estimated that this particular one was "pretty good size" at around 3 meters (over 9 feet) in length and that it was female.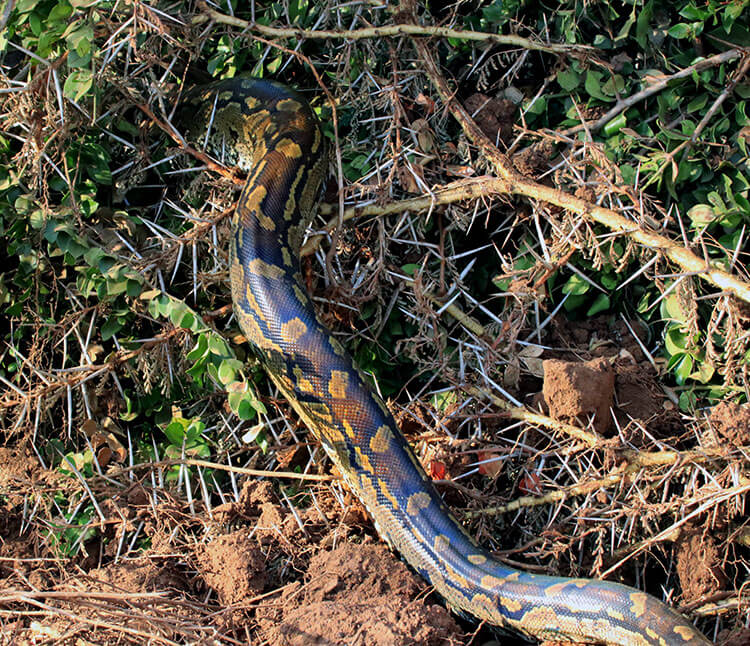 An African Rock Python this size would weigh in between 97 – 121 lbs (44 – 55 kilos) and can easily swallow an impala or antelope whole. It's a non-venomous snake and coils around its prey to choke it to death. The prey probably dies of a heart attack rather than actual asphyxiation, though.
Our guide joked: "Ready for a bush walk?"
Before we'd even reached The Emakoko, we'd had a 3-hour Nairobi National Park game drive and saw giraffes, three southern white rhinos, the duo of the park's oldest dominant male lions, a python, zebras, antelope, buffalo and a genet cat.
Game drives aren't the only thing to do at The Emakoko, though. You can also arrange visits to the Giraffe Centre and David Sheldrick Elephant Orphanage, which are both located on the edges of Nairobi National Park. Hiking is also available. Many guests are also repeat visitors and stay just for the quiet, unique setting.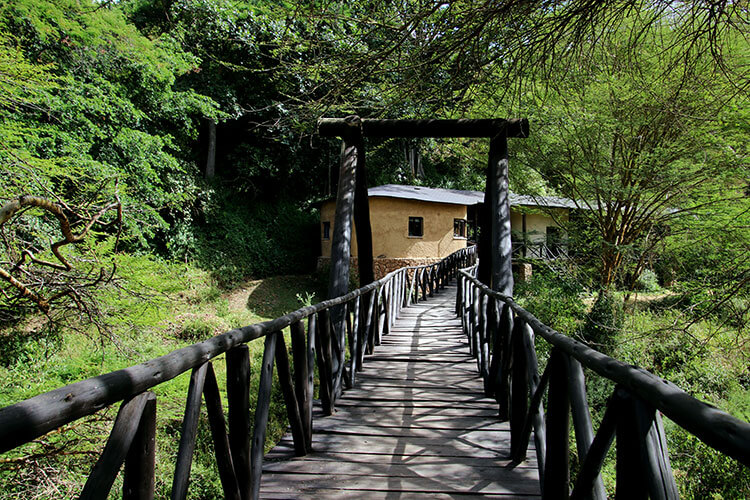 The Emakoko's Lodge
The main lodge is the heart of all things at The Emakoko. Crossing the wooden bridge across the Emakoko River, which gives the boutique lodge its name, it's where you're welcomed by owners Anthony and Emma themselves.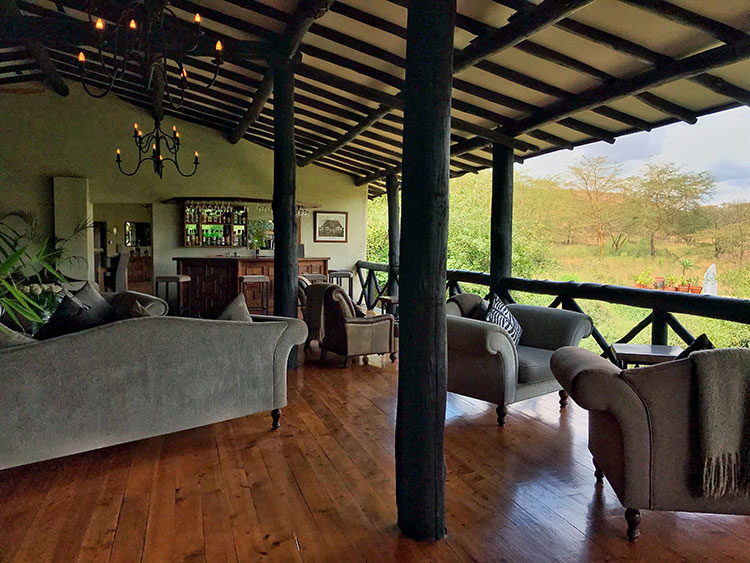 Open air with views looking out to the hills beyond where we saw buffalo and giraffes grazing, there's big overstuffed couches to relax on in front of a fireplace. There's also a bar, where expert barmen serve up wine, beer and cocktails. They'll happily oblige you with a dawa, my favorite Kenyan cocktail.
The dining room is also located in the main lodge and is also open air looking out over the pool. On Saturdays, guests are invited to the barbecue party poolside.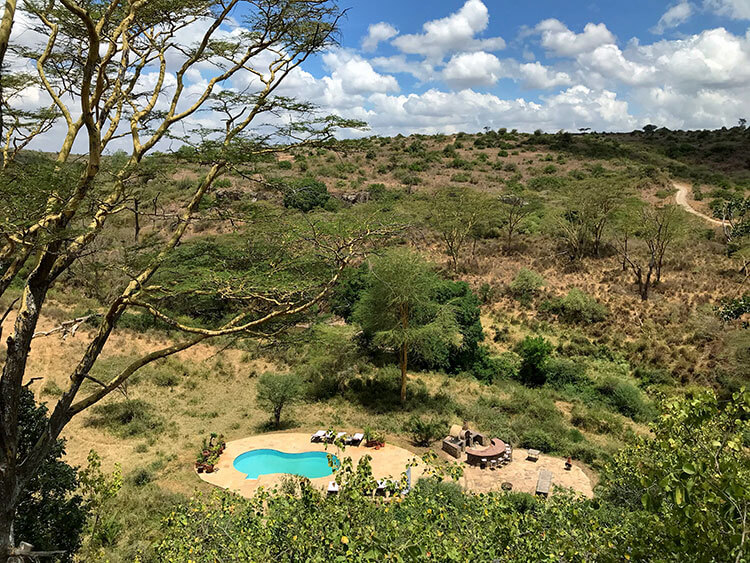 There's also a swimming pool with loungers and umbrellas situated around it. It's perfect for a refreshing dip after an early morning game drive.
A small boutique occupies a corner of the main lodge. There's a selection of items made locally by Masai or Nairobi designers, various books on Kenya and souvenirs like t-shirts and Emakoko embroidered fleece.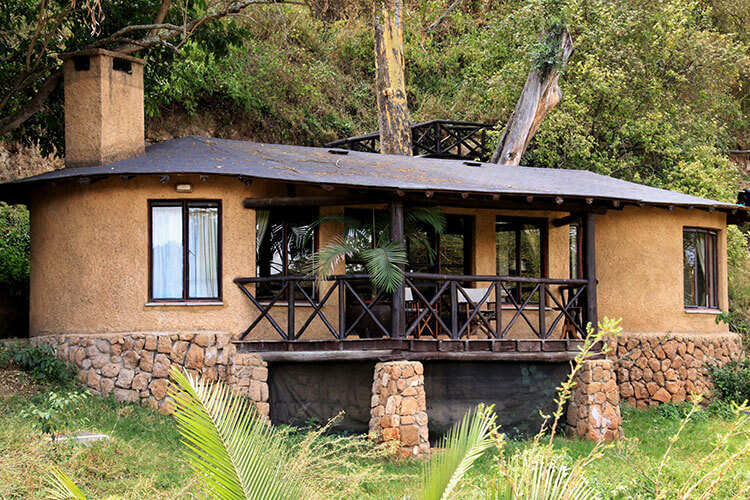 The Emakoko's Cottages
The Emakoko has a total of 10 cottages, one of which is a family cottage, and one private house. Five of the cottages are at the main level of the lodge where the dining room and relaxation areas are located. The other five cottages are built in the cliff stretching upward with the private house crowning the clifftop.
Currently it's a bit of steep climb to the upper cottages and private house, but a funicular is in the works to transport guests easily up and down, making all of the cottages and private house accessible.
We stayed in one of the uppermost cottages, number 8. It was already dark when we arrived since we'd stayed out on the game drive until the sun had set, but the views over the Emakoko River and to the hills beyond were well worth the climb up to the cottage.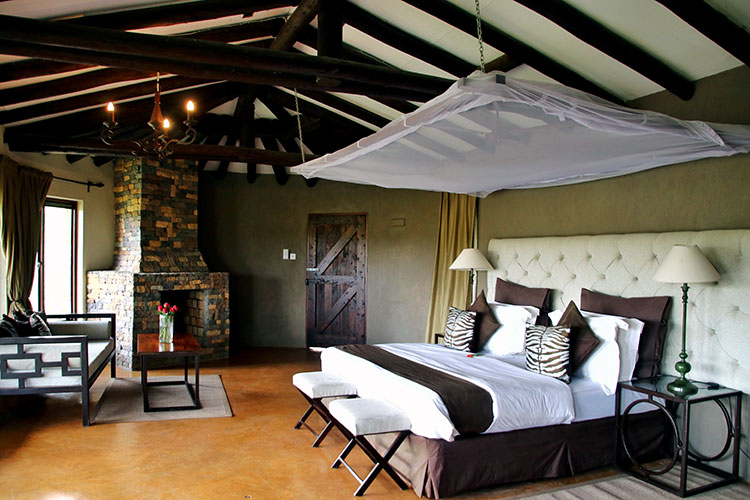 The cottages are beautiful and spacious. A large, luxurious bed is the centerpiece and at night the mosquito netting is lowered around it just in case any critters get in. There's also a sitting area in front of a fireplace, a desk to journal about your safari at and a balcony.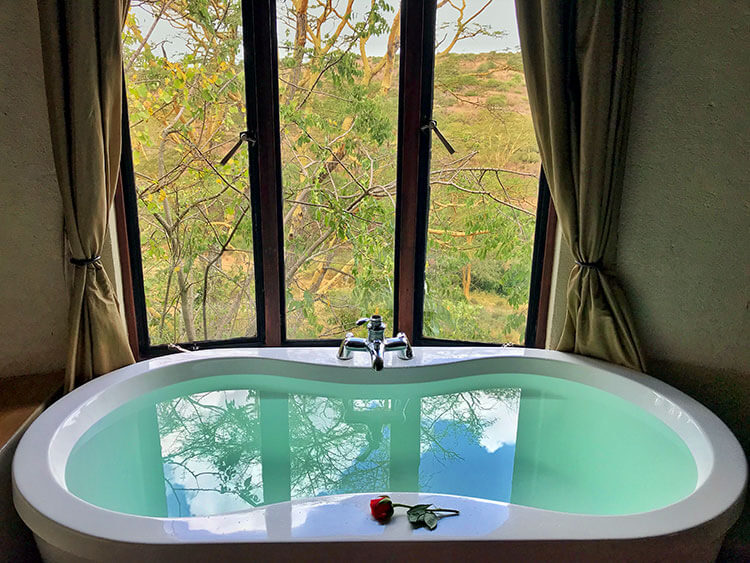 The bathroom is equally as spacious with a large double sink vanity and separate shower and bath. The bath is situated right next to a window with an incredible view and you better believe I enjoyed a bath to soak my aching bones after bumping around on an early morning game drive.
The cottages have 24 hour electricity and hot water that is supplied by The Emakoko's solar power. They also have a back-up generator. There's plenty of outlets to charge up devices and camera equipment. And there's wifi throughout the property.
Wake-up calls are a tray of tea or coffee with cookies delivered to your cottage. Room service is also available if you'd like to dine in your cottage, but we always enjoy going to the main lodge where other safari goers are typically happy to exchange stories of wildlife sightings.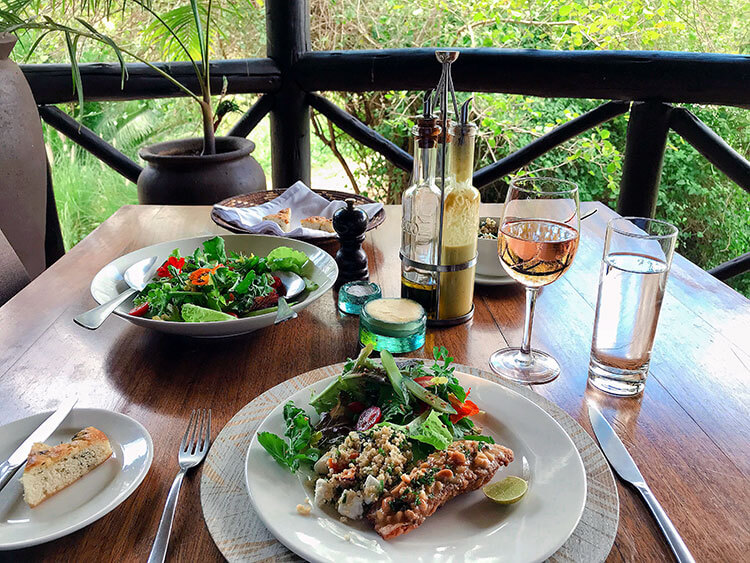 Dining at The Emakoko
The Emakoko's attention to detail doesn't stop with the cottages and main lodge. At the helm of the kitchen is Chef Steve, and he's always adding new recipes and learning from guest chefs. The cuisine is a mix of British, French, Indian and Thai with African flair.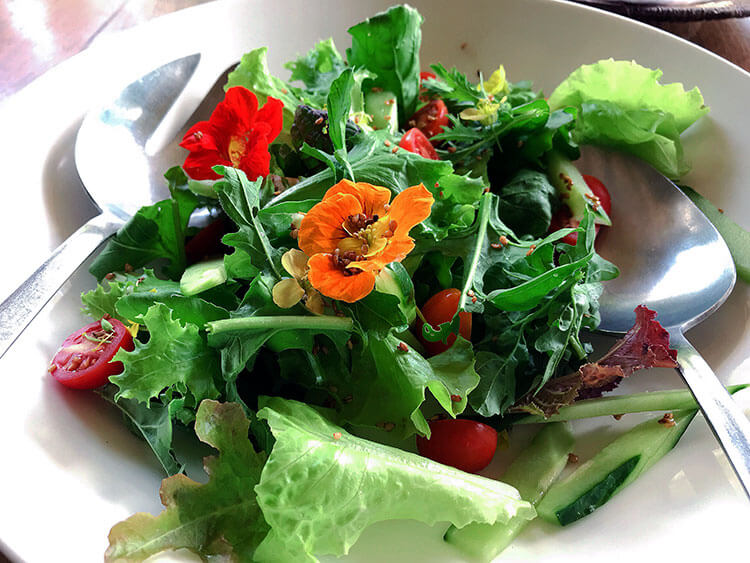 In our 24 hours in Nairobi National Park, we experienced breakfast, lunch and dinner at The Emakoko. Every meal was delicious. They have their own garden and salads with edible flowers are picked straight from it. They also have their own free range chickens that produce the eggs for the lodge. And local products are used as much as possible.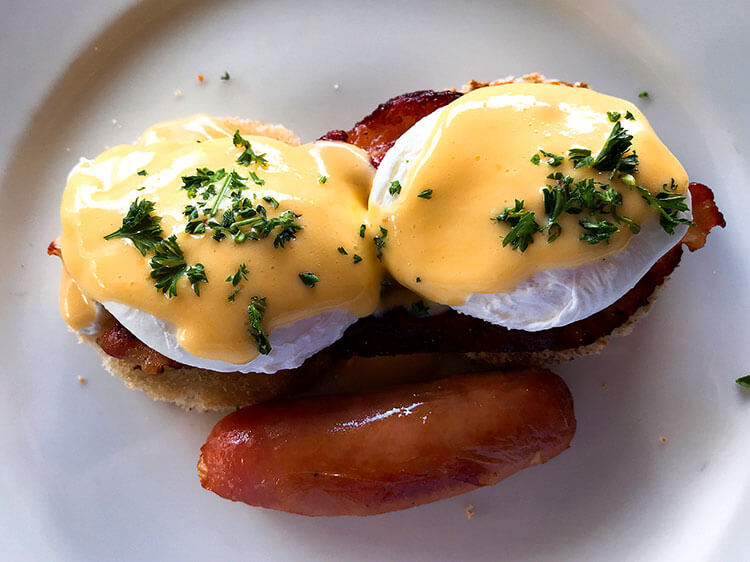 Breakfast is a mix of a small buffet of fresh seasonal fruits and yogurt. Freshly baked pastries and strawberry pancakes were brought to the table and we had a choice of eggs cooked to order. If you know us, then you know we can't ever pass up eggs benedict.
Lunch was our favorite of the meals we had at The Emakoko. The menu is set each day and for lunch we had a cashew crusted red snapper filet. It was served with couscous with feta and a salad picked from The Emakoko's garden. I want Chef Steve's recipe for the cashew crusted red snapper! It was so good I happily accepted a second serving.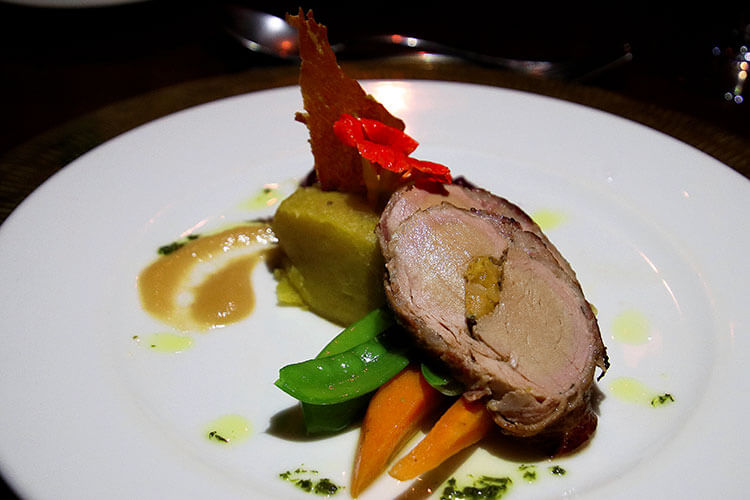 Dinner started with mushrooms and polenta, then was followed by a pork filet over a bed a seasonal vegetables with sweet potato mash. Second helpings are always offered up of everything. A passion fruit meringue was a sweet finish and coffee or tea is offered.
White, red or rosé wine is offered with each meal. And there's a bar where you can try The Emakoko Dawa, have your favorite cocktail like a gin & tonic, or have a beer if you choose.
Day 3: Nairobi National Park
Our very last day in Kenya was spent in Nairobi National Park with The Emakoko. We arranged an early morning game drive leaving from the lodge at 6:30am. Early morning is when the animals are at their most active and there's something magical about seeing everything waking up. It's the best time to visit Nairobi National Park.
We explored the eastern part of the park and saw a ton of wildlife during the 4-hour game drive before breakfast. The leopard was the only animal left of Africa's Big Five that we hadn't seen in the Masai Mara. The Emakoko actually had a resident leopard, and she birthed a cub. She was quite old and they sadly found her body not too long ago. She likely died of old age and natural causes.
Her cub is at the age that she's mating and she's gone off, for now at least. Cats have a territory and everyone at The Emakoko hopes she'll return again after she's mated.
Rajesh searched every tree, but we never did find a leopard to complete the Big Five in Kenya. We saw so much else, though. The eastern part of the park is rhino territory and we saw eight in addition to the three rhinos from the game drive the evening before.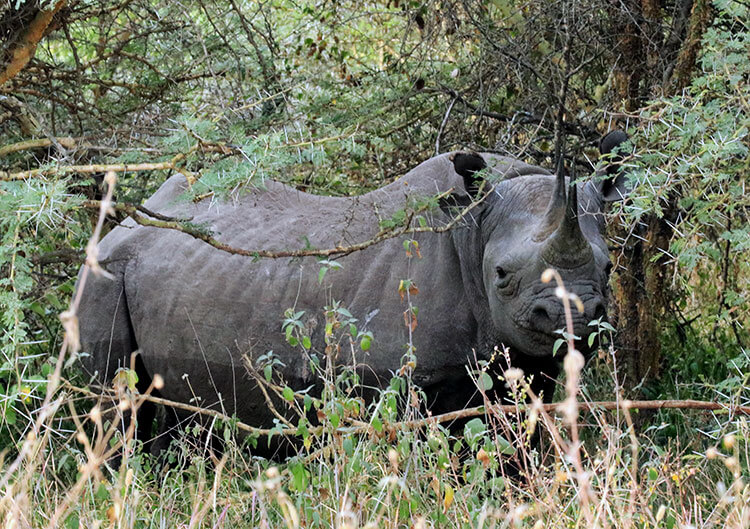 We found three black rhinos munching on shrubs and nearly hidden in the forest. There is actually no color difference between black and white rhinos. They're the smaller of Africa's two rhino species and their hooked lip distinguishes them from the white rhino.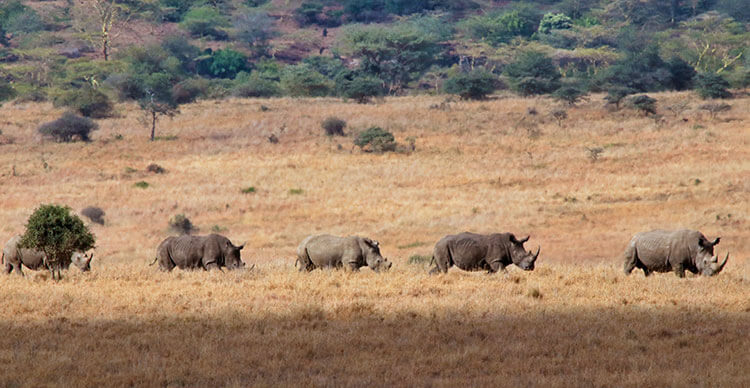 Off in the distance a crash of rhinos (crash is the collective term for a group of rhinos) were walking slowly in a single file line. Occasionally one of the five would wander out of their formation to graze on a patch of grass that might be a little sweeter.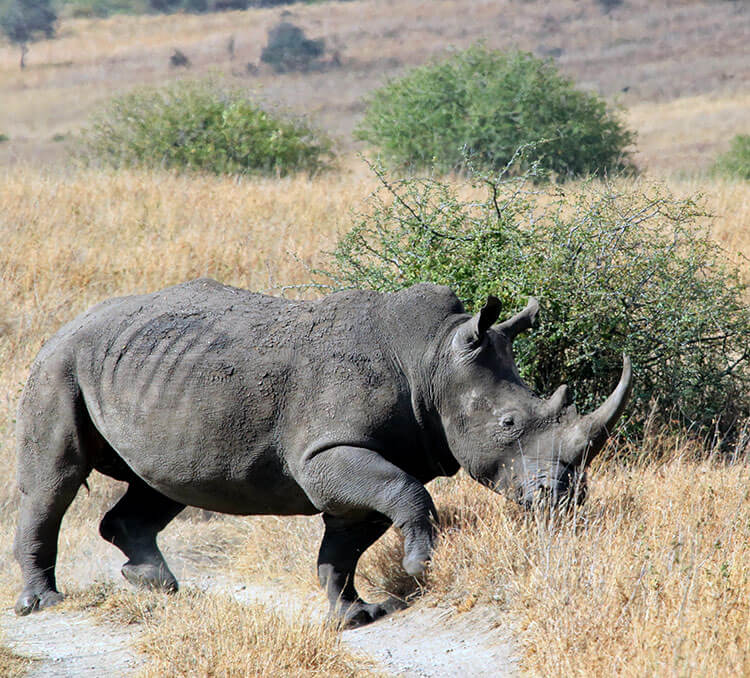 Then all of a sudden they seemed to change direction a bit and the crash started running toward us. It was a spectacular sight to watch the five rhinos run at full speed and pass right across the dirt track a mere 10 meters in front of us.
Why were they running? It's hard to say. But the white rhinos were more than content to mow along the tall grass on the other side of the dirt track. What they weren't so please about were some nearby ostriches and it a was a laugh-out-loud moment to watch one surly white rhino chase after the ostriches.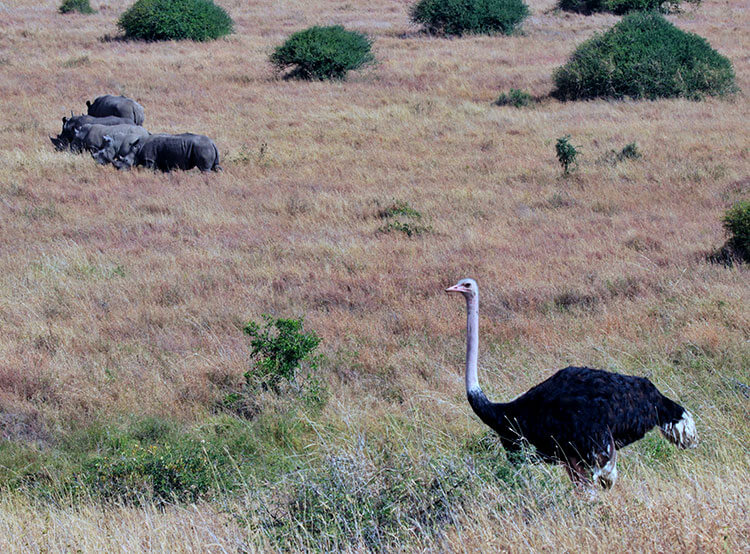 There's a healthy population of ostrich in the park. While we had seen the occasional flock of ostriches in the Masai Mara and the Serengeti, we'd never seen as many as in Nairobi National Park.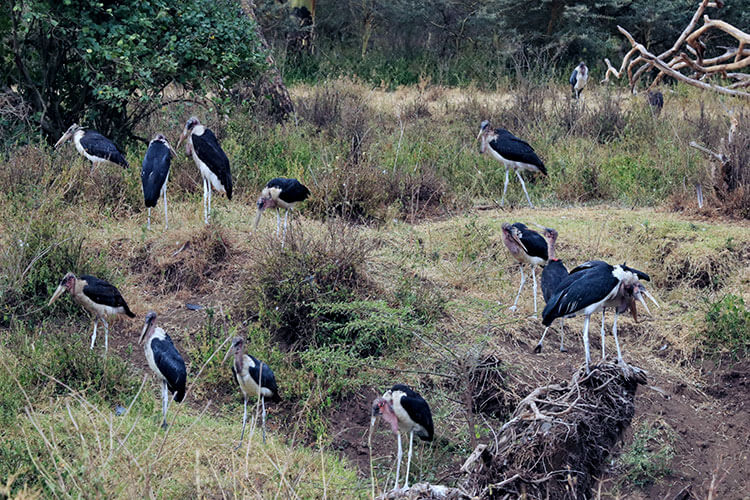 The birders will love to know that Kenya is the second best country in Africa for birding and you can see a ton of bird species in Nairobi National Park. Thousands of giant marabou storks sat on every branch and log along the river. They're nearly five feet tall and they're actually quite unfortunate looking. Almost terrifying with mangled-looking red heads.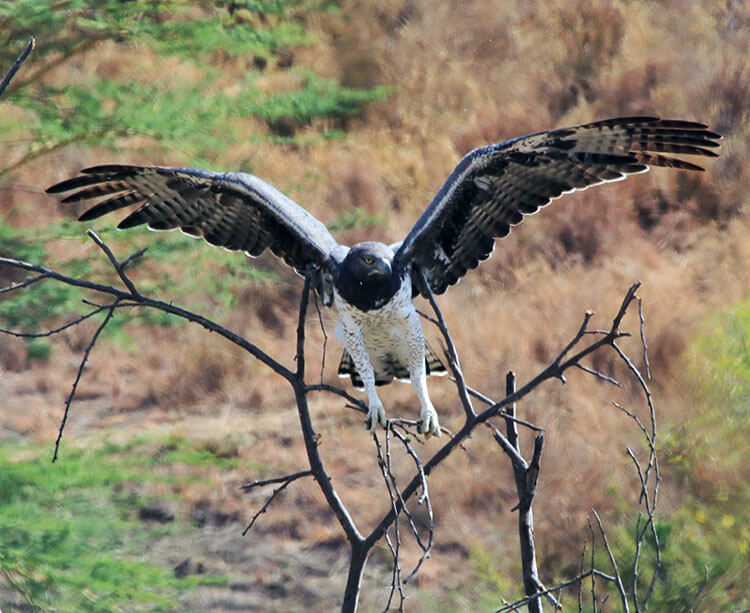 We also saw a magnificent Martial Eagle take off from one perch and land on other. It's Africa's largest eagle and its wingspan stretches an impressive six feet wide.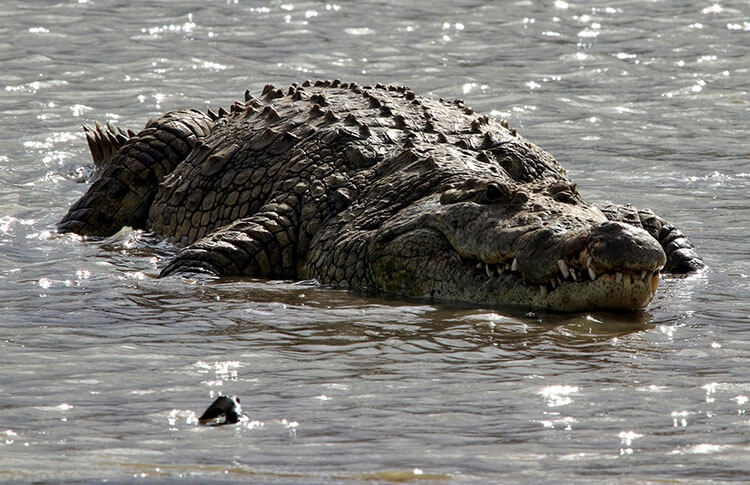 There's also hippos and even crocodiles in Nairobi National Park. They're mostly found along the Embakasi River, though we found a massive crocodile in one of the largest watering holes on our game drive.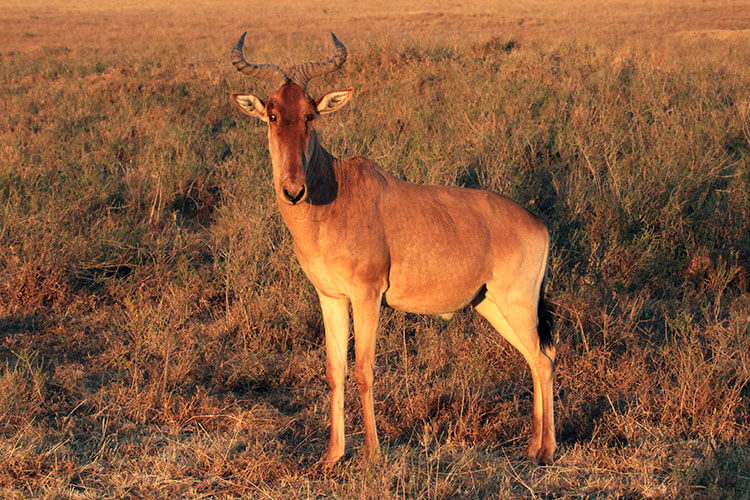 Zebras, gazelles and antelope are everywhere. One of the types of herbivores we'd not come across at all anywhere in Tanzania or the Masai Mara but saw plenty of in Nairobi National Park was the hartebeest. They're one of the large antelope species and I thought their distinctive long heads gave them a very cute face.
Definitely be sure to carry a notebook to write down everything you see, because you'll see plenty on a safari in Nairobi. Our guide also had various spotters guides to identify any species we stumbled across that he might not know, but that was impressively only one or two of the smaller birds that have similar colors and markings.
Where to Stay in Nairobi
Nairobi is a sprawling metropolis and deciding on the best accommodation in Nairobi really comes down to what you plan to do during your time in the capital.
The Emakoko, reviewed in detail above, was our favorite and the most unique place to stay in Nairobi. With its unique location on the eastern edge of Nairobi National Park, you're transported on safari without even leaving the city. Peaceful and tranquil, it's easy to forget you're in a city of over 4 million people.
If it's city access to the sights, markets, shopping and restaurants that you want, then select a city center hotel for your Nairobi accommodation.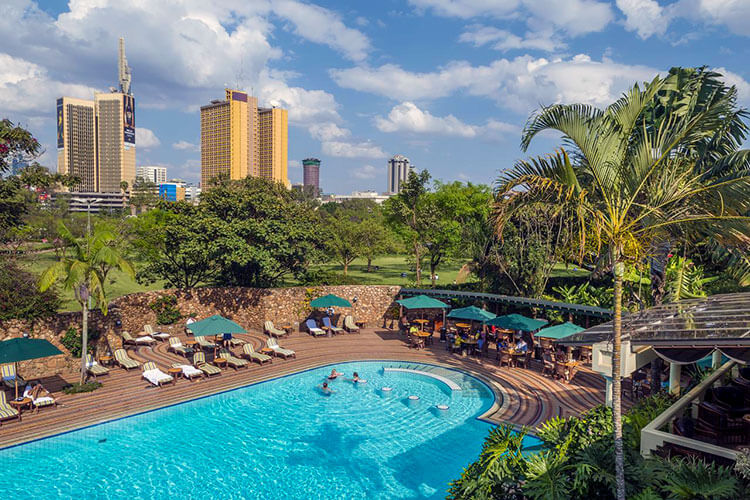 Serena Hotel Nairobi
Serena Hotel Nairobi, one of the 5-star hotels in Nairobi, is a nice retreat within the bustling Kenyan capital. The location makes this hotel one of the best places to stay in Nairobi for exploring the city center. It's within easy walking distance to Nairobi city attractions like museums and the City Market and restaurants.
But the multiple onsite restaurants, including a fine dining restaurant, and excellent pool and spa more than warrant staying in to relax and feel refreshed after the long journey to Kenya. That's precisely why we choose Serena Hotel Nairobi (read what other travelers have to say on TripAdvisor) to stay at when we first arrived in the city.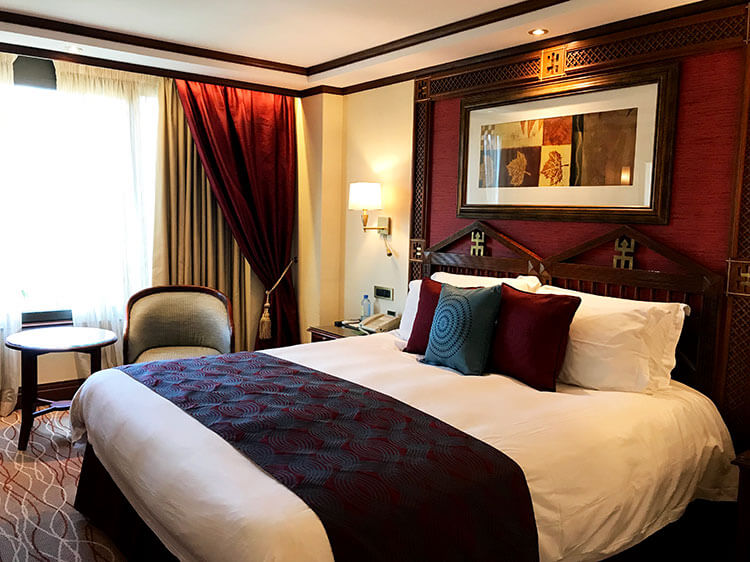 The rooms are stylish, spacious and well-appointed with king-size beds, in-room coffee and tea making facilities and complimentary mini-bar that is restocked daily. Our room had a view of the city skyline and overlooked the hotel's pool and gardens.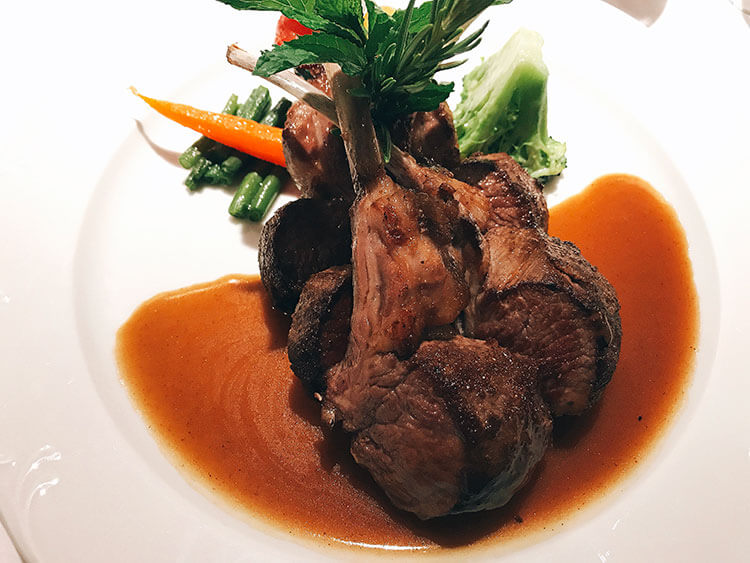 Serena's Mandhari fine dining restaurant is touted among the best restaurants in Nairobi. The menu changes seasonally and features both regional and international specialties. We did enjoy a meal there and tried Mandari's specialty, which is their rack of lamb that is smoked with herbs. It's first presented with a flourish as the lid is lifted off the braising pot and the scent of the herbs wafts out along with the steam. The rack of lamb is then taken back to be carved before it is served.
There's also the more casual Cafe Mahgreb, which is the hotel's all-day dining restaurant. It offers both buffet and a la carte options. In addition, pool bar offers cafe-style seating outdoors around the pool.
There is an on-site spa with a menu of a wide range of services, though we did not try out the spa during our visit.
Serena Hotel Nairobi can also arrange various activities. We did inquire about a visit to the Giraffe Centre and David Sheldrick Wildlife Trust arranged through the hotel, but honestly found it quite expensive and booked the tour independently instead.

Often you're departing from Nairobi for your international flight back home very early in the morning. Nairobi traffic is notorious at all hours of the day and night. If an early morning flight is on the agenda, consider a Nairobi airport hotel that offers a complimentary shuttle.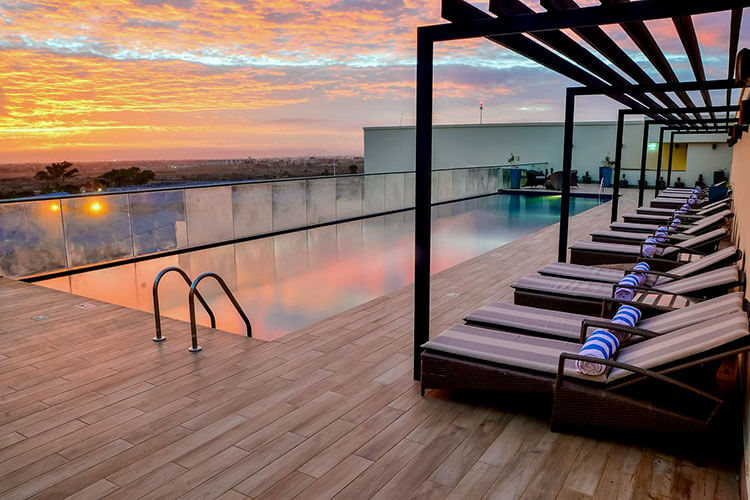 Hilton Garden Inn Nairobi Airport
We highly recommend the Hilton Garden Inn Nairobi Airport and spent our very last night in Nairobi there ahead of a 6:30am flight departure back home. The 4-star hotel is located just 1.4 kilometers from Jomo Kenyatta International Airport and offers a complimentary airport shuttle to guests.
There are several onsite restaurants including a bar with burgers and pub-style options, a restaurant and a grab-and-go food store with options such as salads and sandwiches made fresh that you can take to go or up to your room. There's also room service available.
For us, the highlight of the Hilton Garden Inn Nairobi Airport (TripAdvisor reviewers agree) is the rooftop infinity swimming pool. It's open year round and it's a lovely option not many airport hotels offer. There's also a very well equipped 24-hour gym if you want to get a workout in before sitting on a plane for a long haul flight.
The rooms are spacious and well-appointed with all the modern conveniences of complimentary wifi throughout the hotel, in-room tea and coffee making facilities and a mini-fridge with complimentary water. The rooms are sound-proofed and there are black-out curtains.
Know Before You Go
Getting There
Giraffe Centre and David Sheldrick Elephant Orpahange Tour
Nairobi National Park and The Emakoko
Carnivore Restaurant Nairobi
Visit the Giraffe Centre and David Sheldrick Wildlife Trust Elephant Orphanage on a half day tour with transportation and entry fees included. This tour was well worth it among the choices for Nairobi day tours and our knowledgeable local guide enhanced the experience.
The best time to visit Nairobi National Park is from July – March. The rainy season is from April – June, during which time the roads in Nairobi National Park can become impassible and wildlife viewing is difficult. The Nairobi National Park entry fee is $43 USD per person for non-residents, payable by Visa or Visa debit card only. Cash is not accepted. The Emakoko is the best Nairobi National Park accommodation and gives guests the experience of going on safari in Nairobi. The Emakoko is full board and includes activities such as game drives in their safari vehicles and excursions to the Giraffe Centre and David Sheldrick Wildlife Trust Elephant Orphanage. Activities such as massages and helicopter tours are available for an additional fee.
Carnivore Nairobi is open for lunch and dinner daily. Reservations highly recommended and can booked
online
. Carnivore Restaurant is easily reached by Uber for about $4 USD each way. Taxis are much more expensive. If you're uncomfortable using Uber, we recommend this Carnivore tour with transportation with hotel pick-up and drop-off.

Our trip to Nairobi was in partnership with Serena Hotel Nairobi, The Emakoko and Carnivore in order to bring you this story. However, Luxe Adventure Traveler maintains full editorial control of the content published on this site. As always, all thoughts, opinions, and enthusiasm for travel are entirely our own. This article contains affiliate links. When you book on Booking.com, Viator or Urban Adventures through our affiliate sites, we earn a small commission at no additional cost to you.