Happy New Year! It's not only a new month, but a new year and an entirely new decade.
Reflecting back on the last decade, life sure has surprised the hell out of me. In June 2009, we left the US for what was supposed to be a four year assignment overseas. Leading up to that move abroad, I always thought we'd go have a fun adventure and return home to resume a more "normal" life.
I think as we rang in a new decade in Italy in 2010, we were both already feeling like we needed to figure out how to stay in Europe as long as possible. Every year that passed and as the years after Tim reached the halfway mark of a 20 year military career began to fall away, we'd joke about how we could "retire" in Budapest or Chamonix or whatever the next place we fell in love with was.
I still don't know that I believed it would actually happen. Five years ago I was making some money from the blog. We decided if we were ever going to make a go at actually turning a random payday here and there into a business that could actually support us, the time was now. That was 2015. I left my job on one of the scariest days of the last decade for me, and dove full in.
A year later I moved to Bordeaux while Tim went on an assignment in South Korea. Determined to feel like I hadn't made the biggest mistake of my life in giving up a good job and steady income, I busted my ass. I became my own PR person singing praises I didn't really even believe myself and had publications like Business Insider and the New York Post writing stories about the American travel blogger that built a business and moved to Bordeaux.
Over the past decade, we've traveled to more than 60 countries. We started and turned a travel blog into a successful business. And by the time we were ready to close out 2019 and a decade, we had a new home we own in France.
I'll turn 40 this year. I don't know how I feel about that yet, but if the next decade is even as fraction as full of surprises and adventures as the 2010s, I say bring it on.
News
We launched Bordeaux Travel Guide
Over a decade ago now when we first moved to Europe and I started our first blog, I could never have dreamed I'd be sitting in a home I own in France, self-employed and sharing a passion for travel with millions of strangers every year for a living. But I did successfully turn a travel blog into a career.
Over the past nearly four years that I've lived in Bordeaux, the extensive guides and information I've published have climbed through the ranks to become the top English-language resources about Bordeaux travel. As we surpassed more than 300,000 unique readers visiting our Bordeaux articles alone, we decided it was time to dedicate a space just to Bordeaux and our region, the Nouvelle Aquitaine.
So if you haven't checked it out already, we launched our second website under our Luxe Adventure Traveler Media umbrella: Bordeaux Travel Guide.
Bordeaux Travel Guide is the ultimate guide to Bordeaux, with extensive information on visiting not only Bordeaux wineries but also Bordeaux and beyond. Our region, the Nouvelle Aquitaine, is equivalent in size to the entire country of Austria. We still have so much to explore in our own backyard, but living right in the heart of Bordeaux and having everything going on just outside our doorstep has definitely helped in becoming Bordeaux experts.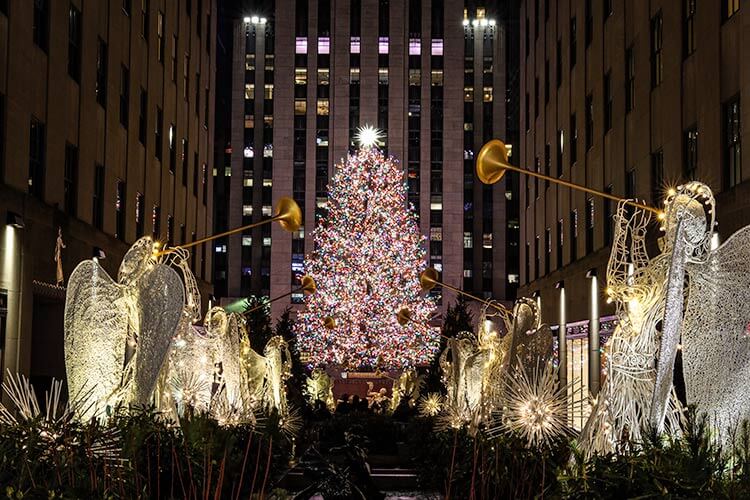 Chicago, Hot Springs, NYC and Pennsylvania for the Holidays
We closed out our year of travel with time back in the good 'ol USA. Tim took a trip home to spend time with his family in Chicago, where he's from. And he also visited his grandpa, who lives in Hot Springs.
Then we headed to New York City together. It was Tim's first time ever visiting NYC, and as you may know, it's one of my favorite US cities. Primarily a work trip, we went to make sure our popular Guide to NYC at Christmas was updated with all the most current information.
We visited some of my old favorites like the Museum of Natural History and the Dyker Heights Christmas lights. We also did a few things I'd never done in NYC before, like visiting the Statue of Liberty and Ellis Island and newer attractions that weren't yet opened on my last proper visit to the Big Apple.
Stay tuned for our latest in our Perfect 3 Days In…series. We had so many questions on Facebook and Instagram about things to do in NYC for first time visitors that we've got a new guide coming out in the next few days. And there's a giveaway to win a The Marvelous Mrs. Maisel tour of NYC, so be sure you're subscribed and following us on Facebook and Instagram.
Before heading back home to Bordeaux, we popped over to my hometown in Pennsylvania to visit with my parents. We spent a very relaxing couple of days at a remote resort called The Lodge at Glendorn on the edge of the Allegheny National Forest. If I ever get caught up on the work I have to finish up for partners we traveled with in 2019, this place was so beautiful that I might write about it.
Most Popular Instagram Photo
Our best nine is a pretty good representation of 2019. One of our most popular Instagram photos of 2019 is when we shared the news that we'd completed the purchase of our apartment in Bordeaux. Nearly six months of our lives almost completely centered around house hunting with our realtor, working through the process from making the offer to actually closing on our apartment, and then finally moving.
With a lot of change happening between somewhat impulsively deciding to buy a home in Bordeaux, Tim retiring from the US Air Force, Tim moving from the UK to France and Tim going on his Mongol Rally trip to celebrate his retirement, I didn't travel outside of France a ton this past year. But two trips to Kenya for the blog is a pretty good year in my book.
But there is so much more to life beyond Instagram and these nine. For us, Instagram is a business tool. It's a very filtered look at our life, and what may seem like a series of one fabulous trip after another is really just some of our most incredible days "at the office".
So much happened beyond this space. We laughed, we cried, we celebrated, we mourned, we succeeded, we failed, we fought, we loved, we dreamed, and we made things happen.
Never let Instagram make you feel less than you are. This past year was the year that I did let people's filtered versions of life get under my skin. I let our ever declining engagement make me feel like my photos and captions just weren't good enough, and that I wasn't interesting enough. I shared less.
Instagram is a space I enjoy and I love engaging with every one of you that take the time to comment on posts on the grid and respond to Instagram story. I want 2020 to be the year I get back to enjoying posting on Instagram and sharing the incredible places and things we're privileged to be able to research for you.
Coming Up in January 2020
January will be a fairly quiet month spend close to home in Bordeaux. We have family visiting and will be playing tour guide around Bordeaux for a few days early on in the month. And we plan on catching up on a lot of work to bring you brand new guides from places we visited in the past year.