Forget pumpkin spice. The arrival of Fall meant more than leaves changing – for me, it was about pumpkin patches, hayrides and steaming mugs of hot apple cider with a cinnamon stick.
Long before Starbucks invention of the pumpkin spice latte (that was 2003, in case you're wondering), I'd wait all year for Furhman's Cider Mill to open up for the Fall season in my hometown of Erie, Pennsylvania. Not only could you bring your milk jugs and have them filled with the world's best fresh apple cider, they had a huge selection of pumpkins and gourds from the local nearby pumpkin patch. Furhman's Cider Mill was the quintessential postcard perfect farm stand oozing all the Fall things.
Moving to Europe, pumpkin patches are non-existent. Every year when Fall would roll around, I was a bit homesick for pumpkin patches, haystacks and apple cider.
We'd heard about the annual Venzone Festa della Zucca while living in Italy. While it is a fun and delicious festival, there aren't many actual pumpkins at the Venzone Pumpkin Festival. Venzone Festa della Zucca is more about the amazing food like pizza with pumpkin and sausage, pumpkin ravioli with prosciutto and parmesan, and the medieval traditions of the town.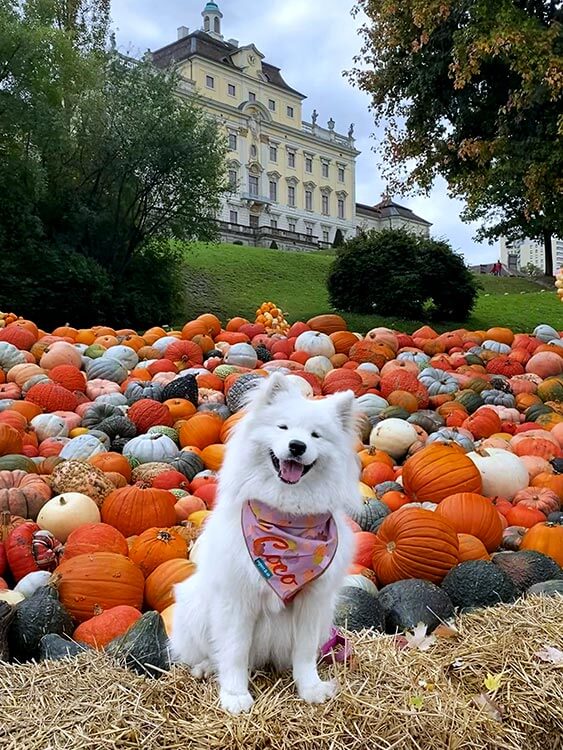 So when I heard about the Ludwigsburg Kürbusausstellung (or the Ludwigsburg Pumpkin Festival) boasting to be be the world's largest pumpkin exhibition with over 400,000 pumpkins, I just had to go. And I absolutely wasn't disappointed. The Ludwigsburg Pumpkin Festival is as close as it comes to a good 'ol American pumpkin patch, with a whole lot of European flair.
The History of the Kürbisausstellung Ludwigsburg (Ludwigsburg Pumpkin Exhibition)
The Ludwigsburg Kürbisfest was originally started in 1997 by the two Swiss brothers behind the Jucker Farm, largely on accident. After losing a 30-acre plot of fruit trees to frost, the Jucker brothers decided to replant with vegetables and pumpkin. Their field yielded over 400 pumpkins in various varieties and they sold every single one of them in just two days.
The Jucker brothers decided they needed to learn more about pumpkin, and traveled to France to learn about pumpkin cultivation. After returning to their farm with pumpkin seeds and planting their crop, this time they grew some 70 different kinds of pumpkins.
The Jucker brothers set up the various pumpkins by type in their courtyard. The new happened to report on their pumpkin "display" and visitors came from far and wide to see it. Because of the visitors' interest, the pumpkin exhibition was born. By 1999, the Juckers were even catching the attention of the NY Times with their 15 meter high pumpkin pyramid.
Finding success with a pumpkin exhibition, the Jucker brothers created a partnership and their Ludwigsburg kürbis found a new home at the Blühendes Barock (Blooming Baroque). It's been an annual event there for more than a decade now.
The Annual Ludwigsburg Kürbisfest
There could hardly be a more beautiful setting for the annual Ludwigsburg Kürbisausstellung than the Ludwigsburg Blühendes Barock. The 30 hectares of gardens surrounding the regal Schloss Ludwigsburg is aptly dubbed the Versailles of Swabia. And every autumn the gardens turn in to an outdoor sculpture garden where all the sculptures are made out of – you guessed it! – pumpkins. Over 450,000 pumpkins and 600 varities, in fact.
Almost even more mind blowing than the sheer number of pumpkins and varieties at the Ludwigsburg Kürbisausstellung is the fact that every single pumpkin sold and used in the exhibition works is grown in the Ludwigsburg and Stuttgart areas. The Jucker Farm works with local producers and local artists to source everything as locally as possible.
Each year a different theme is selected and artists are invited to create works of art out of pumpkins. We've been to the Ludwigsburg Pumpkin Festival twice now with themes of Switzerland and underwater. But no matter the theme, you can expect to be blown away at the creativity.
But the Ludwigsburg Pumpkin Festival is much, much more. There's pumpkin boat races in which you can hilariously watch competitors race each other in giant carved out pumpkins turned in to boats. Some of Europe's biggest pumpkins are also on display in the annual German and European pumpkin weighing competitions. Foodies will enjoy all the pumpkin inspired dishes from pumpkin soup to garlic aioli slathered pumpkin fries. And a pumpkin illumination lights up the night to enjoy the Blühendes Barock after dark.
Aside from wandering the Blühendes Barock to look at all the various pumpkin sculptures, I also can't wait to eat all the pumpkin things. There's various stalls selling a variety of pumpkin foods and a large open-air seating area to enjoy it in while surrounded by pumpkins.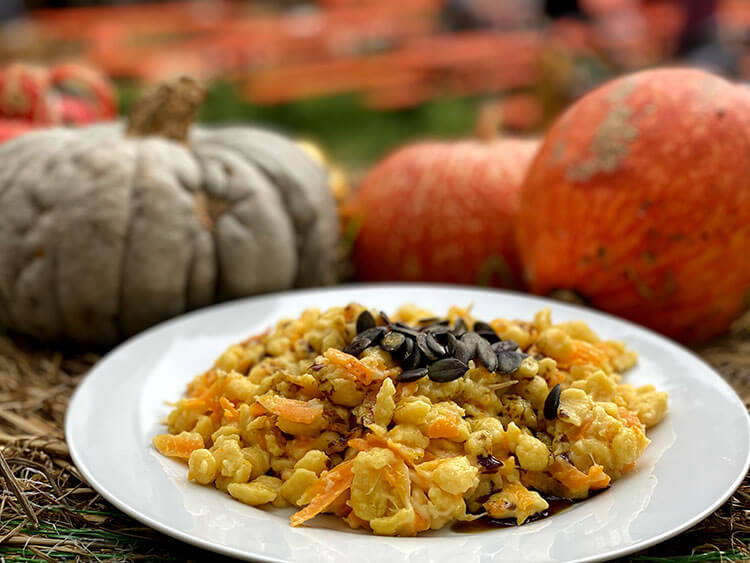 Don't miss out on the pumpkin soup drizzled with pumpkin seed oil. We also never pass up the roasted pumpkin seeds, which are sold in several different flavors. For us, it's the chili coated roasted pumpkin seeds that are oh-so-addictive. Pumpkin spätzle with pumpkin seeds and a drizzle of pumpkin seed oil is another delicious favorite.
You can even try pumpkin prosecco, which is a bit on the sweeter side but still surprisingly good.
And to our delight, we even found American-style pumpkin pie. Although missing the dollop of whipped cream, I was impressed with the pumpkin pie.
You can also shop for a variety of pumpkin products from pumpkin ketchup to seeds to plant your very own pumpkin patch. And you can even purchase a variety of pumpkins and gourds to take home.
Tips for Visiting the Ludwigsburg Pumpkin Festival
Undoubtedly you can't wait to head to the world's largest pumpkin festival in Ludwigsburg. Here's a few know before you go tips:
The Ludwigsburg Kürbisausstellung takes place annually from the end of August to the end of November at the Blühendes Barock. Check the dates and times at the Blühendes Barock website. You can also purchase tickets online in advance.

Tickets are valid for the Blühendes Barock gardens, the Fairy-Tale Garden, the Mathildengarten and the Orangery. The Ludwigsburg Kürbisfest is included in the regular ticket. If you'd also like to visit the Ludwigsburg Palace (Schloss Ludwigsburg), you can purchase a Baroque experience ticket that includes a guided tour of the residential palace.

Bring cash. The ticket booths and ticket machines only accept German cards. The vendors inside also mostly only accept cash.

Dogs are allowed in the Blühendes Barock on a leash, but are not allowed inside Schloss Ludwigsburg.

To avoid the most crowded times, visit the Ludwigsburg Kürbisfest on a week day if possible. The weekend of the Pumpkin Regatta (pumpkin boat races) is one of the busiest weekends of the festival.

Plan to spend a minimum of 3 hours at the Blühendes Barock in order to leisurely walk the gardens, look at all the pumpkin sculptures and enjoy something to eat. You can easily spend longer.

Ludwigsburg is located about 30 minutes from Stuttgart. Blühendes Barock Ludwigsburg can be reached from Stuttgart with the S-Bahn lines S4 (direction Marbach) and S5 (direction Bietigheim) in 12 minutes. Book a train ticket.

Additionally, trains of the Stuttgart – Würzburg, Stuttgart – Karlsruhe and Stuttgart – Heilbronn train lines stop at Ludwigsburger Bahnhof. It is then a 10-15 minute walk from the train station to the gardens.

Ludwigsburg is located about 1 hour from Heidelberg. Travel by train from Heidelberg Hbf to Ludwigsburger Bahnhof takes from 1 hour to 1 hour 30 minutes. Book a train ticket.
Where to Stay in Ludwigsburg
We recommend staying in or around the Ludwigsburg area in order to enjoy the Ludwigsburg Pumpkin Festival without being rushed.
HARBR Hotel Ludwigsburg
A nearly brand new hotel in the heart of Ludwigsburg open since 2020 is HARBR Hotel Ludwigsburg. This hotel definitely has location, location, location going on for it with the train station, center and Blühendes Barock all just a short walk away.
The 111-room hotel has a subtle maritime theme in the decor. There are four categories of rooms, but no matter which category you choose, you can be assured the rooms are super comfy. The bed and pillows practically envelop you, ensuring a restful night's sleep.
HARBR Hotel Ludwigsburg is also dog-friendly, and the hospital staff leave a blanket and bowls for your furry travel companion.
A nice breakfast buffet is available for a modest fee. On offer are hot choices like scrambled eggs, bacon and sausage. There's also a selection of fruit, yogurt, museli, pastries, cheese and cold meats.
There's free wifi and onsite parking is available, though be sure to have cash for the parking as the hotel does not manage the parking.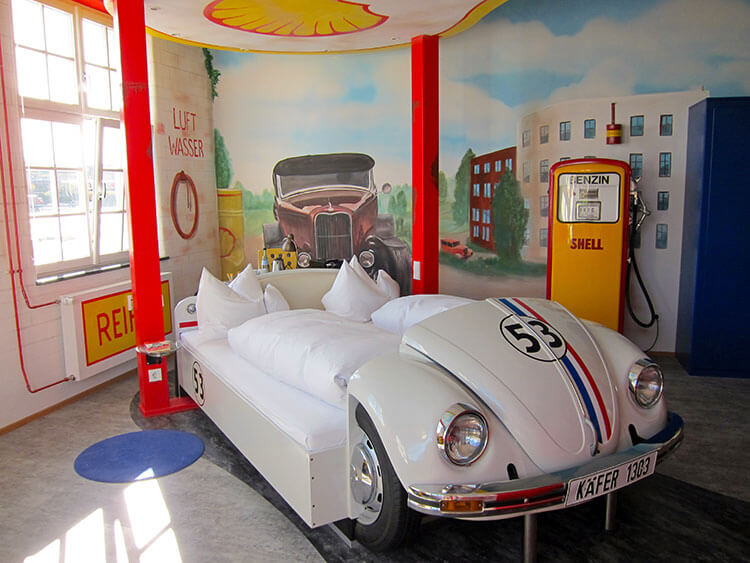 V8 Hotel Motorworld Region Stuttgart
Car lovers won't want to miss a stay at the V8 Hotel Motorworld Region Stuttgart, located just over 30 minutes from Ludwigsburg. Built inside of an old airport hotel, this car-themed hotel is truly a car lovers haven.
Onsite there's an automotive museum with an impressive collection of antique cars. And even the rooms ooze automotive charm. The V6 rooms are classic double rooms decorated with car themed artworks like black and white race scenes.
The 26 themed V8 rooms are all unique. From a classic gas station theme with fuel pumps and a VW Beetle re-imagined into the bed to the Le Mans room that transports you to the 24 Hours of Le Mans racetrack, guests will have a memorable stay.
With the recent expansion, there are now even serviced apartments for guests looking for a longer stay and themed family rooms.
There's also the onsite V8 Pick-up Restaurant, offering breakfast for guests as well as a dinner menu featuring regional Swabian cuisine.
Things to Do Nearby Ludwigsburg
There's also plenty of things to do nearby Ludwigsburg, beyond the Schloss Ludwigsburg and Blühendes Barock. Nearby Stuttgart is the automotive headquarters to several car brands including Porsche and Mercedes-Benz. And charming Heidelberg crowned by its impressive castle is just 1 hour away.
Porsche Museum Stuttgart
Porsche has been manufactured right in Stuttgart at Porscheplatz since 1950. Located onsite of the Porsche manufacturing plant, the Porsche Museum is a trip through the history of this sleek little sports car.
Every single one of the 80 some Porsche cars on display in the Porsche Museum actually still fulfill the purpose they were built for: they still drive today. Of course, you'll find the iconic 911 but also a variety of other Porsche cars from throughout the Stuttgart sports car maker's history. And there's 200 small exhibits sure to make any car lover's heart beat a little faster.
You can even rent a Porsche for as little as a day if you've always dreamed of zipping around in a 911 or even a Taycan.
The onsite Restaurant Boxenstopp also offers a menu with regional cuisine at reasonable prices.
Mercedes-Benz Museum Stuttgart
Daimler, the company that owns Mercedes-Benz, is actually the world's oldest car manufacturer. Headquartered in Stuttgart from the start, the Swabian capital is also known as the birthplace of the automobile.
Mercedes-Benz has been manufactured in Stuttgart for more than 130 years. And a trip to the sleek Mercedes-Benz Museum is like a trip back in time through that 130 years of automotive history. The museum houses some 160 vehicles and 1500 exhibits, immersing visitors not only in the history of Mercedes-Benz but also in the history of the automobile.
There's also the onsite restaurant Bertha's, named for Bertha Benz. She was the business partner and wife of automobile inventor, Carl Benz. The refined restaurant sources all ingredients from local Stuttgart farms and offers a modern take on local Swabian cuisine.
Heidelberg Castle
Red sandstone ruins dominate the hillside over the old center of Heidelberg. This scene is practically enough to put Heidelberg on your must see list, but Heidelberg is worth a closer look. Just go early before the river cruise boats and bus tours overtake the small town.
Most famous for the castle that practically sits on Heidelberg like crown on a king, either hike up or take the funicular to Schloss Heidelberg. The Heidelberg Palace gardens are open to the public and definitely worth taking a stroll around for the views. Don't miss having a look at the Heidelberg Turn, the world's largest wine barrel that once stored 220,000 liters of wine. The interior rooms of Heidelberg Palace can only be visited on a guided tour.
After visiting Heidelberg Castle, take time to stroll around the Old Town. Don't miss the famous Heidelberg Bridge Monkey on the Old Bridge. And if you're ambitious, leave time for a hike up the 2 kilometer long Philosophers' Walk for panoramic views over the Old Bridge, town and castle.
This article contains affiliate links. When you book on Booking.com through our affiliate partner sites, we earn a small commission at no additional cost to you.