Italy is know for a lot of things – pizza, pasta, the Colosseum, gelato, and Ferrari. But did you know Italy is also one of the countries that has the most caves on Earth? More than 35,000 in fact! And the Friuli Venezia Giulia, the little region in the north of Italy that we call home, is home to the Guinness Book of World Records holder for the largest tourist cave on Earth, the Grotta Gigante.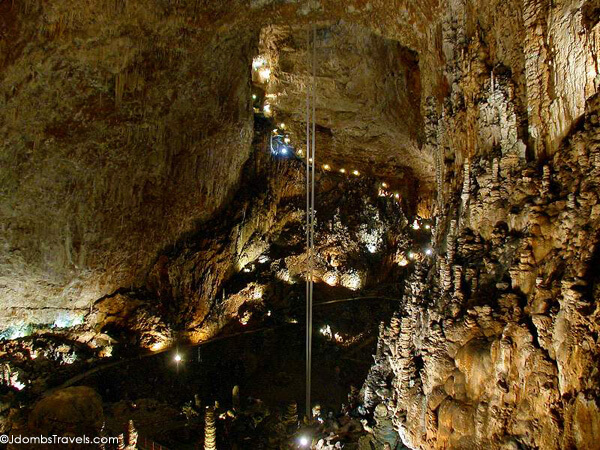 Grotta Gigante, translated, simply means giant cave, and that it indeed is! It is a single cavern that is estimated to be around 10 million years old and stretches an astounding 280 meters long, 65 meters wide and 107 meters high. The cave is part of a huge underground system that enters the karst in Škocjanske Jame, Slovenia.
Though Grotta Gigante is a show cave and you won't have to don a pair of overalls and a headlamp for some real spelunking like we did in Budapest or Carlsbad Caverns, it is definitely not the easiest cave to visit. There's no electric train to zip you 5 kilometers in like the Postojna Caves in Slovenia. Visits are only possible with Grotta Gigante's specialized guides and visitors enter through the natural opening discovered in 1890, which has since been modified for tourist access since 1908. You will have to navigate down 500 steps to the cave floor at about 80 meters deep. The steps are divided into comfortable ramps, but remember, down is always easier. You'll still have to navigate back up another 500 steps at the end of the tour.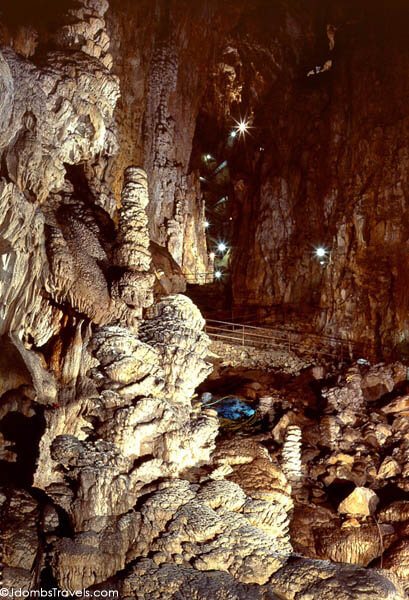 Tours last about 45 minutes once you reach the cave floor and electric lighting and a wide path make for a pleasant visit to observe the stalactites, stalagmites, and calcite flows. The largest stalagmite column is 12 meters high and named Ruggiero after an early explorer. At a rate that stalagmites form 1 millimeter ever 15 years, it is thought that Ruggiero is somewhere around 200,000 years old. The different minerals present make the cave an array of reds, whites, and grays. At the center of the enormous room, you can spot the tools being used to study crustal movement by the University of Trieste and the National Institute of Oceanography and Experimental Geophysics.
The tour ends going up the 500 steps the Charles Finocchiaro Path, which has only been open since 1997. This is where the very first explorers descended from in 1840 and the platforms offer an amazing view over the whole cavern.
Know Before You Go
Opening Hours & Tickets
Tips
Getting There
Grotta Gigante is open Tuesday – Sunday October to March from 10am – 4pm and April to September 10am – 6pm. Tour start on the hour every hour.
Admission is €11 for adults, €8 for children 6 – 16 years of age, €1 for children 3 – 5 years of age, and free for children under 3.
Grotta Gigante is only suitable for children that can walk or that you can carry.
Grotta Gigante is easily reached by pubic bus n ° 42 from Piazza Oberdan in Trieste (check the
timetable
) or by car.