The Best of Santorini's Wine and Adventure with Luxe Adventure Traveler
Santorini Itinerary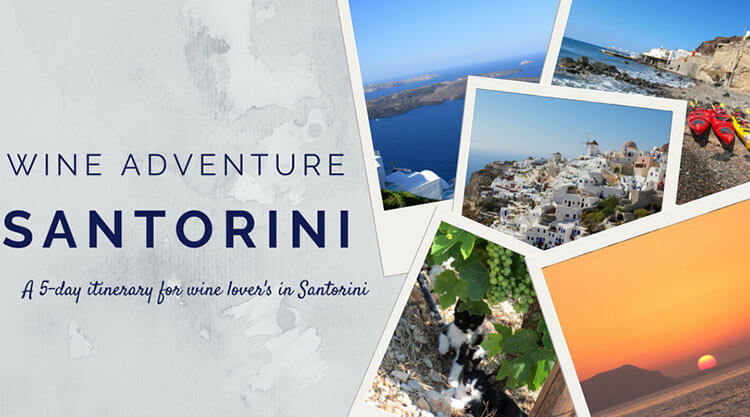 Wine, dine, and sea kayak your way around Santorini. On this 5-day Santorini itinerary you'll discover the Greek island more in-depth than cruises allow with wine tours, a cooking lesson, and active adventures like sea kayaking and hiking. Explore the ruins of ancient Akrotiri, take in the world famous golden sunsets, and relax in your stunning suite with caldera view. Mamma mia, this is one fun Greek getaway!
Day 1 – Arrive at Santorini
Today you arrive at Santorini (Thira) National Airport and pick up your rental car for ease of getting around the island. Head to your gorgeous suite at Astra Suites which sits on the cliff edge in the village of Imerovigli, your home for the next four magical nights you'll spend on Santorini.
Meal recommendations: Astra Suites room service or at their terrace restaurant
Accommodation: Astra Suites for 4 nights
Rental car: Budget Rent-a-Car for 5 days
---
Day 2 – Santorini for Wine and Food Lovers

The best way to take a wine tour of Santorini is when someone else is driving and you can fully enjoy sampling wines from one of the oldest wine growing regions in the world. Treat yourself to a Santorini wine and food tour on which your expert guide will introduce you to Santorini's wine industry with visits to two of island's premier wineries. End the tour with a cooking class in which you'll learn to make Greek dishes and then enjoy the fruits of your labor right on the beach – with more wine, of course!
Following the wine and food tour, head to the famous village of Oia. The Kasteli of Agios Nikolaos looks out over the caldera and to the well-known windmills. The fortress is the most popular place to watch the famed golden sunset from Oia.
Meal recommendations: Anogi, one of the best restaurants in Imerovigli
Tour/Sights: Santorini Wine and Food Lovers with Winerist
Tour Duration: 5 hours
---
Day 3 – Ancient Akrotiri and Red Beach
On the southern end of Santorini sits the archeological excavation site of the ancient Minoan city of Akrotiri. Dubbed the Greek Pompeii, it too was destroyed and preserved all at once by a volcanic eruption, though is much older than Pompeii. Arrive at the archeological site early before it gets hot and before the tour buses of cruise ship passengers take over.
Then hike the short 20-minute trek over the red-rock trail to Red Beach for a swim. Be sure to make it to Santorini Brewing Company before they close at 5pm. It's Santorini's first brewery and their ales are totally kick-ass.
Take in tonight's sunset from Santo Wine's Winery. Any local will know the time of sunset, but just in case, you can check the sunset times here.
Meal recommendations:  To Psaraki Fish Taverna, where the fish is caught fresh each day, for lunch and Selene in Pirgos for dinner
Tour/Sights: The ancient Akrotiri archaeological site is open Tuesday – Sunday from 10am – 5pm. Closed Mondays

---
Day 4 – Sea Kayaking Santorini's South Coast

Visit beaches only accessible by boat and kayak among rocks rising out of the sea. You'll paddle along Santorini's south coast as the cliffs change from red to black and then in complete stark contrast, white. Refuel with a picnic lunch at the deserted Kambia Beach with time to snorkel or just relax on the beach. After a rest, paddle further down the coast among huge rock formations and sea caves.
If sea kayaking is a bit too much adventure or a little more work than you'd like to do on vacation, consider a Greece catamaran charter for a day of fun in the sun out on the sea. Let the local captain plan your day to some of Santorini's best hidden beaches only accessible by boat, kick back and relax as you see Santorini from a totally different perspective.
This is a full day of kayaking or boating, so just relax and enjoy Astra Suites infinity pool for the rest of the afternoon upon return to the hotel. Your private balcony is another perfect place to enjoy Santorini's famous golden sunsets as you sip the nightly complimentary bottle of wine.
Meal recommendations: Petros Taverna, a little slice of heaven in Oia
Tour/Sights: South Discovery Tour with Santorini Sea Kayak
Tour Duration: 5 hours
---
Day 5 – Departure

Savor your last morning in Santorini with a quick hike out to the Skaros rock for some of the most spectacular views of the island. Start early before it gets hot and so you have enough time to enjoy your last breakfast served right on your balcony in your suite. Either head to the airport or continue on with the optional Folegandros itinerary.
Consider staying even longer and visiting the nearby island of Folegandros, which is only accessible by ferry or private boat. It's an easy trip from Santorini, and well worth it for Folegandros's charming authenticity.
And if you're looking for even more Greece itinerary ideas, check out Greek local High Heels and a Backpack for Greece trip planning tips and insider info.
Optional 3-Day Folegandros Itinerary
Day 5 – Arrive in Folegandros
Ferry from Santorini to the off-the-beaten-path Greek island of Folegandros. Sea Jet, which reaches Folegandros in just 45 minutes is €28.50 per person. Or Nel Lines, which takes 2 hours to reach Folegandros from Santorini, is €8 per person. Book your ferry tickets online and pick them up at the port with your confirmation number.
Anemi Hotel will be awaiting you at the port. Enjoy the hotel amenities like the infinity pool or tennis courts. Take an evening stroll back to the port to enjoy dinner.
Meal recommendations: Kali Kardia which has been serving fresh fish since 1960
Accommodations: Anemi Hotel Folegandros for 2 nights
---
Day 6 – Explore Folegandros

With a population of just 650, only one ATM and no bank, a handful of hotels, and parts of the island that are so authentic they still don't even have electricity, Folegandros is totally off-the-beaten-path. The best way to explore Folegandros is to hire a buggy and hit some of the beaches. Even in peak season, you'll only find a handful of beach-goers that you'll have to share the sand with.
The sweaty hike to Agios Nikolaos beach is well-worth the effort when the half-moon of white sand comes into view. Be sure to leave time to explore Chora, the largest settlement on the island. In the evening, climb the snaking steps up to the Panagia Church, open each evening from 6pm – 9pm.
Meal recommendations: To Asygkrito (ΤΟ ΑΣΥΓΚΡΙΤΟ) in Chora
---
Day 7 – Depart

Sadly, today you leave the glistening Greek isles behind. Ferry back to Santorini on the early ferry and take a taxi to the airport.
This article contains affiliate links. When you book on Booking.com through our affiliate sites, we earn a small commission at no additional cost to you.