Iceland's Ring Road or Route 1 runs around the island for 1,339 kilometers (832 miles) and connects the most populous parts of Iceland. For most of its length, it is two lanes but some portions of the road are still the original 1940s country roads, and contain hazards such as blind curves and blind hills, one lane bridges, and narrow passes. Most of it is paved, but there are some portions on Iceland's rugged east coast that are gravel. In winter, icy road conditions and high winds blasting across the plains can make driving it hazardous. We've just completed driving it and after having at least two "oh shit" moments, compiled these tips for driving Iceland's Ring Road in winter:
1. Don't drive Iceland's Ring Road in winter.
Driving Iceland's Ring Road in winter is not for the faint of heart. In Iceland the weather can change in the blink of an eye. Roads can become impassible and distances that Google Maps say are 5 hours become 10 hours. Now that we've done our due diligence to try to deter you, but like us, you've made up your mind to drive it anyway, here are our tips for driving Iceland's Ring Road in winter:
2. Rent a 4 wheel drive vehicle and, if it's an option, spring for studded tires. Studded tires help driving on the slippery, and often ice covered roads.
SADCars provided us with a Toyota Landcruiser. We didn't have studded tires, but there were certainly sections of winding, ice covered roads (did I mention that they really don't like guard rails in Iceland?) on which we were commenting that studded tires would have been really helpful to have.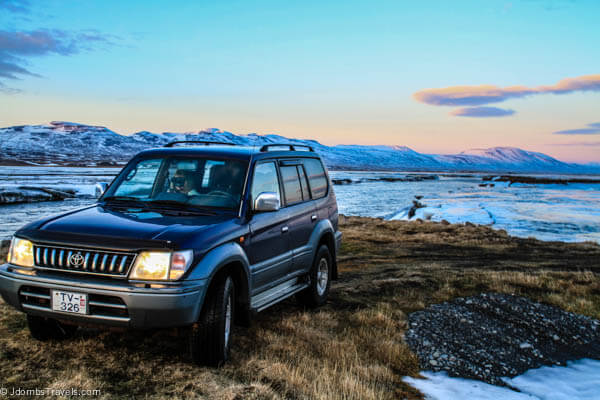 2. Bookmark the Vegagerdin.is website.
It's updated in real time and we kept careful watch on what was going on with the road conditions throughout our entire trip. Road conditions can change quickly; we met several sections that were impassible.
Note that what Icelanders consider to be "slippery" or "spots of ice" may really mean sheet of ice by your standards.
3. Download the 112 Iceland app.
It sends a signal with your coordinates to Iceland's search and fire rescue. Simply download the app, fill in your name and an emergency contact, and save. You can even periodically check in through the app to create a trail of breadcrumbs just on case something does go wrong. Get the 112 Iceland app for Android and for iPhone.
4. Have a map.
We brought our Garmin Nuvi with European maps with us. (You can also rent a GPS from SADCars for €10 per day.) But our Iceland map came in handy several times to check if a road was a mountain road, which was likely impassible, and to navigate back-up routes.
5. Fill up when you see a gas station.
Many gas stations are self service and a credit card is required. Be sure you have at least two credit cards just in case your bank denies the charge. And also be sure to know your PIN, which is required to use credit cards at the self service gas stations. Gas stations are also few and far between, so be sure to fill up when you spot them.
You can also use this handy map of all the gas stations in Iceland to help plan:
Map of Gas Stations in Iceland by TripCreator
6. Maximize daylight hours.
Days are as short as 6 hours of light in winter. The road conditions can already be dangerous when it's light out. Navigating icy roads in the middle of nowhere in pitch black conditions can be really stressful.
7. Watch for reindeer on Iceland's east coast.
Reindeer roam Iceland's east coast and it's important to keep an eye out for them. Reindeer ran across the road twice right in front of us. One second sooner and we would have had dinner (and probably some injuries since the roads were iciest on this side of the island).
8. Bring toilet paper.
Remember tip 4 about how sparse the gas stations are? And the self service gas stations are literally a tank and a credit card machine. You will need to pee on the side of the road.
9. Have a back-up plan.
Thankfully, we were able to reach each of our planned destinations on our route. We met two girls that were not as lucky. Weather changes quickly in Iceland and our sunny afternoon at Jokarlson quickly turned to heavy snowfall.
The two girls were not driving a 4WD and the conditions became bad enough that they couldn't make it any further. Unfortunately, they had not planned for stops and didn't have enough money for a room and dinner at Hali Country Hotel. Fortunately for them, the owners of the family run farm were kind and worked out a deal with them.
10. Have plenty of snacks and water.
The weather changes quickly and it's entirely possible that if conditions become bad enough, you may not be able to make it to your destination or an alternate guest house or hotel at all. Be prepared with plenty of snacks and water in case you need to spend the night on the side of the road.

Thank you to SADCars for providing us with a Toyota Landcruiser for our Iceland adventure. All opinions and decisions to drive Iceland's Ring Road in winter are entirely our own.