Iceland has a ton of accommodation options from sweet suites in the city to guest houses with either private or shared accommodations to even Icelandic farm stays. You might even opt for a camper van. Accommodation options outside of the Reykjavik area are more limited in winter since not many tourists visit and family run establishments tend to close for the season. We've tried out a multitude of different accommodation types on our multiple trips and have compiled this guide of where to stay in Iceland:
Use the map to select our recommendations by area and book on our Booking.com partner website. Our short reviews of each of the places we feel are the best places to stay in Iceland are each below grouped be region or use the links below to jump to a region.
Reykjavik and the Golden Circle| South Coast| East Iceland| North Iceland| Reykjanes Peninsula| Westman Islands
Reykjavik and the Golden Circle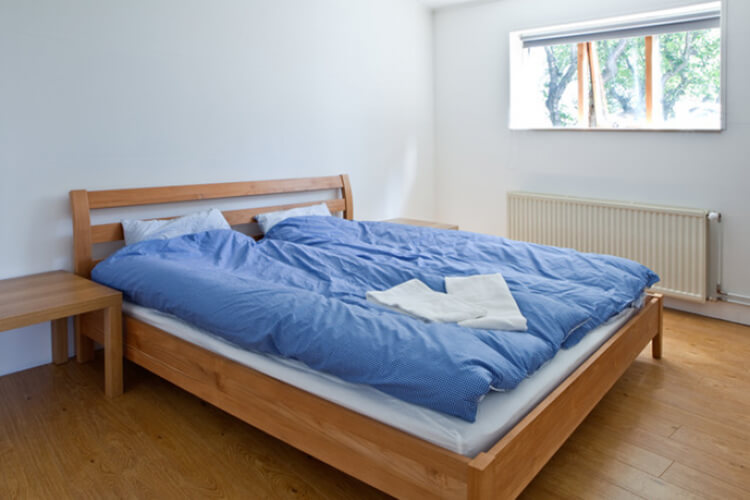 Túngata 32, Reykjavik
Reykjavik is a top spot to ring in the New Year and hotels tend to be expensive. We've stayed twice now in a lovely apartment, Túngata 32. The apartment is in a great location just a few minutes walk to the harbor and city center and has free parking available on the street. You can save money by using the fully equipped kitchen to make breakfast before heading out day (it's especially important to have a good breakfast in winter!) or even a few lunches or dinners. It also has speedy and free wifi. With prices around $100 per night (there is a two night minimum), Túngata 32 is an affordable accommodation option in Iceland's capital.
Hilton Reykjavik Nordica, Reykjavik
For travelers who like the hotel experience or if Túngata 32 is booked, Hilton Reykjavik Nordica is a good option. The hotel isn't located right downtown, but it does offer bicycle rental and there is a bus stop directly in front of the hotel. Bed and breakfast rates are available and wifi and parking are always complimentary. Hilton also offers services such as babysitting for families that want to do activities like glacier trekking that aren't kid friendly. Rates from $160 per night.
Buubble: The 5 Million Star Hotel, Reykholt
Buubble: The 5 Million Star Hotel is a unique glamping experience in the forest of a farm near Reyholt. There are five bubbles total and they can only be booked as part of a Golden Circle tour and overnight bubble experience offered directly by the creators behind Buubble.
The bubbles are heated, so they are comfortable to stay in any time of the year. There is a shared house nearby with two full bathrooms and a kitchenette for guest use. You need to bring your own food, towels and toiletries but spending the night under a sky full of stars or possibly even the Northern Lights, is memorable experience.
Iceblue Lodge B&B, Selfoss

Located on the edge of the 5000 year old Grímsneshraun lava field, Iceblue Lodge B&B is a family run bed and breakfast on the property where the family lives. It has seven rooms: three which share a bathroom and four rooms with their own private bathroom and deck. There's also a hot tub and a sauna for guests to use, as well as natural hot springs located nearby.
Iceblue Lodge B&B is close to the sites of the Golden Circle like Gullfoss and Geysir, making it a great choice for exploring some of Iceland's most popular attractions. There is absolutely no light pollution, so your deck or right from the jacuzzi are excellent spots to watch for the Northern Lights.
The B&B does not have a restaurant, but it's located just a 20 minute drive from Selfoss, which is the biggest city in South Iceland and has a number of restaurant options. Reykholt is also just a 20 minute drive and we recommend Restaurant Mika. Family-run, the restaurant offers a selection of Icelandic dishes and sources from local farms. Try the deep fried coconut panko crusted Icelandic langoustines, lobster soup or the lamb.
Iceblue Lodge does offer super jeep tours, including a Golden Circle and a Northern Lights tour. They also offer packages that include airport pick-up, two nights with breakfast and two super jeep tours. Note the Iceblue Lodge does close for the winter season from October.
Ion Adventure Hotel, Selfoss
Set among the mountains and lava fields on the Golden Circle route and close to Thingvellir National Park, Ion Adventure Hotel is a luxury option and a popular choice for Northern Lights viewing less than an hour outside of Reyjavik. The rooms all boast floor to ceiling windows giving guests a view of either the lava field or the geothermal power plant and have a contemporary Scandinavian design. The hotel does have a spa and a gourmet restaurant onsite, and offers free wifi to guests. For rates from $300 per night, not including breakfast, we do except a friendlier staff and better service though. Note that TripAdvisor reviewers regularly also note the poor service and pretentious attitude of the staff at the hotel.

South Coast
Hotel Ranga, Hella
Hotel Ranga is the only 4-star hotel outside of Reykjavik and an excellent base for exploring all the treasures of Iceland's South Coast. The log-built hotel feels more like you're staying in a friend's amazing home than in a hotel. Set just off of Route 1 not far from the famous Seljalandsfoss waterfall, the hotel is away from any light pollution and has a Northern Lights watch nightly. Simply let the front desk know if you'd like a call – they'll even track you down in the restaurant or outdoor hot tubs to make sure you experience the Aurora Borealis. Rates from $250 per night.
Volcano Hotel, Vik
We didn't actually stay at the Volcano Hotel, but it comes highly recommended. It's a modern bed and breakfast with just 7 rooms located between Mýrdalsjökull glacier and the black sand beaches of Vik. We spotted the Volcano Hotel and noted that it would have been a great option for us to spend the night after glacier hiking on Sólheimajökull. In winter a private double room with bathroom and breakfast is around $130 per night.
Fosshotel Glacier Lagoon, Öræfi

Fosshotel is a new chain of four star hotels that have popped up around Iceland. One of their locations is just a 20-minute drive west of Jökulsárlón Glacier Lagoon, so we decided to check them out.
Fosshotel Glacier Lagoon is conveniently located on Route 1 between Skaftafell National Park and Jökulsárlón. The hotel has 104 rooms, free parking, free wifi, breakfast included in the room rate and an onsite restaurant. As you might imagine with such a large number of rooms, the hotel is incredibly popular with accommodating the multi-day bus tours. We were one of just a few independent travelers staying at the hotel.
There are three rooms categories and we stayed in a deluxe room, which have bay windows and a window perfectly placed in the slanted wall for keeping watch for the Northern Lights right from the bed. All the rooms are decorated in a contemporary Icelandic style.
Icelandic breakfast is one of our favorite parts of staying in guest houses in Iceland, and Fosshotel's was disappointing. The breakfast definitely caters to tourists with a typical buffet of scrambled eggs, bacon, pastries and the other assorted items you'll find almost anywhere in the world. It was lacking Icelandic staples like skyr and Arctic char. It was also disappointing that the breakfast had to have large signs in several places reminding guests that the breakfast items are not meant for them to pack a bagged lunch with.
We also had dinner at the restaurant. While the menu has a variety of Icelandic dishes, we found the prices to be quite high and the food just not as good as that served at farm stays and guest houses.
That said, Fosshotel Glacier Lagoon is situated in a little pocket with its own microclimate. The Northern Lights came out almost immediately after dark and continued to dance for the next six straight hours before we finally just had to go to bed. After watching them for about 20 minutes from the hotel, we hopped in the car and headed for Jökulsárlón. Unfortunately, it was 100% cloudy there and after waiting for two hours to see if the sky would clear, we gave up and headed back to Fosshotel. Back at the hotel, the Northern Lights were still going strong.
The hotel does offer a Northern Lights wake-up call to guests that request it – just sign up at the front desk.
Hali Country Hotel, Hornafjörður
We picked the Hali Country Hotel because of its location just 12 kilometers from Jokulsarlon Glacier Lagoon. We were hoping for a clear night and to see the Northern Lights dance over the icebergs dotting the lagoon. While a winter storm came in just after our arrival, we had a lovely stay on the family run farm. Þorbjörg and Fjölnir, the proprietors of the hotel, were fantastic hosts kindly showing us around the lovely on-site museum and regularly checking road conditions for our drive up north.
Hali Country Hotel offers a variety of room types from private rooms with bathrooms, to private rooms with shared bathrooms, and dorm-style sleeping bag accommodations. The building also has a lovely common room with a fully equipped kitchen for the option of making meals in. In winter, a double room with private bathroom and breakfast is around $135 per night.
We enjoyed dinner at the restaurant, which serves arctic char (a cold-water fish) freshly caught from the farm's pond and lamb also from their farm. We tried the smoked arctic char as an appetizer, Tim had lamb, and I had a combo that included steamed arctic char, Icelandic lobster tails (also fished from the farm), and salted cod. Everything was delicious!

East Iceland
Silfurberg, Breiddalur

Silfurberg is a luxury farm stay in the East Fjords. The lovely Guðrún and Jón purchased the farm in 2003 and completely remodeled the barn into a luxurious hotel. There's even an incredible outdoor hot tub where you can look at the stars. The town of Breiddalur isn't far from the farm, but you can also book a delicious home cooked dinner that Guðrún and Jón will prepare. In September, you can also take part in their annual sheep round up. Breakfast is included.
Hildibrand Apartment Hotel, Neskaupstadur

Located in Iceland's easternmost fjord, Neskaupstadur, Hildibrand Apartment Hotel has both guest rooms in the main building and fully equipped apartments that are great for families or those that like to eat a few meals in when traveling. The apartments have private balconies with panoramic views looking out on the fjord and all guests have free access to the geothermal swimming pool complex in the town.
The hotels also has the Co-Op Bar, which is known for its fresh seafood and sushi. We tried the sushi and were quite impressed with the variety offered.
There's some great hiking in the area and we always had some wonderful Northern Lights viewing in Neskaupstadur. And while you might not think about golfing on your Icelandic holiday, Nordfjardarvöllur Golf Course, one of Iceland's few golf courses is just a few miles away from the hotel.

North Iceland
Vogafjós Guesthouse, Mývatn
I don't know if it's true or not, but it is said that there is a 50% better chance to see the Northern Lights in the north of Iceland. The weather is more stable than in the south and it's just a little bit closer to the middle of the Aurora belt. So we chose to spend 3 nights at Vogafjós Guesthouse, in the small Mývatn community of just 400 people. And what a fantastic choice it was.
Vogafjós Guesthouse is another family owned and run farm and we loved the simple, yet comfy and cozy log cabin that was our home for 3 nights. Who wouldn't enjoy heated floors in Iceland in winter? And that we could literally look for Northern Lights by opening up our front door made our regular lookouts a bit easier. Our hourly alarms paid off on our second night with a spectacular, albeit short, show. In winter, a double room with private bathroom and breakfast is around $120 per night.
Vogafjós also has a restaurant called the Vogafjós Cowshed Cafe. The lovely log cabin style restaurant has glass windows that look into the cowshed where the farm's cows reside in winter. It became our twice-daily ritual to greet the cows before breakfast and dinner and we've been commenting that we miss the cows ever since!
Dinner was a delicious affair each day and we nearly tried everything on the menu over our three days at Vogafjós! Homemade geyser bread, which is baked in a communal "stove" in the ground, accompanied every meal. And oh, is it delicious! The best is geyser bread slathered with a butter and topped with smoked arctic char, which we had for breakfast and dinner daily. If you're lucky, you might also get to try the moss bread which is made from moss gathered around the farm. We also thoroughly enjoyed the goulash soup, steamed arctic char, and meatballs with homemade rhubarb jam. Try the trio of homemade ice creams for dessert!

Reykjanes Peninsula
Hotel Berg, Keflavik
We actually stayed at Hotel Berg, which is conveniently located just 10 minutes from the airport, just after it first opened in 2011. The modern rooms are comfortable and I love the huge window that looks out over a lovely harbor in the breakfast room. We were pleased to find on our return that Hotel Berg had expanded and had a whole new reception and larger breakfast area. And its' proprietors couldn't be more kind!
Hotel Berg is a fantastic base for exploring the lighthouses, black sand beaches, and steaming fumaroles of the Reykjanes Peninsula and is just a 20 minute drive to one of Iceland's biggest attractions, the Blue Lagoon. And they send you out for the day with an ample breakfast including batter for homemade do-it-yourself waffles and all the toppings! Breakfast even starts at 4am for those of us unlucky to have a very early flight out.
If staying at Hotel Berg from September to March, request a Northern Lights wake-up call at reception. They have a friend that is an Aurora hunter around the Reykjanes Peninsula and will call the hotel when he spots them. A double room with private bathroom and breakfast is around $110 per night.
Northern Lights Inn, Grindavik
Just a 1-minute drive to the famous Blue Lagoon and 20-minutes from Keflavik Airport, the Northern Lights Inn is another great choice when arriving late or leaving early on flights. It's also close enough to Reykjavik to enjoy the capital city, yet far enough away from the city light pollution if you're interested in Northern Lights viewing.
We love the comfortable rooms with views of the moss covered lava field that the hotel is situated in. There's also a gorgeous common room with fireplace, perfect for relaxing with a cup of tea after a busy day exploring the Reykjanes Peninsula.
Breakfast is included, with a buffet offering of breads, skyr, smoked salmon and other typical Icelandic breakfast items. Max's Restaurant is also an excellent choice for dinner and serves Icelandic specialties like fresh fish, lamb and home baked breads and cakes.

Westman Islands
Hotel Vestmannaeyjar, Westman Islands

While it is possible to take a day trip to Vestmannaeyjar, it's definitely worth staying at least one or two nights to explore Iceland's Westman Islands. Hotel Vestmannaeyjar is located right in the heart of Vestmannaeyjar, with easy access to all that this island has to offer. The rooms are cozy with views of Eldfell, the infamous volcano that nearly covered the main town in 1973 when an violent eruption started unexpectedly in the middle of the night.
One of the main activities on the island is to hike to the top of Eldfell. You'll definitely appreciate Hotel Vestmannaeyjar's onsite spa with jacuzzi and sauna to soothe your aching legs after trudging up the steep sand and ash volcano.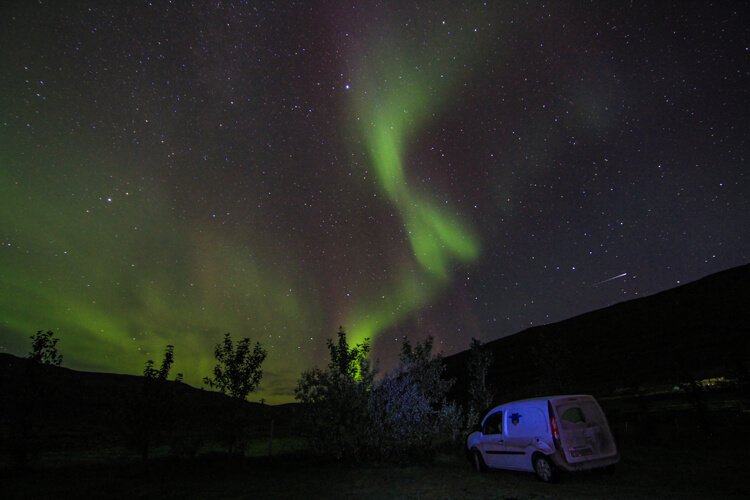 KúKú Campers
An alternative to staying in hotels and guesthouses is to combine your transportation and accommodation with a camper van. Iceland has campsites all throughout the country offering travelers in camper vans electricity, wifi, bathroom and shower facilities and sometimes even laundry facilities. Though Iceland, which is the safest country is the world, is perfectly safe to stop and camp anywhere.
While we wouldn't recommend a camper van for a winter trip simply because of Iceland's infamously unpredictable weather, it's a great alternative during late spring, summer and early fall months. We found the camper van gave us a lot of freedom to explore without needing to reach a booked hotel or guesthouse. It's also great for photographers looking to get the best light or to capture the often elusive Northern Lights.
The class A camper sleeps two adults and we both traveled with spinner suitcases. KúKú Campers also has some larger models that can sleep up to four adults.
Just remember that open campfires are illegal throughout Iceland. You'll want to rent a camp stove or bring one with you and purchase canisters of fuel for it.
This article contains affiliate links. When you book on Booking.com
through our affiliate site, we earn a small commission at no additional cost to you. It just helps us keep things running here at Luxe Adventure Traveler!