We've been chasing the Northern Lights for four years now and in all that time we've spent freezing and waiting, we've learned a thing or two about the natural phenomenon that is often at the top of traveler's bucket lists. After a year of mostly frustrating experiences with cloudy skies or barely visible Auroras on more than 20 nights, I saw my first truly spectacular Northern Lights display. A bevy of questions about where to go and how to see the Northern Lights prompted me to write 5 Things No One Ever Tells You About the Northern Lights. Three years and many more Northern Lights hunting trips later, we've learned a lot more than just how to chase them. We've teamed up with Inntravel to bring you 5 more things no one ever tells you about the Northern Lights.
1. The Northern Lights aren't going to disappear.
My favorite click-bait article title of the last few months has been "Last Chance to See the Northern Lights Before They Disappear," implying that you've got to go right now or there's absolutely no chance of seeing the Northern Lights. The Northern Lights are NOT going to disappear.
Scientists do believe, however, that the Northern Lights brighten and become more visible in line with the sun's activity. The sun has what scientists refer to as a solar life cycle and it occurs over the duration of about 11 years. The sun is currently approaching its solar minimum, the period of the least solar activity. With less sun spots and solar flares, the ionization and excitation of the particles needed to produce the Aurora Borealis and Aurora Australis happens far less frequently.
That does mean that now and in the next few years is the best time to go on a Northern Lights chasing trip because the chances of seeing them will decrease. But they are not disappearing altogether.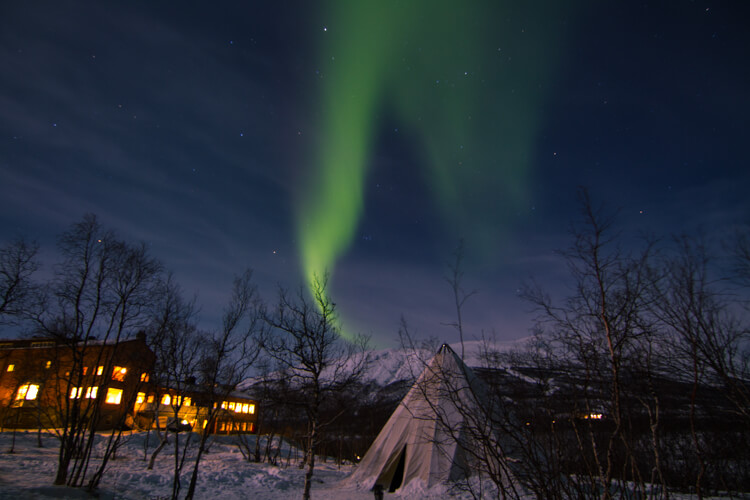 2. It doesn't have to be cold to see the Northern Lights; it just has to be dark.
Now that we've cleared up this idea that the Northern Lights are going to disappear, another common misconception people have is that it has to be cold to see them.
The Northern Lights are actually active all year round. But because they are only typically visible in the aurora zone between 65° and 72° North, they are not visible from April through August when the aurora zone experiences nearly 24 hours of daylight. People just tend to associate Northern Lights with the cold since they are visible in the winter months, but we have seen them in August in very comfortable temperatures.
Since it does need to be dark in order to see the Northern Lights in the sky, late August/September through March is the best time to go to a destination located in the aurora zone for a chance to see them.
Keep in mind that December isn't typically the best month because popular Northern Lights destinations like Tromsø, Norway and Kiruna, Sweden have about 70% probability of precipitation each day during the month of December. Precipitation means cloud cover and cloud cover makes spotting the Northern Lights extremely difficult or often impossible.

You can consult with weather websites like WeatherSpark or The Weather Channel to find the averages for both temperature and precipitation when planning your trip.
3. Look in the direction north when hunting Northern Lights.
It might sound obvious, but Tim and I had this very argument on our last Northern Lights trip. As we waited for the first signs of the Northern Lights, I told him to look north.
"We're already in the north, so they can start anywhere," Tim retorted back.
Not believing me (typical!), I enlisted the help of a Northern Lights guide to confirm that the Northern Lights almost always start from the direction north.
When heading out to hunt for Northern Lights on your own, ensure you know which direction is north. The Aurora is unpredictable and can be very short lived. And when it is dim, it can look like a wispy gray or white cloud so it can also be easy to miss.
Your chances are better if you know which direction to watch. If you don't have a great sense of direction, just ask a local. The Northern Lights are often as normal as the sun rising to a local and they can tell you which direction they most often appear.
4. You can see the Northern Lights when there is a full moon.
Yet another misconception people have about how to see the Northern Lights is that you can't see the Aurora when there is a full moon. We've shot the Northern Lights on multiple occasions with a full moon and actually like the effect. The moon illuminates the foreground and produces a much more blue-black sky.
With the full moon, we were even able to capture a Northern Lights selfie when out hunting solo. Without the moon, we would have needed someone else to paint us with a light, which is technique you can use to brighten an object in the foreground of a long exposure photo, making a selfie impossible.
5. The closest the Northern Lights ever come to Earth is 80 kilometers above the surface.
The Northern Lights often appear to shoot out of mountains like lava out of a volcano, yet it's all just an optical illusion. The closest that the Northern Lights ever come to Earth is 80 kilometers (50 miles) above the Earth's surface. In comparison, airplanes fly about 10 kilometers above the surface.
The altitude at which the Northern Lights appear has an effect on the color that they display. Different atom collisions in the magnetosphere are what produce the various color spectrum that the Northern Lights appear in. These collisions occur at different altitudes.
Green is the most common color that the Northern Lights appear in and green occurs from 100 – 240 kilometers above the Earth's surface. Blues and violets occur below 100 kilometers and reds occur above 240 kilometers.
Ready to go on a Northern Lights holiday? Check out Inntravel's top 10 Northern Lights holidays.