You've surely heard of Africa's Big Five. The lion, leopard, Cape buffalo, elephant and rhino are typically the African wildlife tourists would most like to see on safari. The Big Five are like the ultimate safari checklist to tick off on game drives. With some 25,000 animal species, no other African country boasts quite the biodiversity of Kenya. That means there are a whole lot more Kenyan animals to see on safari beyond the Big Five. If you're a list-checker-off-er, then you'll definitely want to go beyond the Big Five by seeking out Kenya's Northern Five.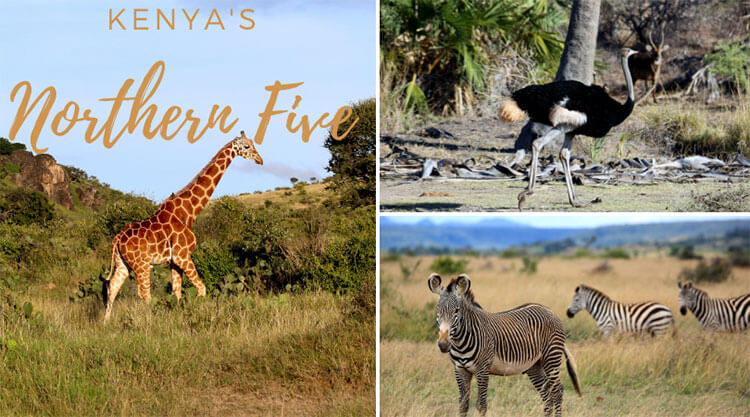 Kenya's Northern Five
The list of Africa's Big Five has some unfortunate beginnings. The Cape buffalo, African elephant, lion, leopard and rhinoceros were considered the most dangerous and coveted big game animals to take home as a hunting trophy. Thankfully, trophy hunting was banned in Kenya in 1977 and smart marketers spun the Big Five into a list of the animals you simply had to see on a Kenya wildlife safari.
From the Big Five, lists of other species safari goers might like to also check off popped up. There's the Ugly Five, the Little Five and Kenya's Northern Five (also sometimes called the Samburu Special Five).
The Northern Five are five Kenya animals only found in northern Kenya above the equator in places like Samburu National Reserve or Loisaba Conservancy. The Kenya Northern Five are the Reticulated giraffe, Grevy's zebra, the beisa oryx, the gerenuk and the Somali ostrich. And they're all also endangered species, making them extra special if you do get to spot all five species.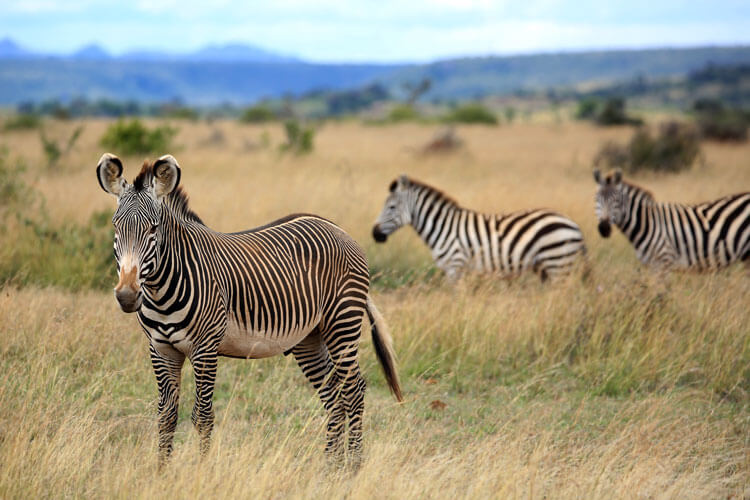 Grevy's Zebra
Did you know there are actually three species of zebra? The Grevy's zebra, named for the French president Jules Grévy in 1882 by the French naturalist Émile Oustalet who first described the zebra, is the most endangered of the zebra species. Only around 2000 Grevy's zebras remain in the wild; about 100 can be found in Ethiopia with the rest living in northern Kenya.
Very distinct from the plains zebra, you'll know immediately when you see a Grevy's zebra. As our Samburu guide, Festus, described the Grevy's zebra to us, they have very recognizable "Mickey Mouse ears" and white bellies. They're also the largest of the zebra species, and they are more closely related to the wild donkey than to the horse. On the other hand, plains zebras (or the common zebra) is most closely related to the horse.
The Grevy's zebra's stripes, about 80 in total if they stand still long enough to count them, stop at their bellies. The belly is then white. The tail is also different from the plains zebra with flowing black and white hair more like a horse's tail.
They're very territorial, especially the males. You won't find large herds like you will with the plains zebra. We only spotted two solo males on two different game drives in Loisaba Conservancy.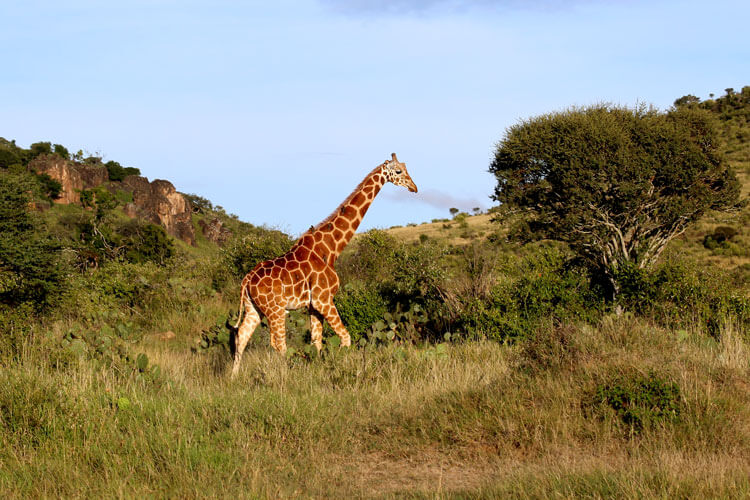 Reticulated Giraffe
The Reticulated giraffe is one of four species of giraffe that are so genetically different from each other that comparing a Reticulated giraffe to a Masai giraffe is like comparing a Vervet monkey to a baboon. While the Reticulated giraffe is the most common species of giraffe found in zoos, there are only around 8500 left in the wild.
The Reticulated Giraffe can only be found in Somalia, southern Ethiopia and northern Kenya. They're shorter than the Masai giraffe, which is the most common species of giraffe to see on a Kenya safari.
But the feature that easily distinguishes from other species of giraffe is their spots. Though all Reticulated giraffes have polygons for spots separated by bright white lines, a giraffe's spots are as unique as human fingerprints. No two giraffes have the same spot patterns.
It's habitat loss and poaching that have posed the greatest threat to giraffes, with their populations being decimated in the shadows of the world watching elephant and rhino poaching. We learned during our time on safari at Loisaba that Loisaba Conversancy has partnered with San Diego Zoo Global and other organizations to create the Twiga Walinzi (Giraffe Guards).
The Twiga Walinzi are five local villagers that monitor 120 camera traps across the Loisaba Conservancy and Namunyak Wildlife Conservancy to develop a photo identification database. They track individuals, remove snares, inform rangers about poaching incidents and create educational programs for the local communities on giraffe conservation.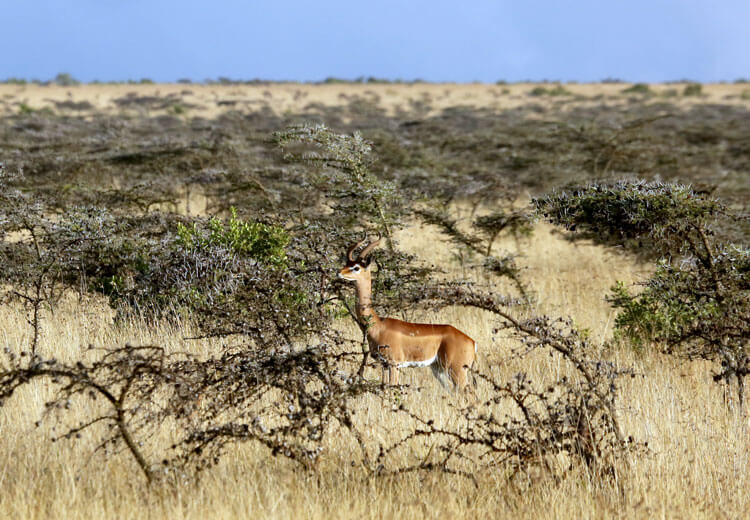 Gerenuk
The gerenuk is nearly as elusive as the leopard. It's a species of antelope related to the gazelle, and its name means "giraffe-necked" in Somali. They're distinct for their long necks.
Gerenuks use their long necks and stand up on their hind legs to reach the higher vegetation to feed off of. They live in small groups and males will even live alone.
Classified as threatened, there are only around 95,000 left today. That seems like a lot in comparison to the Grevy's zebra and Reticulate giraffe, but loss of habitat and humans threaten this unique animal.
We were lucky to see the lone male we spotted very early in the morning on the upper plains of Loisaba Conservancy. Gerenuks are quite shy.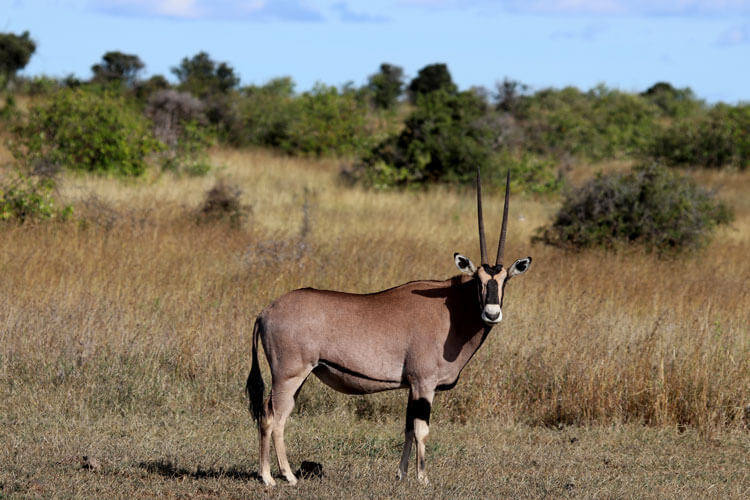 Beisa Oryx
Calling all unicorn lovers! The beisa oryx is your African spirit animal, and the oryx is said to be at the origin of the myth of the unicorn. It was Aristotle and Pliny the Elder that said the oryx was the "prototype" for the unicorn because of an oryx whose horn broke off. Once their horns break, they don't grow back. And when you spot the beisa oryx from a certain angle, their horns line up to look like one horn.
Another funny story our guide, Festus, told us was of a very smart villager who would dress up his donkey as a beisa oryx in order to hunt. The beisa oryx is not only shy, but also very intelligent. So the villager would put a mask on his donkey and tie branches to its head to resemble the long horns. The group of beisa oryx would slowly relax around the donkey in disguise, allowing the villager to move closer and closer before shooting an oryx with an arrow.
The origin of the unicorn and the donkey in disguise stories were certainly entertaining as we watched a herd of these masked oryx graze. There's around 13,000 left in the wild with their population decreasing, and they are threatened as classified by the IUCN.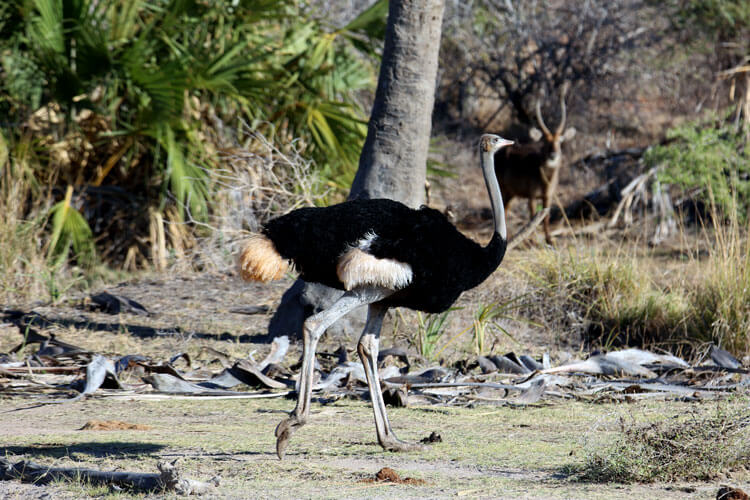 Somali Ostrich
The Somali ostrich was classified as its own distinct species of ostrich as recently as 2014. What makes it very distinguishable from other ostrich is its blue neck and legs. Other ostrich have a pink neck and legs. During mating season, the Somali ostrich's neck and legs will turn bright blue in color.
The blue-neck ostrich is found primarily in Somali, hence it's name Somali ostrich, and also in northern Kenya and north-eastern Ethiopia. Unfortunately due to the political disintegration of Somalia and the fact that there is no effective wildlife conservation there, the Somali ostrich is classified as vulnerable on the IUCN Red List.
The Somali ostrich has been hunted for its skin for leather and the eggs are often poached for use as ornaments, protective symbols on churches and water containers.
Loisaba's Big Five
Four of Africa's Big Five can be found in Loisaba Conservancy: lion, leopard, elephant and Cape buffalo. And there's plans to introduce the black rhino in to the conservancy. Though Loisaba has the Kenya northern five wildlife species that can only be seen in northern Kenya, it also has one species that can only be found in a few restricted areas around Laikipia: the Laikipia hartebeest.
We certainly can't mention Loisaba without mentioning the Laikipia hartebeest, which rounds out yet another checklist of Kenya wildlife known as the Loisaba Big Five. They are the Reticulated giraffe, Grevy's zebra, gerenuk, beisa oryx and Laikipia hartebeest.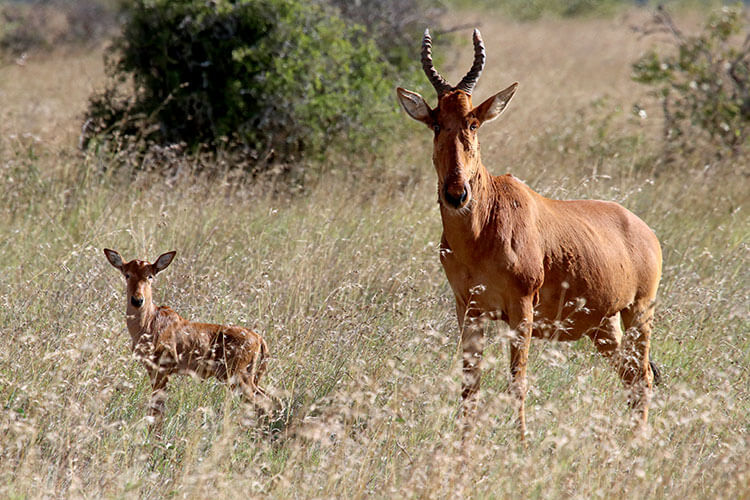 Laikipia Hartebeest
I'd never even seen a hartebeest before visiting Nairobi National Park. They're part of the antelope species and have similarly shaped heads like the wildebeest. They have lighter colored coats than wildebeest in a golden color.
The Laikipia hartebeest, which is only found in a few restricted areas around Laikipia like in the Loisaba Conservancy, is thought be a cross between the Coke's hartebeest and endangered Lelwel hartebeest. The Laikipia hartebeest are a little darker in color than the Coke's hartebeest and they have both longer and heavier horns than the Coke's hartebeest and Lelwel hartebeest. They are endangered.
Usually pretty shy, we were extremely lucky to not only see a small group fairly close, but to see a really young Laikipia hartebeest. Our guide thought the foal was only a few days old and still learning to run, as it was a bit unsteady on its legs still.
Know Before You Go
Getting There
Where to Stay
Loisaba Conservancy is in partnership with Elewana Collection and offers three unique accommodations within the conservancy. We stayed at the newly opened in June 2019
Loisaba Lodo Springs
, which offers eight individual luxury tented rooms. Each tent has their own guest ambassador to take care of needs at and around camp, along with your own dedicated safari guide and vehicle.
Our trip to Loisaba Conservancy and Loisaba Lodo Springs was in partnership with Elewana Collection in order to bring you this story. However, Luxe Adventure Traveler maintains full editorial control of the content published on this site. As always, all thoughts, opinions, and enthusiasm for travel are entirely our own.