Nepal and luxury aren't two words that are typically synonymous with each other. In fact, I was met with a raised eyebrow by anyone I announced that I was off to Nepal to. It felt like a challenge to seek out luxury in a country with a reputation for two extremes: the perfect destination for budget backpackers living on $10 a day and the ultimate adventure for mountaineers looking to summit Mount Everest for an average of a cool $45,000. Surely, Nepal's capital city had an oasis for someone like me that wants adventure with a bit of luxury at the end of the day…or a bit of luxury before my 4-day Ghorepani trek in the Annapurna Conservation Area. Dwarika's Hotel was exactly that, and so much more.
Dwarika's Hotel Kathmandu
Kathmandu is a sprawling metropolis of over 2.5 million people. Chaotic is an understatement.
Two-lane roads expand into four, and sometimes even six, lanes. Cows, who I'm sure have a death wish, sleep right in the middle of it all and the cars, lorries and motorbikes pay no mind as they zip around them.
Dwarika's Hotel is an oasis in the middle of it all.
The minute I stepped through the intricately carved wooden doors, it was stepping in to another world. But unlike some of the other luxury boutique hotels I stayed at in Kathmandu where once inside I felt like I could have been anywhere in the world, Nepali cultural heritage is front and center at Dwarika's Hotel.
To call it a hotel seems unfair, really. The complex of palatial buildings dates back to the 13th century and is a tribute to the architectural and cultural heritage of Nepal.
The hotel was started on an impulse when its founder, Dwarika Das Shrestha, decided to save some old wood carvings that were about to demolished along with traditional Kathmandu buildings. Some 60 years later from that impulsive day in 1952, Dwarika's is a living museum of rescued and restored woodworks, Nepali embroidered textiles and terracotta.
Dwarika's is still managed by the third generation of the Shrestha family, houses one the largest private woodwork collections in the world and has won the UNESCO Asia-Pacific Heritage Award for Culture Heritage Conservation.  It's also the finest hotel in all of Nepal.
The Rooms
My stay at Dwarika's Hotel Kathmandu was the perfect introduction to Nepal. Each of the 83 rooms and suites are individually and meticulously decorated to make guests feel like they've time traveled to the days of the Malla kings of Nepal – but with modern amenities like air conditioning and wifi.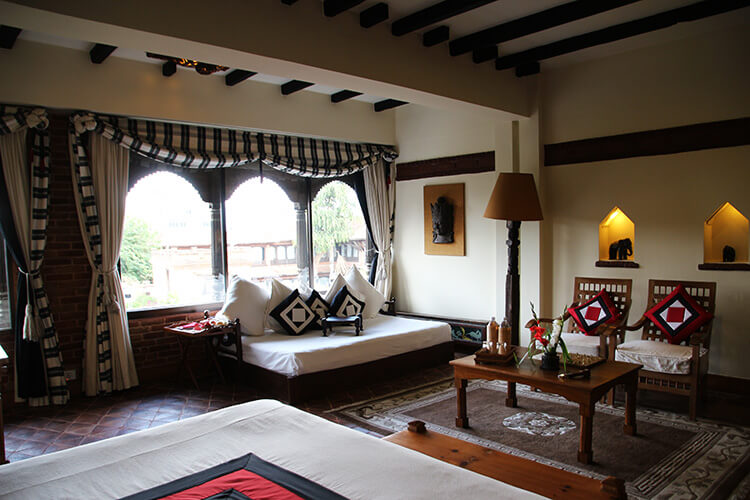 I stayed in a Heritage Deluxe Room, which was actually very large and spacious. Though, there are even larger rooms including junior suites, executive suites and one Royal Suite.
My room was absolutely stunning with beautifully embroidered Nepali textiles, plush handwoven rugs I eyed with envy and wanted for my own home and handmade furniture carved and made in their very own wood workshop. There are so many little details and authentic artifacts to take in, from the brass tiger moving game to the carved wooden elephants tucked into recesses in the wall that seemingly watched over me.
I had both a king sized bed, and a daybed for lounging as is common in a Nepali home.
Guests are welcomed with fresh fruit, cookies and a selection of loose leaf teas and French press coffee that you can enjoy in your room.
My bathroom was the stuff of house goals with a double vanity, separate bath and walk-in shower with a rain shower. It was also amply stocked with handmade soaps, shampoos, lotions and even toothpaste all from local herbs and ingredients.
The Pool & Spa
I didn't know much about Nepal, aside from that it's home to the world's highest mountain. And I was so worried about packing for my five days of trekking up to nearly 11,000 feet (3500 meters), that I didn't research Kathmandu much. Imagine how shocked I was to arrive to a hot, dusty and almost desert-like climate. It was much more akin to when we traveled in hot and sandy Bagan than hot and humid Bangkok.
My skin feels both dry and sticky after a long flight, and the heat only amplified it. Dwarika's gorgeous pool under flowering jacaranda trees practically beckons you to take a dip. And the sun loungers are perfect for relaxing under sun down with an exotic fruit cocktail from the Fusion Bar.
I also took advantage of the spa. The Boeing Dreamliner 787 is the furthest thing from what its name implies when flying long haul, and I really didn't want to start out a five day trek already achy.
The Pancha Kosha Himalayan Spa draws on ayurveda and traditional rituals and treatments. The spa menu offers a pretty extensive selection, though I kept it simple with a 60-minute relaxing ayurvedic massage with essential oils. It was absolutely heavenly, and at around just $30 US it would have been a sin not to indulge.
Krishnarpan Restaurant
Dwarika's Hotel actually has five restaurants, all offering different cuisines right on their Kathmandu property. But if you dine at only one, Krishnarpan is not to be missed.
Krishnarpan is Nepali fine dining and draws upon the various cultures and cuisines in Nepal to craft a dinner from 6 to 22 courses. After our 12-course dinner at Cafe Kandahar in Montana, I couldn't possibly imagine eating 22 courses. I opted for six, which was more than enough.
If there's one thing I learned in Nepal, it's that you'll never go hungry.
The restaurant is Nepali fine dining, but traditional. You leave your shoes at the entry and clean your hands in a large bowl with a brass pot before entering the restaurant. I admired the wall of photos of celebrities, royalty and dignitaries posing after they had dined at Krishnarpan as I washed my hands. Prince Charles, Selena Gomez, Demi Moore and Hilary Clinton were among an impressive group of the world's elite.
Guests sit on low chairs on the floor around very low and exquisitely decorated tables. Each guest receives a menu handcrafted for your dining experience on organic paper. A bib as big as donning a full apron is tied around each guest and then you're helped to sit and push in your chair.
Olive oil was ceremoniously poured from brass pots into little earthenware dishes elegantly set on the table.
The menu is pre-set and the first course, called Samaya Bajee, is one that is typically served during the religious ceremonies of the Newari. The first course alone was six different things with beans, lentils, puffed rice, potatoes, a lentil pancake and chicken.
Each course was explained as it was served, and I was invited to make an offering of a small portion of my first course on to a small leaf-shaped earthenware plate set on the table before me. It's traditional to make this offering before starting such a feast. The puffed rice was my least favorite of the selections on the plate, and I wished I had placed a bit of that instead of the spicy potatoes. It was a true sacrifice.
I was relieved to see that the second course was a smaller portion. I was already wondering how I would finish it all, because much like Italians, if you didn't finish the entire plate they asked if everything was okay. It was all delicious, I was just pacing myself.
The second course included a deep fried bread, mushrooms in a creamy sauce and chickpea curry all from the Tarai foothills. I had no problem cleaning the plate, and I could have eaten another generous portion of the mushrooms and chickpea curry. But there was so much more to come yet.
The third course was momo, a traditional Nepali steamed dumpling filled with minced meat and served with chutney. It also originated with the Newari.
A mixed vegetable soup followed as the fourth course. Though I would have happily accepted the refills that were offered, I was already getting a bit full. The consistency was fairly thick, but it was rich and flavorful.
Finally we reached the main course, which was made up of eight individual things. A heavy plate was placed before all the guests and each of the various rices, curries and vegetables all arrived on a parade from the kitchen as a heaping portion of each thing was scooped on to the plate.
There were two kinds of rice, lentils, chicken curry, stir-fried cauliflower, stir-fried French beans with potato, sauteed spinach, vegetable pickle and hug-plum pickle. It's the never ending plate. As you eat, more of each is offered.
The final course was dessert, and it should be no surprise that there were three different desserts that made up the plate. A spiced pumpkin pudding could quite possibly have been the best pumpkin pie filling I've ever had. It was served with some fresh fruit and a bowl of the tastiest vanilla yogurt spiced with cinnamon and sweetened with honey.
I was particularly thrilled to see the yogurt offered at breakfast, because it was the creamiest and most delicious yogurt I've ever had.
For my very first meal in Nepal, this was going to be one hard to top. And I never did top it – Krishnarpan was without doubt the best Nepali meal I had during my two week trip.
Know Before You Go
Booking
Krishnarpan Restaurant
Dwarika's Hotel Kathmandu offers special promotions and packages directly on their
website
, like a 4 days/3 night stay with doubles starting at $670.
You can also book via our Booking.com partner site and nightly rates start at $240 per night.
You do not need to be a guest at Dwarika's Hotel to book a table at Krishnarpan, and if you find yourself in Kathmandu I highly recommend this dining experience. Reservations are required and can be made by calling + 977-1-4479488 or 977-1-4470770.
My trip to Nepal was provided by Himalayan Travel Mart and PATA, in collaboration with Dwarika's Hotel in order to bring you this story. However, Luxe Adventure Traveler maintains full editorial control of the content published on this site. As always, all thoughts, opinions, and enthusiasm for travel are entirely our own. This article contains affiliate links. When you book on Booking.com through our affiliate site, we earn a small commission at no additional cost to you. It just helps us keep things running here at Luxe Adventure Traveler!