As another year comes to a close, we all tend to look back and reflect. We're blessed to be able to look back upon another fabulous year of travel that took us to 21 countries in which we created countless memories we'll treasure for a lifetime. With that much travel, it's not the easiest of tasks to whittle it down to just a handful of standouts, but we did it. We give you our 13 best travel moments of 2013:
1. Seeing the Northern Lights in Iceland and Finland
Oh, the Northern Lights. It's safe to say we're a bit obsessed with (addicted?) seeing them. Many unsuccessful nights hunting the elusive Aurora hasn't discouraged us and our efforts paid off during our January visit to Iceland and again in April in Finland. Our efforts over more than 40 days spent in the Arctic also inspired our most popular post ever, 10 Things No One Ever Tells You About the Northern Lights. The post has been linked to by Telegraph, CNN, Skyscanner, Earth Photo of the Day, and countless blogs citing it as one of the best articles with practical advice for seeing the Northern Lights.
2. Ringing in 2013 in Iceland
We could have filled this list with 13 of our best travel moments of 2013 just from our trip to Iceland alone. We can say without hesitation that Iceland is our favorite country and we were thrilled to ring in 2013 from atop the Pearl in Reykjavik. We splurged, packed our finest cocktail attire, and attended the Pearl's New Year's Eve Gala. Not only did we get to take part in the unique Icelandic traditions at the bonfires, we had an amazing 360 view as more fireworks than I've ever seen light up the sky at the stroke of midnight…and for the first six hours of 2013.
3. Hot air ballooning over Bagan
To say we've been waiting for a magical hot air balloon ride is an understatement. Hot air balloons always make me a bit teary-eyed. The sight makes me remember the best day of my life – the day I married Tim in a hot air balloon nearly 12 years ago. We never got our ride because of high winds on our wedding day. The wait was worth it and to say our first flight was spectacular doesn't even begin to describe it. We arrived in Bagan, Myanmar after it was already dark so our very first view of the stunning 4000 some stupas that dot the Burmese landscape was from above as the sun rose.
You may like: Ballooning Over Bagan
4. Mahout training in Thailand
We got home from Thailand and hit the ground running with trips to Christmas markets in Germany, New York City, and Italy. So we haven't even written about Thailand yet, but one of our very favorite experiences was our mahout training and working with the research team from Think Elephants International at Anantara Golden Triangle. Here, not only are elephants rescued from the streets of Bangkok from doing things like performing to beg for money, but their mahouts (elephant care takers) and families come right along with them and all live at the camp. We learned so much about captive elephants, got to take part in a research study that will eventually be published by the team at Think Elephants, and came to understand the special relationship between elephants and their mahouts.
5. Hiking the Alta Via 1
The Alta Via 1 is one of the premier hiking routes in Europe. I've had it on my radar since we moved to Italy, but finally got up the courage and found a friend to tackle it with me. The trail covers about 80 miles and takes 8-12 days to complete. It goes right through the beautiful Dolomite mountains of Northern Italy. Each day will present challenges as you climb through valleys and up and over steep passes to get to you next night's stay at a rifugio (mountain hut). The rifugios are possibly the best part: great atmosphere, good food, making new friends and best of all not needing to carry a tent or heavy camping gear. Read all about my adventure on the Alta Via 1 here.
6. Playing Bond Girl in London
It was incredibly fun researching, putting together an itinerary of Bond themed activities, and then jetting off to London with my friend Bree to channel our inner Pussy Galore. From scaling a London icon to speed-boating down the Thames to posh martinis at the exclusive Dukes Bar, we did Ian Fleming proud.
Want your own Bond Girl trip to London? Check out our Bond Girl Guide to London.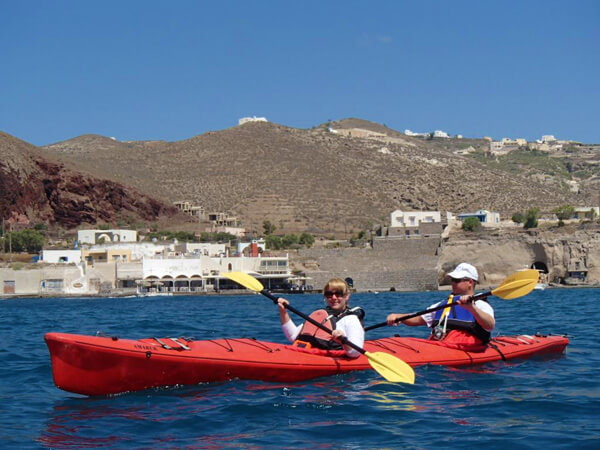 7. Kayaking in Greece
Santorini is beautiful. So beautiful, the eight hours we had in port when we cruised to Greece just wasn't enough. And we wanted to see more than the tourist hot spots like Oia and Fira Town. What better way to totally get off the tourist path than to kayak to beaches only accessible by boat? We paddled on by busy Red Beach and headed toward Black Beach, where we picnicked, swam, and had the beach entirely to ourselves. We also got to explore some of the beautiful caves, coves, and rock formations created by Santorini's violent volcanic past.
You'll work up an appetite kayaking, so why not check out these 10 Things to Taste in Santorini?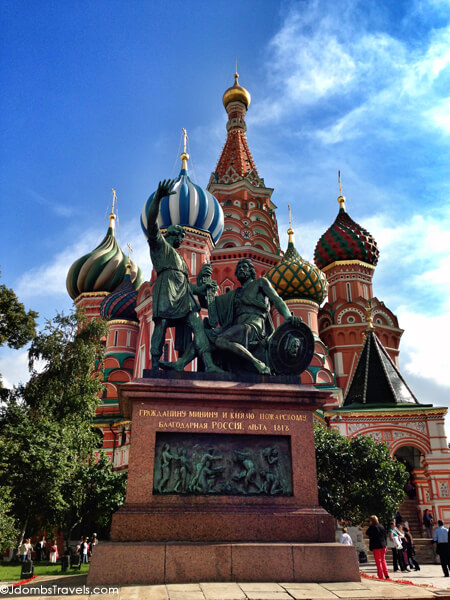 8. Checking Russia off our bucket list
Russia sure doesn't make the visa process remotely easy…or cheap. But it was absolutely worth it as we gazed upon the magnificent architecture from Moscow to St. Petersburg and at at least a dozen onion-domed cathedrals in between. Russia wasn't the easiest of countries to travel in. Signs, even at museums and tourist attractions, aren't in multiple languages, and outside of Moscow and St. Petersburg some of the towns can be hard to reach. There just isn't a tourism infrastructure for non-Russian tourists yet and we were glad to have gone with G Adventures and have had a local guide for exactly these reasons.
9. Relaxing in the lap of luxury at Anantara Rasananda Koh Phangan
After long days of travel just getting to Thailand and then Myanmar and aching bodies from mahout training and biking all over Bagan, we were thrilled to arrive at Anantara Rasananda Koh Phangan for a little bit of relaxation and pampering. The Thai island of Koh Phangan is reached by boat from another Thai island, Koh Samui. As we bounced over the water and approached it island, it looked like something out of Jurassic Park with towering cliff walls, dense jungle, and secluded coves with turquoise water lapping at white sand beaches. Our time of Koh Phangan was filled with luxurious lobster dinners on the beach, snorkeling, and long massages. We even learned how to cook some of our favorite Thai dishes at a cooking class.
10. Hot tubbing under the Matterhorn
Apparently sleeping in an igloo once just wasn't enough, because we put it on our 2013 travel wishlist to do again. Though the Matterhorn peeking over the Iglu-Dorf igloo village did have a certain appeal. And staying in Zermatt, one of Europe's most exclusive ski resort towns, may have tipped the scales for us to bravely sleep on beds made of ice in a room made of snow. The weather didn't cooperate for us to get clear blue skies and the perfect photo of the Matterhorn we wanted, but we had a great time eating fondue, sipping on Swiss wine, and sharing glasses of Prosecco in a private hot tub made for two.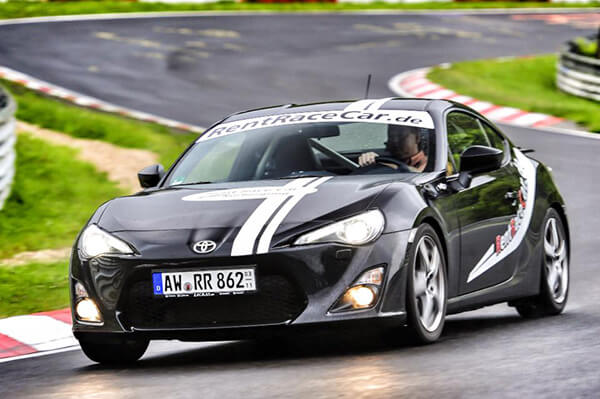 11. Driving a race car at Nurburgring
One of Tim's favorite travel moments this year was getting to race a car on famous Nurburgring. The track is famous for it's 24 hour races and also for auto manufacturers test out there newest sports cars. Tim got to race a Toyota GT86 courtesy of Rent Race Car. The track is 14 miles long and will certainly test your driving ability no matter what car you're in. Featuring hairpin turns, hills, blind curves, and 15 turns it will have your hearth thumping the whole way.
Love cars? Check out our Car Lover's Guide to Germany.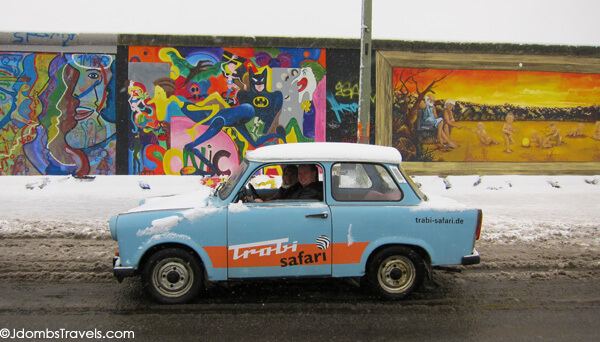 12. Exploring Berlin in a Trabi
We don't want, or like, to follow the your-guidebook-said-you-should-do-this path. We quickly get bored (with a capital B!) with just walking around cities. We like to be doing something, where it be a food tour or something more adventurous like kayaking. Our Trabi Safari was a super fun way to explore the sights of Berlin and to other tourists, WE were the tourist attraction.
13. Learning to ski in the Alps
Tim has always loved spending time in the mountains. But growing up in suburban Illinois, there isn't exactly any places to  learn to ski. He finally learned to ski this year in the Alps. His favorite place to learn was the beautiful town of Cortina D'Ampezzo, also home of the 1956 Winter Olympics. The skiing area at Cortina has over 140 kilometers of pistes and 43 lifts. With an ample amount of beginner runs and huge wide runs, it was really the perfect place to learn.