California, the largest US state by population, is a favorite of travelers with the US. California is a favorite for both its popular culture and the changing scenery, which varies from forests and valleys to the desert and picturesque coastline.
With a myriad of exciting and unforgettable places to visit in California, you're faced with countless choices. But no matter where in California you choose to visit, we'd bet there's an iconic bar you shouldn't miss out on. Here are five favorites to add to your California bucket list.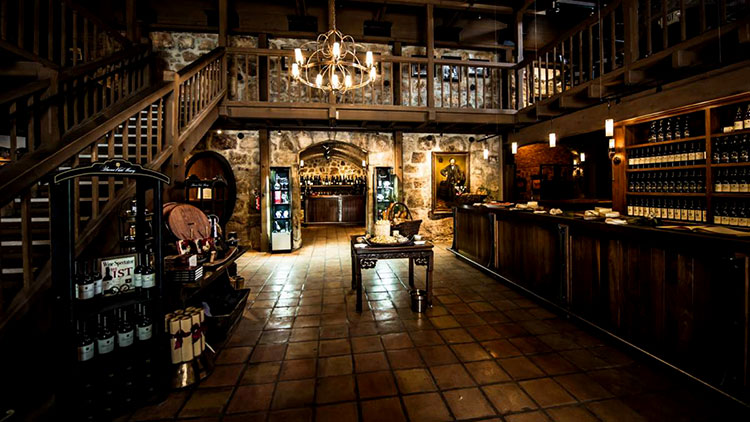 1. Buena Vista Winery, Sonoma
Buena Vista Winery in Sonoma County has been producing wines for over 150 years. Founded by Agoston Haraszthy, who is considered the "father of California viticulture," the winery was purchased by the Boisset family and has been part of the portfolio of Boisset Family Estates since 2011.
Even if you're not a wine lover yourself, visiting Buena Vista Winery's Heritage Garden is a must. The garden is a trip in time through four periods in Sonoma's horticultural history: Native California, the Spanish Missions and Mexican Ranchos, the Gold Rush and early statehood and the era during which Luther Burbank developed new plant varieties in Sonoma.
Of course, oenophiles will appreciate tasting in the Press House. This atmospheric tasting room was originally the first gravity-flow winery in California when it was completed in 1862. The tasting includes a selection of wines from some of Sonoma's best vineyards.
Buena Vista Winery is located at 18000 Old Winery Road in Sonoma. Open daily from 10am – 5pm. Reservations not required.
2. Dive Bar, Sacramento
The term "dive bar" first popped in America circa the late 1800s and was used to refer to an illegal drinking den or a place with bad reputation. According to the Oxford English Dictionary, the term came from the fact that these drinking dens were usually housed in basements or cellars. So naming your establishment "Dive Bar" might be considered a bit risque.
Although Sacramento's Dive Bar certainly invokes the appeal of a slightly dangerous brick wall relic of another era, it's far from having a bad reputation. The bar is one of Sacramento's most popular, especially for the aquarium over the bar where mermaids swim at set showtimes nightly.
Choose from a variety of drinks, including specialty cocktails and draught beer, and enjoy the cool atmosphere.
Dive Bar is located at 1016 K Street in Sacramento. Open daily from 1pm – 2am.
3. The Black Horse London Pub, San Francisco
Of San Francisco's most than 600 bars, the Black Horse London Pub is famous for being the smallest bar in San Francisco. It's just 19 feet long and 7 feet wide. Although the 150 square foot bar claims it can supposedly squeeze in 22 people, actually getting all 22 people in would be considered a striking achievement.
It's as comical as it is delightful to see how this tiny bar matches up against any normal-sized bar. There's even a dartboard. The atmosphere is warm, but the beer is kept cool in ice in a claw-foot tub that has been behind the bar since 1996. With consistently high ratings, clearly visitors aren't bothered by the tiny size as they throw back a beer.
The Black Horse London Pub is located at 1514 Union Street in San Francisco. Open daily. Cash only.
4. Cold Spring Tavern, Santa Barbara
If you happen to be on the road to Santa Barbara, be sure to stop by the Cold Spring Tavern. Formerly known as the Cold Spring Relay Station, this place has been a favorite stop for travelers since it first became a stagecoach stop in 1868. Especially popular with the bikers, this cozy tavern in the woods gets especially busy on weekends.
This hidden gem can be found in the hills above Santa Barbara, far away from the city noise. The log cabin is nestled in the Arcadian-like serenity. Listen to the fireplace cracking as you eat one of their famous tri-tip sandwiches.
Cold Spring Tavern is located at 5995 Stagecoach Road in Santa Barbara. Open daily.
5. The Interval, San Francisco
The Interval at Long Now is an absolute delight for all those of unconventional and eclectic tastes. More than a bar, The Interval at Long Now is a museum, a coffee shop and a bar. The bartender, Jennifer Colliau, is the absolute cocktail alchemist, stirring all of the craft beverages with a thermometer to have them served at the perfect temperature.
The library-like interior is an homage to Todd Myles Carnam's background in philosophy and literature, which is why you'll witness menus consecrated to different literary epochs, from post-modernism to the Victorian Era, all in its own season. By geeks for geeks, this is the ultimate place for the curious.
The Interval at Long Now is located at 2 Marina Blvd. Building A in the Fort Mason Center in San Francisco. Open daily 10am – midnight.