In 2011, I found myself in 18 different countries over the course of the year and Tim was trailing just a few behind me. So I set a goal on my bucket list in Finland, my 18th and final country I visited in 2011, to top that by visiting more than 18 countries in 2012. That goal is my "about me" on my Twitter profile and as I've gained new followers, I get messages asking how I'm doing on reaching that goal. I'm happy to report that it's a goal I'll be scratching off my bucket list when I land in Iceland on December 29th! Here's the month by month run down of where I've been and where I'm headed.
January
One of Tim's bucket list items is to visit every European country and we've got one of those countries landlocked right here in Italy. A mere three hours drive, San Marino, is one of the oldest republics in the world and easily explored in a day due to its small size of just 24 square miles.
February
We've visited Slovenia many times over the course of 2012 and I suspect there will be a few more between now and the end of the year. It's only an hour to the border and an hour and half to the capital, Ljubljana. Ljubljana is also the closest full service American Embassy to us, and so our first trip to Slovenia was for an appointment to add extra pages to Tim's passport.
March
Back in December when I was in Finland, I had the wonderful experience of visiting a wildlife sanctuary above the Arctic Circle. It was there that I saw polar bears in the most natural enclosure I've ever experienced. They had a frozen lake to break the ice and hunt for food and it made me want to see polar bears in the wild more than ever. So our first big trip of 2012 was visiting the High Arctic of Svalbard, a mere 600 miles from the North Pole. Svalbard is only reached by way of Tromsø, Norway where the Aurora Borealis came out to dance for my birthday and the only night in our 7 days in the Arctic.
April
Italy is a beautiful country and we don't often spend our longer trips traveling right here. Long overdue, we finally ventured south of Rome for the very first time on a 10-day road trip that took us to Siena, the Amalfi Coast, Capri, Pompeii and then north again to Umbria where we attended our first ever travel blogging conference.
Just days after an amazing experience meeting other travel bloggers and industry insiders at Travel Bloggers Unite, I flew to the United States for a whirlwind three-week trip that began with a pre-Mother's Day getaway to New York City with my mom.
May
May was a busy month! I kicked it off in the US, traveling from NYC to Nashville where I spent several days working and sneaking in a bit of southern fun. My next stop was Phoenix, at the campus of Grand Canyon University where I work full time. I telecommute from Italy (and sometimes from the road. Thank you location independence!) and generally make one trip to Phoenix each year for a couple of weeks.
A few weeks before my trip, I was participating in a weekly chat on Twitter about travel called #expchat, which is hosted by Expedia. I met Ryan, the person behind Napa Valley's Wine Train Twitter handle and he graciously invited me to Napa to ride the Wine Train. So one Friday afternoon after work, I hopped on a flight up to San Francisco and spent a whirlwind 36 hours in Napa soaring above it in a hot air balloon, riding the Wine Train, and enjoying the luxury of the Presidential Suite at the Napa Valley Marriott.
Not even having landed back in Italy 12 hours before, we were back off to Siena to meet up with an old high school friend of mine. There we were, two Villa girls from Erie, Pennsylvania sipping on wine and having pizza in Italy!
48 hours after landing back in Italy, I was back at the airport and off to London, England for work. I did manage to squeeze in a fun night out with new friends I had met at TBU Umbria and wander around New Bond Street for a little window shopping.
Our final trip of May was an extended weekend of hiking in the Alps in Appenzell, Switzerland. And since we were so close, we just decided to check another of Europe's smallest countries off our list and swing through Liechtenstein. Now that country has got some hiking trails I'm sure we'll be back for at some point! A quick stop in Austria for lunch on the drive home, and I was up to 9 countries in the first 5 months.
June
Ah, Greece. We cruised to Greece on the Norwegian Jade with ports of call in Corfu, Santorini, Mykonos, and Olympia. We only got a taste really, but Greece was just as beautiful as I imagined it would be. And stepping foot onto Santorini felt like I was in the movie Mamma Mia.
July
Having always wanted to see the famous lavender of Provence, France in full bloom we spent several days hunting down lavender fields and exploring the medieval towns that inspired Van Gogh. Emma was so well behaved, she was rewarded with a stop in Ventimiglia, Italy to swim in the Mediterranean.
Needing to escape the sweltering temperatures, I set off with my friend Nicole to explore the Škocjan caves in Slovenia. And while it was refreshingly cool inside the cave, hiking back up the gorge had us dripping again.
Sometimes there's just no escaping the heat unless you head far, far north. Or you go to Gelato University, which is exactly what I did in Bologna, Italy! Learning to make – and taste all of our creations – was the best way to spend a cool day indoors.
More new friends we had met at TBU Umbria were staying the month in Ljubljana and we made plans to meet in Bled for the Bled Days and Bled Night Festival. Seeing 10,000 floating candles on Lake Bled under colorful bursts of fireworks and the backdrop of a castle clinging to a cliff was about as close to a fairytale setting as I could imagine.
Meeting up with our friend Johnny Jet and discovering he had never been to Slovenia quickly hatched plan to take him for a visit. And so off we went to one of my favorite seaside towns, Piran, having just returned from Bled the day before. (See? I told you I go to Slovenia a lot!)
And I wound up July with another trip to Tuscany, this time to see a very special exhibit honoring Marilyn Monroe in Florence.
August
I wait all year for one of my favorite festivals, the Garlic Festival, in Voghiera, Italy. The food is just amazing and I stock up on garlic that will last me for months to come.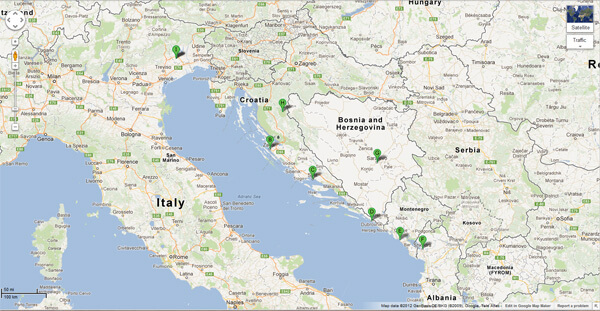 We set off on a road trip through Croatia, Montenegro, Albania, and Bosnia which brought my country count for this year up to 15. We drove down the coast of Croatia with stops in Zadar, Split, and Dubrovnik before continuing on to spend a few days on the beautiful pink sand beaches of Sveti Stefan, Montenegro. We were just an hour from one of oldest and most historic places in Albania, Shkoder, so just had to go! We then spent a few days in Sarajevo, Bosnia before making our way back to Croatia to Plitvice National Park.
September
I was off to Portugal to attend another Travel Blogger's Unite conference in Porto and the Destinology Travel Bloggy Awards in which we were one of five nominees in the Best Newcomer category. I'm thrilled to report we were the winners in the Best Newcomer category! Then I spent a busy two days traveling with Turismo de Portugal and a small group of other travel bloggers in the Duoro Valley where I visited medieval towns and explored castles in Pinhão, Guimarães, Braga, and Ponte de Lima.
After a short few days back in Italy, I boarded another flight, this time to Spain where I spent a few days staying in a villa and getting advice on building our blog into a business from wise, successful travel bloggers and PR professionals. Then it was more networking and learning at the TBEX travel blogging conference in Girona before I set off on a trip with Visit Costa Brava through beautiful coastal towns of L'Estartit, Begur, and Palamos before e-biking around Medieval villages and hiking in the Pyrenees.
October
My mom couldn't get me to eat any orange foods as a kid but since the discovery of fall's pumpkin soup, pumpkin ravioli, and even pumpkin pizza, October is one of my favorite months in Europe. I missed another of my favorite Italian festivals, the Venzone Pumpkin Festival, last year when we were in London to watch the Chicago Bears play in the NFL International Game. And sadly, I think I will miss it again this year as I head to Germany to see Tim graduate from the Non-Commissioned Officer Academy of the Air Force.
But, a visit to the world's largest pumpkin festival in Ludwigsburg more than made up for missing Venzone's festival! And we did get to stay in one of the most unique hotels I've ever stayed at and have the living daylights scared out of me at Burg Frankenstein.
What's Next
November
10 years ago an email forward circulated around of an underwater restaurant and over-water bungalows with glass floors to see the fish swimming below your room. At the time, I wanted to study to become a marine biologist and so I immediately wanted to hop a plane and go to this postcard perfect paradise. Some research on it proved it actually existed on a set of islands far, far away. Those islands were called the Maldives and they were so far away, the price tag on two round trip plane tickets from Phoenix to the Maldives capital, Male, cost a cool $10,000.
We've been dreaming big and the Maldives have featured on our bucket list ever since. We'll have a lot to be thankful for this Thanksgiving as we travel from Male by a private sea plane to the beautiful Anatara Kihavah Villas on the Baa Atoll.
December
December brings a month of places we just love to go back to! Budapest is one of our favorite European cities and we've been there already not once, but twice! On this third visit, we're discovering what Budapest is like as it decks itself out for the holidays.
We both have an obsession with fireworks (I like to watch them and Tim likes to light them off). We sat huddled around our computer watching the live feed from the New Year's Eve fireworks in Reykjavik, Iceland two hours before ringing in the New Year out in the backyard with my sister-in-law and our neighbors. As we watched that live feed, we said we wanted to be right there in Reykjavik to ring in 2013. And we will be as we head back to Iceland a little more than a year after our first trip there!
I set out at the beginning of this year to top my record of 18 countries visited in 2011 and I'll be doing just that while visiting some amazing places I only ever dreamed we'd go. I'm just not sure yet how we'll be able to top our amazing 2012.